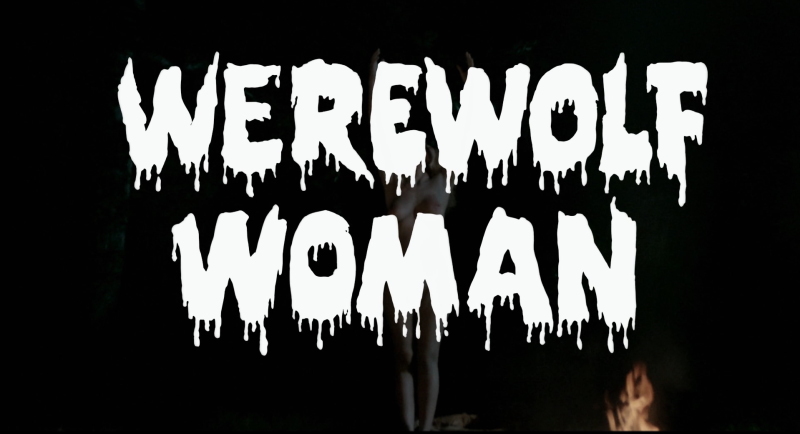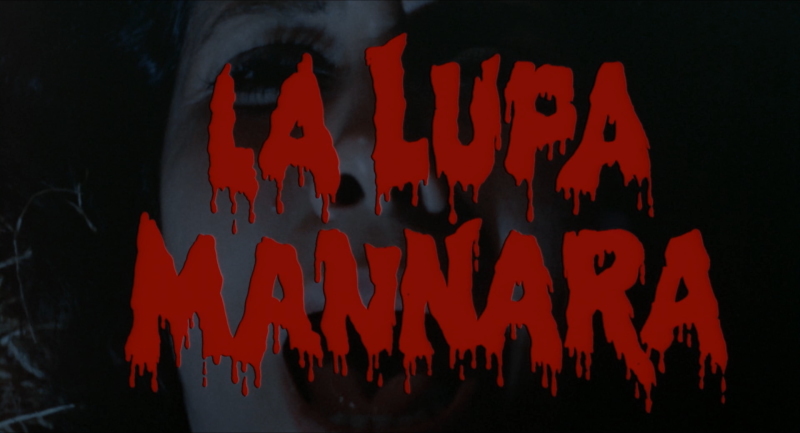 (aka "La lupa mannara" or "Legend of the Wolf Woman")
directed by Rino Di Silvestro
Italy 1976
Ever since she was raped as a child, Daniela Neseri (Annik Borel, BLOOD ORGY OF THE SHE DEVILS) has been repelled by the opposite sex. Living with her industrialist father (Tino Carraro, Dario Argento's THE CAT O'NINE TAILS) in seclusion at their ancestral estate - a medieval villa given a modern makeover – Daniella becomes obsessed with a lookalike ancestor who was burned at the stake as a werewolf. When her sister Irena (Dagmar Lassander, THE HOUSE BY THE CEMETERY) returns from the United States with new husband Fabian (Osvaldo Ruggieri), Daniela is aroused to the point that she tears his throat out. The death is blamed on rabid dogs and Daniela is institutionalized for shock at apparently witnessing it, but her father and doctor (Elio Zamuto, SHOOT FIRST, DIE LATER) suspect that Daniela may have had a psychotic break. When she escapes the hospital and a local peasant girl is found dead, Inspector Modica (Frederick Stafford, EAGLES OVER LONDON) ties the death to that of Fabian and starts hunting Daniela (and he has a trail of bodies from whomever is unfortunate enough to give Daniela a lift with ulterior motives). The trail goes dead, however, when Daniela meets stuntman Luca (Howard Ross, NEW YORK RIPPER who proves gentle and patient; but their happiness is short-lived, however, when a trio of local toughs rape Daniela and murder Luca. Will Daniela's brutal revenge cure her or be the final stage of her transformation into the WEREWOLF WOMAN?

Starting off like a fleshier version of Roger Vadim's BLOOD AND ROSES, Rino Di Silvestro's WERWOLF WOMAN veers into rape-revenge territory (although Daniela's vengeance is rather rushed). The psychological interpretation of the film holds up rather well, with Daniela's psychiatrist suggesting her ancestor's affliction was the clinical definition of lycanthropy, but Daniela is not a reincarnation and that her own psychosis is triggered by her obsession with her ancestor (rather than sharing the same syndrome). The beautiful Borel is suitably blank during her interactions with people with an almost feral quality to her features ins some shots. The film was released in the United States in a shorter version – presumably trimmed for double billing rather than violence or nudity – as LEGEND OF THE WOLF WOMAN by Dimension Pictures (Lawrence Woolner's company after parting ways with Roger Corman's New World Pictures, although their offices were just across the street).
Posters
Theatrical Release: June 1977 (USA)
Reviews More Reviews DVD Reviews

Comparison:
Shriek Show/Media Blasters - Region 1 - NTSC vs. Raro Video USA - Region FREE - Blu-ray
Big thanks to Eric Cotenas for the Shriek Show/Media Blasters Screen Caps!
(Shriek Show/Media Blasters - Region 1 - NTSC - LEFT vs. Raro Video USA - Region FREE - Blu-ray - RIGHT)
Box Covers

Part of the Wicked Women Triple Feature from Shriek Show:

Aldo in a 'Litebox'

Distribution

Shriek Show/Media Blasters

Region 1 - NTSC

Raro Video USA
Region FREE - Blu-ray
Runtime
1:39:21
1:37:28.843
Video

1.79:1 Original Aspect Ratio

16X9 enhanced
Average Bitrate: 7.93 mb/s
NTSC 720x480 29.97 f/s

Disc Size: 24,755,205,639 bytes

Feature Size: 21,837,287,424 bytes

Total Bitrate: 25.00 Mbps

Single-layered Blu-ray VC-1 Video

NOTE: The Vertical axis represents the bits transferred per second. The Horizontal is the time in minutes.

Bitrate:

Shriek Show/Media Blasters

Bitrate:

Raro Video Blu-ray

Audio
English Dolby Digital 2.0 mono

LPCM Audio Italian 1536 kbps 2.0 / 48 kHz / 1536 kbps / 16-bit
LPCM Audio English 1536 kbps 2.0 / 48 kHz / 1536 kbps / 16-bit

Subtitles
None
English, None
Features
Release Information:
Studio: Shriek Show/Media Blasters

Aspect Ratio:
Widescreen anamorphic - 1.79:1

Edition Details:
• Interview with director Rino Di Silvestro (4:3; 17:23)
• Poster Gallery
• Rino's Art Gallery
• Personal Photos
• Trailers for 'Plankton', 'Graveyard Shift', 'Two Orphan Vampires', and 'Fiancée of Dracula'

DVD Release Date: August 11th, 2009
Amaray

Chapters 12

Release Information:
Studio: Raro Video USA

Disc Size: 24,755,205,639 bytes

Feature Size: 21,837,287,424 bytes

Total Bitrate: 25.00 Mbps

Single-layered Blu-ray VC-1 Video

Edition Details:
• Interview with director Rino Di Silvestro (19:23)
• English Trailer (3:57)
• Italian Trailer (3:57)


Blu-ray Release Date: October 26th, 2014
Stanrard Blu-ray case

Chapters 13

Comments
NOTE: The below Blu-ray captures were taken directly from the Blu-ray disc.

ADDITION: Raro USA Region FREE Blu-ray: April 2015: Quite a big shift in colors. Skin tones tend to look more natural on the 1080P. The Raro

Blu-ray is brighter. There is some movement in the frame on both releases. The higher resolution is not crisp but is sharper than the older SD. It is on a single layered disc with a decent bitrate. Contrast is better supported on the BD. You can easily see the Raro video presentation is better - but it is still at the mercy of the production limitations.

Lossless audio is available for both English and Italian tracks in a linear PCM. The fitting score is by veteran Coriolano Gori and, one-timer, Susan Nicoletti and there are optional English subtitles on the region FREE Blu-ray disc.

Extras include a 20-minute interview with director Rino Di Silvestro - slightly longer than the one on the DVD. It is in Italian with English subtitles. There are also 4-minute trailers in both English and Italian.

Pretty disappointing film if you get your hopes up because of the title but for those keen on this genre it should provide some entertainment. The Blu-ray is the way to go.

- Gary Tooze and Eric Cotenas
---
Menus
(Shriek Show/Media Blasters - Region 1 - NTSC - LEFT vs. Raro Video USA - Region FREE - Blu-ray - RIGHT)
| | |
| --- | --- |
| | |
| | |
| | |
| | |
| | |
---
CLICK EACH BLU-RAY CAPTURE TO SEE ALL IMAGES IN FULL 1920X1080 RESOLUTION
Blu-ray Subtitle Sample
S
creen Captures
(Shriek Show/Media Blasters - Region 1 - NTSC - TOP vs. Raro Video USA - Region FREE - Blu-ray - BOTTOM)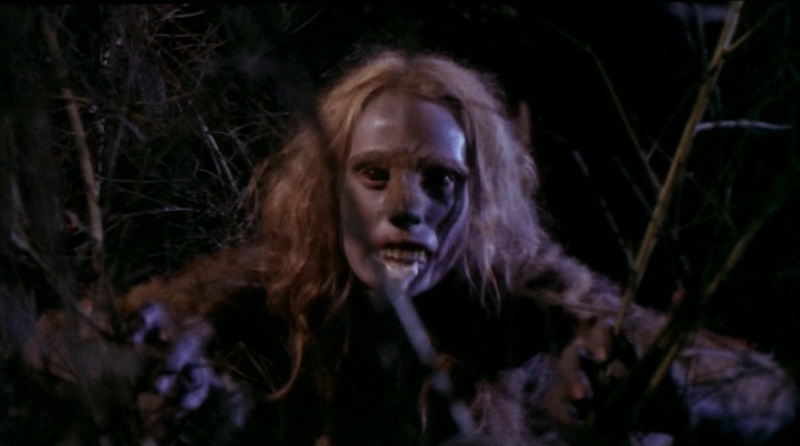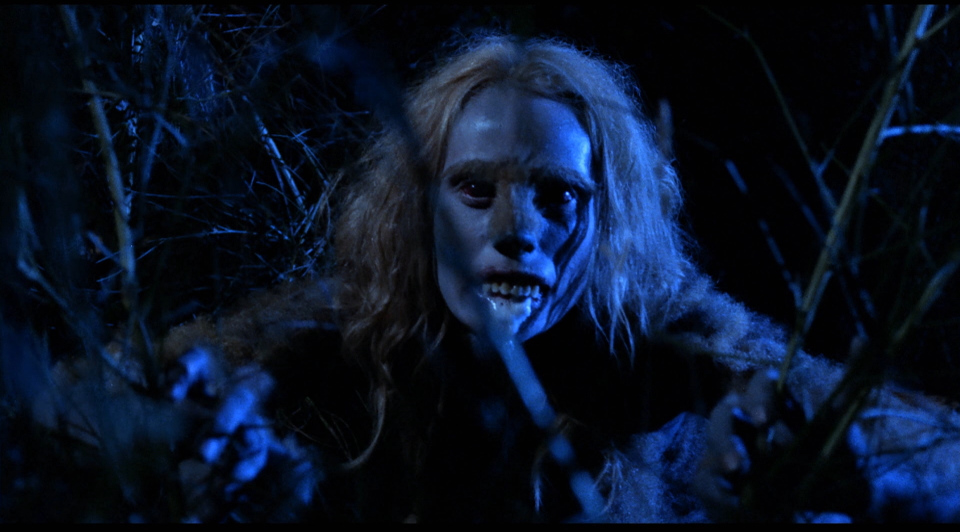 ---
(Shriek Show/Media Blasters - Region 1 - NTSC - TOP vs. Raro Video USA - Region FREE - Blu-ray - BOTTOM)
---
(Shriek Show/Media Blasters - Region 1 - NTSC - TOP vs. Raro Video USA - Region FREE - Blu-ray - BOTTOM)
---
(Shriek Show/Media Blasters - Region 1 - NTSC - TOP vs. Raro Video USA - Region FREE - Blu-ray - BOTTOM)
---
(Shriek Show/Media Blasters - Region 1 - NTSC - TOP vs. Raro Video USA - Region FREE - Blu-ray - BOTTOM)
---
(Shriek Show/Media Blasters - Region 1 - NTSC - TOP vs. Raro Video USA - Region FREE - Blu-ray - BOTTOM)
---
(Shriek Show/Media Blasters - Region 1 - NTSC - TOP vs. Raro Video USA - Region FREE - Blu-ray - BOTTOM)
---
(Shriek Show/Media Blasters - Region 1 - NTSC - TOP vs. Raro Video USA - Region FREE - Blu-ray - BOTTOM)
---
(Shriek Show/Media Blasters - Region 1 - NTSC - TOP vs. Raro Video USA - Region FREE - Blu-ray - BOTTOM)
---
(Shriek Show/Media Blasters - Region 1 - NTSC - TOP vs. Raro Video USA - Region FREE - Blu-ray - BOTTOM)
---
(Shriek Show/Media Blasters - Region 1 - NTSC - TOP vs. Raro Video USA - Region FREE - Blu-ray - BOTTOM)
---
(Shriek Show/Media Blasters - Region 1 - NTSC - TOP vs. Raro Video USA - Region FREE - Blu-ray - BOTTOM)