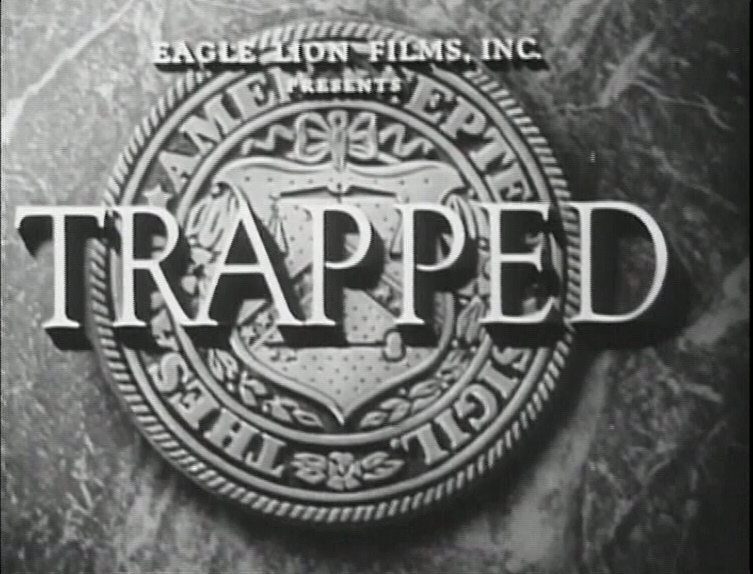 directed by Richard Fleischer
USA 1949
Convicted counterfeiter Tris Stewart (Lloyd Bridges - Three Steps North, The Limping Man) is offered early release from prison in return for helping the US Treasury Agents track down his former partners-in-crime. Unwilling to cooperate, Stewart manages to escape, unwittingly playing straight into the T-Men s hands. Directed with style and a documentary feel by Richard Fleischer (The Vikings, 10 Rillington Place), no-one is quite what they seem! Trapped is superbly lit, with crisp, intelligent dialogue a top notch Film Noir with an explosive ending.
***
Inaccurately labeled as a semi-documentary style film, Trapped from director Richard Fleischer begins with a heavy voice-over describing and lauding the efficiency of various government agencies: the Treasury Department and its Secret Service agents, the Coast Guard and the Customs Department. According to the film's preamble these departments work synergistically to not only do their jobs, but also to stop anyone from interfering with the smooth operation of the U.S. money supply. While listening to this monologue, you get the distinct feeling that you're watching some sort of recruiting film, written by--and a homage to--the government--and its myriad institutions that collectively form a faceless monolithic beast...
Trapped's stiff and laudatory introduction underscores the film's central theme--that crooks are trapped in a web of efficient crime detection orchestrated by the Secret Service Treasury Agents--T-Men. And the more criminals struggle to get out of this web, the more they become entangled in the intricate pathways created by the various government departments. In fact, the way Trapped lays out the story of the futile struggles of career criminal Tris Stewart (Lloyd Bridges), crooks are so out maneuvered, they might as well give up before they even try savoring a life of crime.
Excerpt of review from Guy Savage for Film Noir of the Week located HERE
Posters
Theatrical Release: October 1st, 1949 (USA)
Reviews More Reviews DVD Reviews


DVD Comparison:
Alpha - Region 0 - NTSC vs. Glass Key - Region 2 - PAL
Big thanks to Gregory Meshman for the Review!
Alpha - Region 0 - NTSC LEFT vs. Glass Key - Region 2 - PAL RIGHT
DVD Box Cover

Distribution

Alpha

Region 0 - NTSC

Glass Key

Region 2 - PAL

Runtime
1:17:57
1:18:03
Video

1.33:1 Original Aspect Ratio
Average Bitrate: 5.18 mb/s
NTSC 720x480 29.97 f/s

1.33:1 Aspect Ratio
Average Bitrate: 5.5 mb/s
PAL 720x576 25.00 f/s

NOTE: The Vertical axis represents the bits transferred per second. The Horizontal is the time in minutes.

Bitrate: Alpha

Bitrate: Glass Key

Audio
Dolby Digital 2.0 Mono (English)
Dolby Digital 2.0 Mono (English)
Subtitles
None
None
Features
Release Information:
Studio: Alpha

Aspect Ratio:
Fullscreen - 1.33:1

Edition Details:
• Bonus trailers for titles from Alpha New Cinema
• Alpha Video DVD Catalog

DVD Release Date: November 23rd, 2004
Keep Case

Chapters 7

Release Information:
Studio: Glass Key

Aspect Ratio:
Fullscreen - 1.33:1

Edition Details:
• None

DVD Release Date:

April 6th, 2009
Transparent Keep Case

Chapters 5

Comments

Pretty pathetic transfer for this essential Noir - in both editions. They look to be from the same source (same scratches) but the Alpha may have been taken directly from video-tape (flat-line bitrate). Both are interlaced and the Glass Key is, presumably, an incorrect standard source as well - see the running times - meaning 'ghosting' is present as well. The UK release also looks to have contrast boosting and is cropped. Pitiful - as this is a decent dark cinema effort and certainly deserves much better although a viable 35mm source may not even exist. Still we can shake our fists at the cheapo transfers.

Audio is about the same level as the video and there are no subtitles nor extras aside from the Alpha trailers and catalogue.

Almost, impossibly, we must recommend the Alpha at this stage although they are both so poor that it doesn't matter too much. If you are keen to see Trapped - both DVD editions here are basement prices. But you will get what you pay for.
---
DVD Menus
Alpha - Region 0 - NTSC LEFT vs. Glass Key - Region 2 - PAL RIGHT

| | |
| --- | --- |
| | |
| | |

---
Screen Captures
Alpha - Region 0 - NTSC TOP vs. Glass Key - Region 2 - PAL BOTTOM
---
Alpha - Region 0 - NTSC TOP vs. Glass Key - Region 2 - PAL BOTTOM
---
Alpha - Region 0 - NTSC TOP vs. Glass Key - Region 2 - PAL BOTTOM
---
Alpha - Region 0 - NTSC TOP vs. Glass Key - Region 2 - PAL BOTTOM
---
Alpha - Region 0 - NTSC TOP vs. Glass Key - Region 2 - PAL BOTTOM
---
Alpha - Region 0 - NTSC TOP vs. Glass Key - Region 2 - PAL BOTTOM
---
Alpha - Region 0 - NTSC TOP vs. Glass Key - Region 2 - PAL BOTTOM
---
DVD Box Cover

Distribution

Alpha

Region 0 - NTSC

Glass Key

Region 2 - PAL