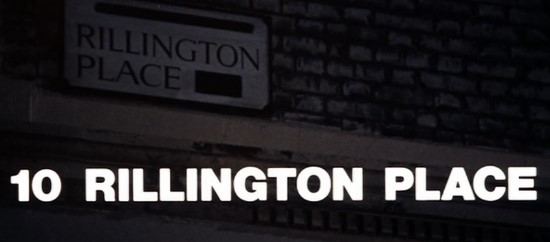 Directed by Richard Fleischer
UK 1971
Set in post-war London, this tells the true story of John Christie (Attenborough) who, having taken Timothy (Hurt) and Beryl (Geeson) Evans in as lodgers, proceeded to murder Beryl (covering it up as a botched abortion) and the couple's young daughter, only for Timothy to be executed for the crimes. Later developments would find Christie responsible for the killings, and horrific findings at his house in Rillington Place would confirm Christie's place as one of Britain's most evil murderers.

It's never overly violent, conventionally frightening or aggressive in tone, and yet 10 Rillington Place succeeds in being genuinely disturbing and utterly compelling. The performances are top-notch and the film is superbly paced to take the story for all it's worth, without unnecessary elaboration.

Attenborough is nothing short of phenomenal in the main role, managing to appear both threatening and harmless at the same time. This was of course the reason why Christie was such a successful killer, because his innocent facade hid his true character so well. He's softly spoken, retiring and utterly convincing as he manages to sell Timothy and Beryl the "abortion" which would see him take her life.

Both Geeson and Hurt are also very fine - Hurt in particular brings an almost childlike gullibility to the role, which of course was crucial in Christie being able to manipulate him, and lead to Evans being executed for crimes he didn't commit. There's also a nice turn from Pat Heywood as Christie's own wife, who also became a victim of her husband.

What is remarkable about the film though, is the way it manages to chill and create enormous discomfort with such ease. By taking for granted the fact that the audience knows what is going to happen, it presents quite horrific scenes in a very matter-of-fact way, which means the audience are engrossed in what is going on, but know they are powerless to do anything about it. This is a very difficult balance to get right, but this film succeeds superbly, and creates an atmosphere where the viewer feels like they're physically watching the crimes behind a piece of unbreakable glass.

out of

Excerpt from the Film Judge located HERE
Posters
Theatrical Release: February 10th, 1971
Reviews More Reviews DVD Reviews
DVD Review: Sony Pictures Home Ent. UK - Region 2,4 - PAL
DVD Box Cover

CLICK to order from:

Distribution
Sony Pictures Home Ent. UK Home Video - Region 2,4 - PAL
Runtime
1:46:16
Video
1.85:1 Aspect Ratio
Average Bitrate: 6.95 mb/s
PAL 720x576 25.00 f/s

NOTE: The Vertical axis represents the bits transferred per second. The Horizontal is the time in minutes.

Bitrate:

Audio
English (Dolby Digital 1.0)
Subtitles
English, None
Features

Release Information:
Studio: Sony Pictures Home Ent. UK

Aspect Ratio:
Original Aspect Ratio 1.85:1

Edition Details:

• DVD Introduction & Exclusive Interview by Sir Richard Attenborough
• Commentary by John Hurt
• Fact Files
• Vintage Lobby Cards
• Filmographies

DVD Release Date: March 29th, 2004
Keep Case
Chapters: 28
Comments:

Firstly, I don't know how this film got by me - but it appears to have done the same to many on this side of the pond. It is as chilling a piece of cinema as I have ever seen - I had the feeling of grisly discomfort through the entire first hour. I had strong recollection of another quasi-brilliant effort by Richard Fleischer; The Boston Strangler (1968) as well as Hitchcock's Frenzy (1972) but frankly 10 Rillington Place is in another league altogether. As one reviewer puts it "more blood-curdling than Psycho"... and I wouldn't disagree. I would also state that it may be Richard Attenborough's best ever performance that I can recall and I thought Hurt and Geeson was also very effective. Perhaps the films keynote was the lack of exploitive imagery - although it is a harsh and truly disquieting subject matter - the true story of a serial killer. This may very well be one of the best films you have never seen.

The DVD image is very good - in fact bordering on excellent. Decent sharpness and dark scenes remaining dark with no visible signs of untoward manipulation. The print is very clean and the mono audio clear and consistent. It strikes the correct aspect ratio of 1.85:1. John Hurts commentary is also very interesting - he points out Fleischer strong European sensibility and lack of relying on intense music to fill in for the narrative. Hurt obviously had a lot top say about his character of Timothy John Evans. He praises Attenborough and relates some anecdotes of working with him and his ability to manipulate props into his character's makeup. There are also 11 short spots with Richard Attenborough ranging from 90 seconds to 6 minutes each - they all appear to have been shot, along with the introduction, at the same time. he is an excellent speaker and tells his genuine feelings about this film experience and it is all very positive. There are also some static screen Lobby Cards, fact files and filmographies.

NOTE: We give this DVD/film our strongest recommendation and at the writing of this review it is 58% OFF at Amazon.UK HERE.
---

DVD Menus
---
Subtitle Sample
Screen Captures