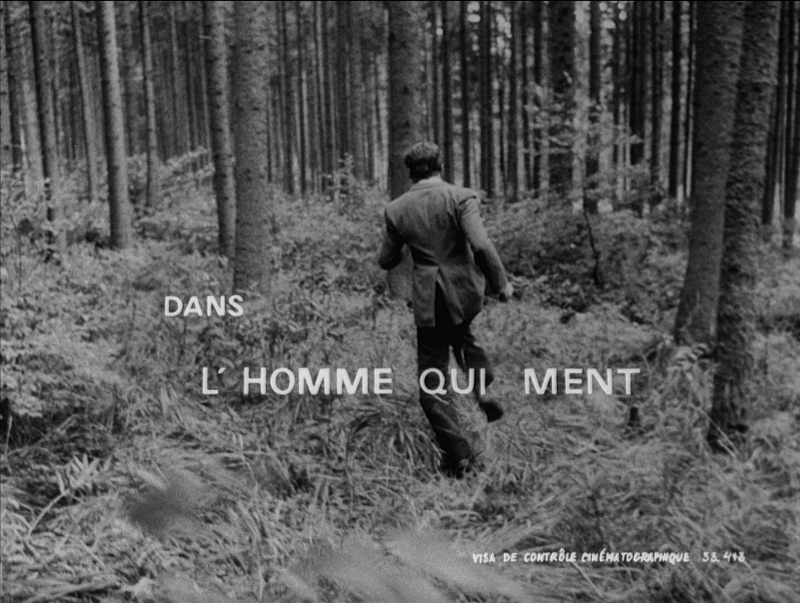 (aka "The Man Who Lies" or "L'homme qui ment" or "L'uomo che mente")
directed by Alain Robbe-Grillet
France/Czechoslovakia 1968
First seen running from soldiers and being shot, Boris Varessa (Jean-Louis Trintignant) arrives in a small French village (the film was shot in Czechoslovakia) where the local hero is one Jean Robin who was supposedly taken prisoner and killed by the occupying troops during the war a few years before. Boris infiltrates the chateau occupied by the dead man's elderly father along with his widow, sister, and a maid. He says he is a friend of Jean's who collaborated with him during the war. He seduces each of the women with a different story about Jean that portray him (and himself) alternately as a hero and traitor (as well as his possible murderer). Soon another man arrives in the village who may be the real Jean Robin. Trintignant is great as always and manages to make you believe that he is making up Robbe-Grillet's carefully scripted dialogue on-the-spot (whereas he enacted the narrative of TRANS-EUROPE-EXPRESS through its many revisions, here he creates and performs the narrative himself taking great risks reciting the various permutations to different characters who possess sometimes contradictory knowledge of the other Jean Robin). As with Robbe-Grillet's other French/Czech co-production EDEN AND AFTER, MAN WHO LIES features the distinct contributions of Robbe-Grillet regulars sound designer/composer Michel Fano and editor Bob Wade while wife Catherine Robbie-Grillet makes another brief appearance.
Poster
Theatrical Release: 27 March 1968 (France)
Reviews More Reviews DVD Reviews
Comparison:
Ripley's Home Video - Region 2 - PAL vs. Redemption - Region 'A' - Blu-ray
Big thanks to Eric Cotenas for the DVD Review!
1)

Ripley's Home Video - Region 2 - PAL - LEFT

2)

Redemption - Region 'A' - Blu-ray - RIGHT
Box Covers

Distribution

Ripley's Home Video

Region 2 - PAL

Redemption

Region 'A' - Blu-ray

Runtime
1:33:06 (4% PAL speedup)
1:37:55.702
Video

1.33:1 Original Aspect Ratio
Average Bitrate: 4.71 mb/s
PAL 720x576 25.00 f/s

1080P Dual-layered

Blu-ray

Disc Size:

42,941,880,780 bytes

Feature: 30,096,050,112 bytes

Video Bitrate:

36.81 Mbps

Codec: MPEG-4 AVC Video

NOTE: The Vertical axis represents the bits transferred per second. The Horizontal is the time in minutes.

Bitrate

Bitrate Blu-ray

Audio
French Dolby Digital 2.0 mono; Italian Dolby Digital 2.0 mono
LPCM Audio French 2304 kbps 2.0 / 48 kHz / 2304 kbps / 24-bit
Subtitles
Italian, none
English, none
Features
Release Information:
Studio: Ripley's Home Video

Aspect Ratio:
Fullscreen - 1.33:1

Edition Details:
• Theatrical Trailer (4:3; 3:14)
• Interview with Alain Robbe-Grillet (4:3; 5:04)

DVD Release Date:
Amaray

Chapters 12

Release Information:
Studio: Redemption

Aspect Ratio: 1.33:1

1080P Dual-layered

Blu-ray

Disc Size:

42,941,880,780 bytes

Feature: 30,096,050,112 bytes

Video Bitrate:

36.81 Mbps

Codec: MPEG-4 AVC Video

Edition Details:

• Interview with Alain Robbe-Grillet (35:22 in 1080P)

• Trailers
• 2014 Promo (2:09 in 1080P)


Blu-ray Release Date: May 27th, 2014
Standard Blu-ray Case

Chapters 10
Comments

NOTE: These Blu-ray captures were taken directly from the Blu-ray disc.

ADDITION: Redemption - Region 'A' - Blu-ray (May 2014):

Alain Robbe-Grillet's The Man Who Lies comes to Blu-ray from Kino's Redemption label. It is transferred to a dual-layered disc with a max'ed out bitrate. The notable difference from the DVD is how the grain structure is supported in 1080P. Visuals are darker, and this is presumably more accurate and contrast is more layered than the SD. It looks excellent in-motion - smooth but film textures are still prevalent. This is probably as good as it will get for this film.

Audio is in the form of a linear PCM 2.0 channel at 2304 kbps in original French.

Michel Fano's (L'Immortelle, Eden and After) score benefits from the lossless rendering advancing over the tinny-sounding DVD. There are optional English subtitles on the region 'A'-locked Blu-ray disc.

Extras include a revealing 35-minute interview with writer/director Robbe-Grillet (In French with English subtitles), trailers and a 2014 Promo. I still find Robbe-Grillet's art-heavy work baffling but enjoyable. This is definitely a film to revisit. Certainly recommended to those familiar with his films!

***

ON THE DVD: Although the cover cites a 16:9-enhanced 1.66:1 aspect ratio, the HD mastered transfer has been rendered in 1.33:1 full frame but it does not seem to be cropped (my only comparison sources are a DVD-R of a transfer of a 16mm English subtitled Evergreen Films print - several generations removed - and a recording of a French TV broadcast which were both fullscreen as well). The image does not seem to have been heavily digitally-manipulated but the low bitrate is not always up to the encoding demands (there is pixellation under the title card as Trintignant runs through the brush).

Italian subtitles are forced on the French track (but can be disabled on some hardware players and likely on most software players). There is a brief authoring error where late in the film where the image snaps to 16:9 for a few frames before going back to 4:3. A fullscreen trailer is also provided along with a 2001 TV interview with Robbe-Grillet - probably an excerpt from the same interview excerpted on Ripley's DVD of EDEN AND AFTER - in French with Italian subtitles.
---
Menus
1)

Ripley's Home Video - Region 2 - PAL - LEFT

2)

Redemption - Region 'A' - Blu-ray - RIGHT
| | |
| --- | --- |
| | |
| | |
| | |
| | |
| | |
| | |
---
CLICK EACH BLU-RAY CAPTURE TO SEE ALL IMAGES IN FULL 1920X1080 RESOLUTION
Subtitle Sample - Redemption - Region 'A' - Blu-ray
1)

Ripley's Home Video - Region 2 - PAL - TOP

2)

Redemption - Region 'A' - Blu-ray - BOTTOM
---
1)

Ripley's Home Video - Region 2 - PAL - TOP

2)

Redemption - Region 'A' - Blu-ray - BOTTOM
---
1)

Ripley's Home Video - Region 2 - PAL - TOP

2)

Redemption - Region 'A' - Blu-ray - BOTTOM
---
1)

Ripley's Home Video - Region 2 - PAL - TOP

2)

Redemption - Region 'A' - Blu-ray - BOTTOM
---
1)

Ripley's Home Video - Region 2 - PAL - TOP

2)

Redemption - Region 'A' - Blu-ray - BOTTOM
---
1)

Ripley's Home Video - Region 2 - PAL - TOP

2)

Redemption - Region 'A' - Blu-ray - BOTTOM
---
1)

Ripley's Home Video - Region 2 - PAL - TOP

2)

Redemption - Region 'A' - Blu-ray - BOTTOM
More Blu-ray captures
---
Box Covers

Distribution

Ripley's Home Video

Region 2 - PAL

Redemption

Region 'A' - Blu-ray