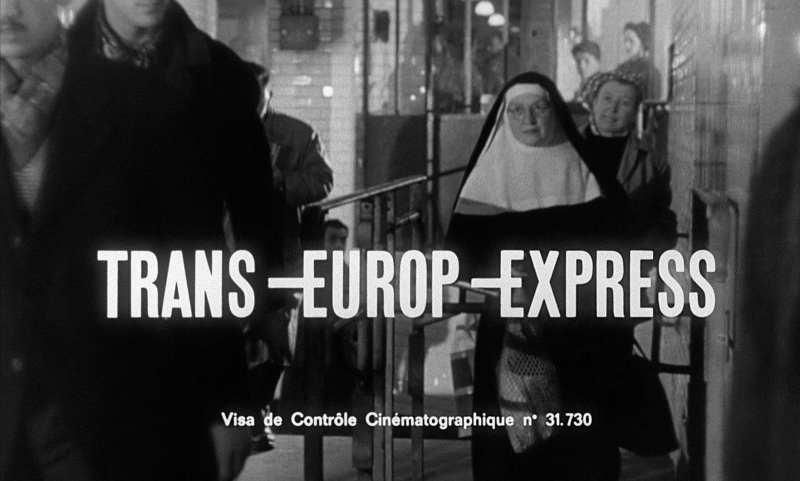 (aka "Trans-Europ-Express [A Pelle Nuda]" )
directed by Alain Robbe-Grillet
France 1966
The film begins simply. Writer Alain Robbe-Grillet gets aboard the train with his wife (Catherine Robbe-Grillet, herself the author of the S&M classic L'IMAGE) and a film producer who then suggests they make a film using the train - the Trans-Europ-Express from Paris to Antwerp - as a setting with drug trafficking and rape. Off the top of his head, Robbe-Grillet voices the proposed scenario which features the actor Jean-Louis Trintignant (winking at the camera in his first close-up) as Elias buying a valise with a false bottom and heads to Antwerp to collect a shipment of cocaine. His journey is constantly rewritten and deconstructed by the three on the train who involve him with prostitutes, fake cops, bombs (early on, a rail yard is used to represent the scattered train compartments after an explosion accomplished in an intentionally artificial manner with an comic explosion optical effect). Just when things are moving straightforwards, the plot unravels as writer, producer, and secretary pick it apart. Eva (Marie-France Pisier) goes from being Elias' lover to his accomplice to his victim to a bondage show performer just as spies become undercover cops and Elias' smuggled cocaine appears, disappears, and changes substance. Crisply photographed in black and white by Wally Kurant (Godard's MASCULINE-FEMININE), TRANS-EUROP-EXPRESS has aged well. Its reflexive structure is perhaps not so impenetrable as it might have been to general audiences at the time but the unpredictability of the film's various twists and rewrites keeps things off-kilter and Trintignant is compulsively watchable (as he is in Robbe-Grillet's follow-up THE MAN WHO LIES where he plays a similarly mercurial character). Perhaps even more surprising for the time than the displays of female flesh is the frank though restrained depictions of bondage and sexual violence (in Italy, Robbe-Grillet was called to stand trial for pornography - it didn't help that the Italian distributors retitled the film A PELLE NUDA); fleshy but non-gratuitous elements which continued to infuse his subsequent works like EDEN AND AFTER, PROGRESSIVE SLIDINGS OF PLEASURE, PLAYING WITH FIRE up to GRADIVA.
Posters
Theatrical Release: 12 May 1968 (USA)
Reviews More Reviews DVD Reviews
Comparison:
Ripley's Home Video - Region 2 - PAL vs. Redemption/ Kino - Region 'A' - Blu-ray
Big thanks to Eric Cotenas for the DVD Review!
Ripley's Home Video - Region 2 - PAL LEFT vs. Redemption/ Kino - Region 'A' - Blu-ray RIGHT
Box Cover

Distribution

Ripley's Home Video

Region 2 - PAL

Redemption / Kino

Region 'A' - Blu-ray

Runtime
1:30:45 (4% PAL speedup)
1:35:19.463
Video

1.66:1 Original Aspect Ratio

16X9 enhanced
Average Bitrate: 4.89 mb/s
PAL 720x576 25.00 f/s

1080P Dual-layered Blu-ray

Disc Size:

40,265,018,903 bytes

Feature: 28,603,803,072 bytes

Codec: MPEG-4 AVC Video

Total Video Bitrate: 35.81 Mbps

NOTE: The Vertical axis represents the bits transferred per second. The Horizontal is the time in minutes.

Bitrate

Bitrate:Blu-ray

Audio
French (Dolby Digital 2.0 mono); Italian Dolby Digital 2.0 mono
LPCM Audio French 2304 kbps 2.0 / 48 kHz / 2304 kbps / 24-bit
Subtitles
Italian, none
English, none
Features
Release Information:
Studio: Ripley's Home Video

Aspect Ratio:
Widescreen anamorphic - 1.66:1

Edition Details:
• Theatrical Trailer (16:9; 3:12)
• 14 page booklet with essays on the film and Robbe-Grillet

DVD Release Date:
Amaray

Chapters 16

Release Information:
Studio: Redemption / Kino

Aspect Ratio: 1.66:1

1080P Dual-layered Blu-ray

Disc Size:

40,265,018,903 bytes

Feature: 28,603,803,072 bytes

Codec: MPEG-4 AVC Video

Total Video Bitrate: 35.81 Mbps

Edition Details:
• Alain Robbe-Grillet Interview (32:44 in French with English subs)

• Trailers (Trans-Europ-Express - 3:22, The Man Who Lies - 3:23, Eden and After - 2:38)

• 2014 Promo (2:09)


Blu-ray Release Date: February 11th, 2014
Standard Blu-ray Case

Chapters 10
Comments

NOTE: The below Blu-ray captures were taken directly from the Blu-ray disc.

ADDITION: Redemption - Region 'A' - Blu-ray - February 2014':

The Redemption arm of Kino have given Alain Robbe-Grillet's Trans-Europe-Express a 1080P, dual-layered transfer. It looks very strong with plenty of grain texture but scratches, just under the surface, are visible. It's a big advancement over the SD with a higher level of detail and some depth exported. Contrast is more layered and I see no cropping and it is in the accurate 1.66:1 aspect ratio although slightly picture-boxed. Visually it is significantly more film-like than the DVD.

The linear PCM audio sounds a bit odd to me - very hollow. I have no idea if it is supposed to sound this way - but I found it very unusual - almost like post-DUB narrative. You do tend to get used to it. There are a few effects - train siren, beautiful classical music. There are optional English subtitles.

Extras include a 1/2 interview with Alain Robbe-Grillet discussing the film. He seems quite candid - it is in French with English subtitles. There are also trailers and the 2014 promo.

As an 'erotic thriller, a mystery, and a film-within-a-film' - Trans-Europe-Express is very interesting if... unusual - but not in a Euro-trashy way. I'd like to revisit this again at some point. I think there is some substance here... and plenty of pretty gals! Recommended to the adventurous!

***

ON THE DVD: Whereas Ripley's transfer of EDEN AND AFTER was dual-layered (even minus the interview and trailer file size), their transfer of TRANS EUROP EXPRESS takes up only 3.25 GB of the full 3.43 GB disc size. The film was mastered in high definition in Italy and looks far better than the tape-sourced bootlegs floating around but it would have been nice had the transfer been given a higher bitrate (there certainly was room for it). Hopefully the now available HD master will be given better treatment in an English-friendly release (although American rights on Robbe-Grillet's films are somewhat tangled).

The only extras are the theatrical trailer (which may have been reconstructed from the new master as it is missing any text including a title) and a 14 page booklet with reprinted interviews and some excerpts from articles and books on Robbe-Grillet pertaining to TRANS-EUROP-EXPRESS in Italian only.
---
Menus
Ripley's Home Video - Region 2 - PAL LEFT vs. Redemption/ Kino - Region 'A' - Blu-ray RIGHT
| | |
| --- | --- |
| | |
| | |
| | |
| | |
| | |
---
CLICK EACH BLU-RAY CAPTURE TO SEE ALL IMAGES IN FULL 1920X1080 RESOLUTION
Screen Captures
Redemption/ Kino - Region 'A' - Blu-ray
Subtitle sample
Ripley's Home Video - Region 2 - PAL TOP vs. Redemption/ Kino - Region 'A' - Blu-ray BOTTOM
---
Ripley's Home Video - Region 2 - PAL TOP vs. Redemption/ Kino - Region 'A' - Blu-ray BOTTOM
---
Ripley's Home Video - Region 2 - PAL TOP vs. Redemption/ Kino - Region 'A' - Blu-ray BOTTOM
---
Ripley's Home Video - Region 2 - PAL TOP vs. Redemption/ Kino - Region 'A' - Blu-ray BOTTOM
---
Ripley's Home Video - Region 2 - PAL TOP vs. Redemption/ Kino - Region 'A' - Blu-ray BOTTOM
---
Ripley's Home Video - Region 2 - PAL TOP vs. Redemption/ Kino - Region 'A' - Blu-ray BOTTOM
---
Box Cover

Distribution

Ripley's Home Video

Region 2 - PAL

Redemption / Kino

Region 'A' - Blu-ray