Review by Gary Tooze
Production:
Theatrical: 20th Century-Fox
Video: Twilight Time
Disc:
Region: FREE! (as verified by the Momitsu region FREE Blu-ray player)
Runtime: 2:19:39.913
Disc Size: 44,306,034,935 bytes
Feature Size: 43,988,207,616 bytes
Video Bitrate: 34.00 Mbps
Chapters: 14
Case: Standard Blu-ray case
Release date: July 12th, 2011
Video:
Aspect ratio: 2.55:1
Resolution: 1080p / 23.976 fps
Video codec: MPEG-4 AVC Video
Audio:
DTS-HD Master Audio English 3761 kbps 5.1 / 48 kHz / 3761 kbps / 24-bit (DTS Core: 5.1 / 48 kHz / 1509 kbps / 24-bit)
DTS-HD Master Audio English 1683 kbps 2.0 / 48 kHz / 1683 kbps / 16-bit (DTS Core: 2.0 / 48 kHz / 1509 kbps / 16-bit)
DTS Audio English 256 kbps 2.0 / 48 kHz / 256 kbps / 16-bit
Subtitles:
None
Extras:
•
Audio Commentary with Film Historians Alain Silver and James Ursini
•
Isolated Score Track
•
Original Theatrical Trailer (2:51 in 480i)
•
8-page liner notes leaflet with essay by Julie Kirgo
Bitrate:
Description: Based on the novel by Mika Waltari and helmed by Casablanca director Michael Curtiz, The Egyptian, a lavish period soaper,... is set several centuries before the birth of Jesus Christ. Young Egyptian healer Sinuhe Edmund Purdom (ere accompanied by his servant, Kaptah, played by Peter Ustinov) draws the affection of barmaid Merit (Jean Simmons) who seeks his hand in marriage. Sinuhe provides medical assistance to the epileptic Pharoah, Akhnaton (Michael Wilding), who, meanwhile, becomes convinced that only one god exists, and thus infuriates all of his polytheistic priests, who secretly plot to assassinate him. Sinuhe has an affair with a Babylonian whore, Nefer (Bella Darvi), but grows listless with her and eventually ends the relationship, harkening back to Merit. However, she is soon extinguished, with an arrow through the heart, for also being monotheistic. Angered by this, and believing Akhnaton's ideas directly responsible for Merit's death, Sinuhe and his muscular friend, the affable Horemheb (screen heartthrob Victor Mature) poison the Pharoah. Akhnaton then dies while Horemheb prepares to ascend to the throne. Ingmar Bergman had a point when he admonished the idea of falling for one's lead actress, and it is a lesson one wishes producer Daryl Zanuck had learned; he purportedly had an extramarital affair with Darvi, taking her as a plaything, but grew sick of her after casting her in seven films. Her career then torpedoed. (Little wonder - her horrendous performance in this film must be seen to be believed; Variety called it less than believable or skilled.) This $4.2 million film (a massive amount for 1954) suffered from additional production problems as well, with Marlon Brando originally slated to star, but replaced, at the very last minute, by Purdom, a contract player for 20th Century-Fox.
~ Hal Erickson, All Movie Guide.
The Film:
In eighteenth-dynasty Egypt, Sinuhe, a poor orphan, becomes a brilliant physician and with his friend Horemheb is appointed to the service of the new Pharoah. Sinuhe's personal triumphs and tragedies are played against the larger canvas of the turbulent events of the 18th dynasty. As Sinuhe is drawn into court intrigues, and bizarre secrets are revealed to him, he learns the answers to the questions he has sought since his birth. Short on historical accuracy but strong on plot and characterization.
Edmund Purdom, a last-minute replacement for Marlon Brando, plays a soul-searching physician in ancient Egypt in this slow-moving 1954 blockbuster from Fox. Loosely based on Mika Waltari's novel, the film tends to illustrate the limitations of most early CinemaScope features.
Excerpt from Jonathan Rosenbaum at the Chicago Reader located HERE

Image : NOTE: The below Blu-ray captures were taken directly from the Blu-ray disc.
So Twilight Time (The Kremlin Letter, Violent Saturday, Fate is the Hunter) have ventured to Blu-ray with a 50's Fox historic scope epic picture loaded with stars. It's positive to see that they have gone dual-layered with the transfer and have added some worthy extras. I suspect it looks as good as the available source and that may not be pristine - but it is acceptable to this vintage-film-in-1080P buff. There is some cinemascope 'mumps' with a slight horizontal stretching in the image. Colors are eye-catching from the lavish costumes to the fake gold. Contrast too seem adept - notable in a few scenes for the more piercing black levels. Detail on this Blu-ray is not a premium levels but the grain seems reasonably consistent without much noise interference. This Blu-ray may not produce the most stellar image but in the impressive 2.55 widescreen it is one that excels above SD in its film-like features (there is some infrequent subtle depth) and ends up being something I can visually appreciate.
CLICK EACH BLU-RAY CAPTURE TO SEE ALL IMAGES IN FULL 1920X1080 RESOLUTION
Audio :
The Egyptian boasts a score co-composed by legendary(s) Alfred Newman and Bernard Herrmann. It's great top hear the juxtapose from Herrmann's authoritative pieces blended in with Newman's gentler style. The feature is given a DTS-HD Master 5.1 at 3761 kbps and I can't say there was any demonstrative separation but it has a punch in the score's bass. It comes with the option of hearing that score isolated in 2.0 channel stereo (effects removed.) There are no subtitles and m
y
Momitsu
has identified it as being a region FREE disc playable on
Blu-ray
machines worldwide.

Extras :
I'd say the audio commentary is an extremely valuable addition. Film Historians Alain Silver and James Ursini are two of the absolute best in the business and have done many a commentary in tandem. This is filled with all the tidbits on the performers and production that fans will be keen to know. Excellent. Twilight Time and included the option to indulge in the Isolated Score in lossless. It's a treat with two of the best composers of the era. Lastly is an original Theatrical Trailer. There is also an 8-page liner notes leaflet with essay by Julie Kirgo.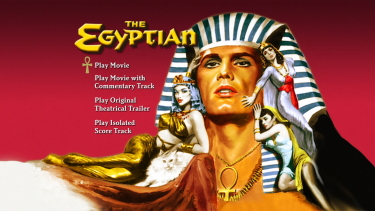 BOTTOM LINE:
I wouldn't say the film was any masterpiece but it has that indefinable epic feel with some expense put into the production and so many stars. I'd like to recommend the Blu-ray but I found the price exorbitant for what is being offered. I admit to being entertained and really had a relaxing time with the 2+ hour film - also appreciating the commentary and isolated score. Those keen should indulge as it is limited to 3,000 copies.
Gary Tooze
July 22nd, 2011