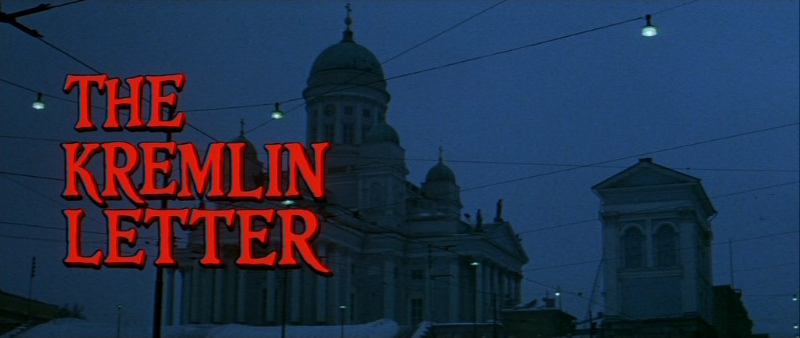 directed by John Huston
USA 1970
A network of older spies from the West recruits a young intelligence officer with a photographic memory to accompany them on a mission inside Russia. They must recover a letter written by the CIA that promises American assistance to Russia if China gets the atomic bomb. Directed by John Huston.

***

In this star-studded, black-hearted spy thriller directed and co-written by the legendary John Huston (The Maltese Falcon, The African Queen), a potentially catastrophic diplomatic letter from the CIA must be recovered at all costs. Drafted in is Rone (Patrick O'Neal), a young agent with a photographic memory, to make his way through a treacherous maze of shadowy cities and shady characters. Based on the acclaimed novel by Noel Behn, drawn from his work within the U. S. Army Counterintelligence Corps, The Kremlin Letter is a brutal, level-headed examination of espionage, leaving behind any trace of gadgetry or glamour. Described by legendary French filmmaker Jean-Pierre Melville (Le Samouraļ) as 'magisterial', and featuring an astonishing cast including Orson Welles, Max von Sydow, George Sanders, Bibi Andersson, and Richard Boone, Eureka is proud to present this long-unavailable, high-concept James Bond beater in its UK DVD debut.
Posters
Theatrical Release: 1 February 1970 (USA)
Reviews More Reviews DVD Reviews
DVD Comparison:
Twilight Time (Limited Edition) - Region 1 - NTSC vs. Eureka - Region 2 - PAL
Big thanks to Gregory Meshman for the Twilight Time Review!
Twilight Time (Limited Edition) - Region 1 - NTSC LEFT vs. Eureka - Region 2 - PAL RIGHT
DVD Box Cover

Distribution

Twilight Time

Region 1 - NTSC

Eureka (UK)

Region 2 - PAL

Runtime
2:00:16
1:55:44 (4% PAL speedup)
Video

2.31:1 Original Aspect Ratio

16X9 enhanced
Average Bitrate: 4.60 mb/s
NTSC 720x480 29.97 f/s

2.32:1 Aspect Ratio

16X9 enhanced
Average Bitrate: 4.68 mb/s
PAL 720x576 25.00 f/s

NOTE: The Vertical axis represents the bits transferred per second. The Horizontal is the time in minutes.

Bitrate: Twilight Time

Bitrate: Eureka

Audio
Dolby Digital Mono (English)
Dolby Digital Mono (English)
Subtitles
None
English, None
Features
Release Information:
Studio: Twilight Time

Aspect Ratio:
Widescreen anamorphic - 2.31:1

Edition Details:
• Isolated Score Track
• Booklet

DVD Release Date: March 15th, 2011
Keep Case

Chapters 13

Release Information:
Studio: Eureka

Aspect Ratio:
Widescreen anamorphic - 2.32:1

Edition Details:
• none

DVD Release Date:

July 25th, 2011
Keep Case

Chapters 12
Comments

ADDITION - Eureka - May 2011: This appears to be the same cut of the film and is also single-layered but the Eureka is sharper than the Twilight Time. The North American disc has the isolated score and booklet while the Eureka offers nothing but optional subtitles. Those sensitive to PAL speedup have an easy decision - the rest might lean to the Eureka - or whichever they can get cheapest according to their geographic location (shipping).

***

The Kremlin Letter was announced back in 2006 to be released as part of Cinema Classics Collection, but that edition never materialized. 5 years later, a new label, Twilight Time, working closely with 20th Century Fox, is releasing DVD of this film. The pressed disc is limited to 3,000 units and is available exclusively through Screen Archives Entertainment, either directly through them or at Amazon Marketplace. The single-layered disc presents the 120-minute US release version - there is information about 1 minute and 8 seconds scene set at Bolshoi theater missing from this version, but it was only present on export prints, which was never confirmed to be part of US cut supervised by John Huston - the included booklet addresses this issue in its linear notes.

The anamorphic print is very good quality, but is unfortunately interlaced. The mono soundtrack is decent, but sometimes very quiet. There are no subtitles provided and the lone extra on the disc is an isolated score track. There is also above-mentioned 8-page booklet included with an essay about the film, some stills and original poster artwork. This is a recommended release of an underrated spy thriller.
---
DVD Menus
Twilight Time (Limited Edition) - Region 1 - NTSC LEFT vs. Eureka - Region 2 - PAL RIGHT

| | |
| --- | --- |
| | |
| | |
---
Subtitle Sample (Eureka)
S
creen Captures
Twilight Time (Limited Edition) - Region 1 - NTSC TOP vs. Eureka - Region 2 - PAL BOTTOM
---
Twilight Time (Limited Edition) - Region 1 - NTSC TOP vs. Eureka - Region 2 - PAL BOTTOM
---
Twilight Time (Limited Edition) - Region 1 - NTSC TOP vs. Eureka - Region 2 - PAL BOTTOM
---
Twilight Time (Limited Edition) - Region 1 - NTSC TOP vs. Eureka - Region 2 - PAL BOTTOM
---
Twilight Time (Limited Edition) - Region 1 - NTSC TOP vs. Eureka - Region 2 - PAL BOTTOM
---
Twilight Time (Limited Edition) - Region 1 - NTSC TOP vs. Eureka - Region 2 - PAL BOTTOM
---
Twilight Time (Limited Edition) - Region 1 - NTSC TOP vs. Eureka - Region 2 - PAL BOTTOM
---
Twilight Time (Limited Edition) - Region 1 - NTSC TOP vs. Eureka - Region 2 - PAL BOTTOM
---
DVD Box Cover

Distribution

Twilight Time

Region 1 - NTSC

Eureka (UK)

Region 2 - PAL