| | |
| --- | --- |
| | S E A R C H D V D B e a v e r |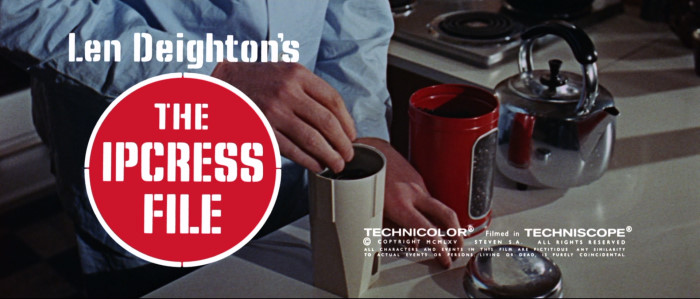 Directed by Sidney J. Furie
UK 1965
Bowing in the same year Bond was saving the world from total destruction in Thunderball, bespectacled Harry, more modestly engaged in slowing the brain drain of British scientists, immediately endeared himself to average blokes. Harry Palmer is forever enshrined as the credible everyman alternative to Bond. In conception and in Caine's performance he was a fantasy figure for guys who wear glasses, people living in anonymous flats, driving unglamorous, functional cars and shopping for groceries after work. You can relate to Harry Palmer. He's capable and crafty. He's sexy. And he can cook.

Bond's fabulous world is one of exotic locations, babes, stupendous stunts, ingenious gadgets and gizmos. It is rich with explosively lavish underground lairs of megalomaniacal masterminds with whom 007 contends when he isn't between the sheets, behind the wheel of an Aston Martin or BMW, in a casino or relaxing with a vodka martini. Palmer's world is surveillance shifts in a grotty attic, furtive shenanigans in British Rail stations, the rendezvous on park benches, an HQ disguised as a domestic employment bureau, and a villains' lair in a disused warehouse. Harry drinks whiskey, plays the horses, is issued the keys to a boring blue Zodiac that doesn't do anything except go, and he is the first swinging London bachelor to be seen grinding his own coffee.
Posters
Theatrical Release: July 2nd, 1965
Reviews More Reviews DVD Reviews
Comparison:
Network (2-disc) - Region 2 - PAL vs. ITV - Region FREE - Blu-ray
Network - Region 2 - PAL LEFT vs. ITV - Region FREE - Blu-ray RIGHT
DVD Box Cover

Network (UK) coming out with their Blu-ray in July 2014:

Distribution
Network - Region 2 - PAL
ITV - Region FREE - Blu-ray
Runtime
1:43:08 (4% PAL Speedup)
1:47:39.791
Video
2.35:1 Aspect Ratio
Average Bitrate: 7.95 mb/s
NTSC 720x480 29.97 f/s

Disc Size: 20,426,750,828 bytes

Feature Size: 19,600,809,984 bytes

Average Bitrate:

24.27 Mbps

Single

-layered Blu-ray MPEG-2 Video

NOTE: The Vertical axis represents the bits transferred per second. The Horizontal is the time in minutes.

Bitrate:

DVD

Bitrate:

Blu-ray

Audio
English (Dolby Digital mono)
Dolby Digital Audio English 640 kbps 5.1 / 48 kHz / 640 kbps
Dolby Digital Audio English 224 kbps 2.0 / 48 kHz / 224 kbps
Subtitles
None
English, None
Features

Release Information:
Studio: Network

Aspect Ratio:
Original Aspect Ratio 2.35:1

Edition Details:

• Commentary with track by Sidney Furie and editor Peter Hunt
• Theatrical Trailer (1:04)

Disc 2

• Interview with Michael Caine (21:08)
• Interview with Sir Ken Adam (10:30)
• Michael Caine Goes 'Stella' - Comedy Sketch by Phil Cornwell (4:57)
• Candid Caine - 1969 'Self Portrait' documentary (44:20)
• US radio spots
• Stills Gallery



DVD Release Date: January 16th, 2006
Transparent Keep Case

Chapters: 12

Release Information:
Studio: ITV

Aspect Ratio:
Original Aspect Ratio 2.35:1

Disc Size: 22,529,514,590 bytes

Feature Size: 20,055,435,264 bytes

Average Bitrate:

23.17 Mbps

Single

-layered Blu-ray VC-1

Edition Details:

• Photo Gallery (In HD!)

• Trailer (In HD!)

Blu-ray Release Date: November 10th, 2008
Standard Blu-ray Case
Chapters: 12
Comments:

NOTE: The below Blu-ray captures were ripped directly from the Blu-ray disc.

NOTE: I can confirm that the ITV Blu-ray is region free and will play on Blu-ray machines worldwide.

There are two major problems with the Network DVD image - the first is the obvious contrast boosting (badly blown out whites) and the second, perhaps even more unsightly, is that it appears to have been vertically compressed - with faces, especially noticeable, appearing quite distorted and unnatural (harder to distinguish at times due to the many obtuse camera angles used in the film.) The single-layered Blu-ray is hardly stellar but looks quite remarkable beside the standard-def image. Colors are more true and detail a fairly big leap in improvement but there is still some noise while grain is not wholly as visible as some might appreciate. Still, visually this is easily the best digital representation of The Ipcress File - a wonderfully 'real' spy drama. Contrast is also not pristine but significantly improves upon the dual-layered DVD release. The Blu-ray leans to a soft palette but looks far more faithful in my opinion.

Audio-wise the DVD's mono was quite strong and the Blu-ray has an undemonstrative 5.1 bump and a 2.0 channel option as well. This is not as action-infused (especially the first 2/3rds of the film) as a typical genre example but there is a bit of separation and subtleties. I wouldn't say the 2.0 channel is an overly-obvious superiority over the fine SD mono but enthusiasts who prefer (fake) bumps have the option to indulge in the surround. The Network as no subtitles offered where the ITV Blu-ray has removable English.

Extras are where the DVD vaults to a big advantage - not enough to forgive the feature image quality but certainly for some, especially Caine fans, to consider double-dipping. I really enjoyed the commentary track with director Sidney J. Furie and editor Peter Hunt (of James Bond fame.) Canadian Furie is not afraid to voice his displeasure with Ipcress Producer Harry Saltzman (also of Bond fame) and Hunt backs him up quite a bit. They don't follow much of what is transpiring onscreen but have a lovely chat reminiscing with a few choice anecdotes. Disc one of the DVD also offers a short theatrical trailer. We then get a second DVD disc with a 21 minute interview with Michael Caine and another with production designer Sir Ken Adam for 10 minutes. There is an amusing spoof with a 'Michael Caine Goes 'Stella' - Comedy Sketch by Phil Cornwell running just under 5 minutes and Candid Caine - a 45 minute 'Self Portrait' documentary made in 1969. The DVD is capped off by some crisp US radio spots and a huge stills gallery. The Blu-ray only has an HD Photo Gallery and HD trailer (both playable on any Blu-ray machine).

Great film - solid and pure spy drama devoid of the silliness that we see caked on in all Hollywood productions - give me this over Quantum of Solace any day of the week. So the Blu-ray is definitely the best way to go for home viewing but the DVD has some great extras. Both releases are reasonable and have some merit - I endorse the Blu-ray and for those keen on supplements - the DVD is more than worth the money in my opinion.
---

DVD Menus/ Extras
Network - Region 2 - PAL LEFT vs. ITV - Region FREE - Blu-ray RIGHT
Disc 2 DVD
---
CLICK EACH BLU-RAY CAPTURE TO SEE ALL IMAGES IN FULL 1920X1080 RESOLUTION
Network - Region 2 - PAL TOP vs. ITV - Region FREE - Blu-ray BOTTOM
Screen Captures
Network - Region 2 - PAL TOP vs. ITV - Region FREE - Blu-ray BOTTOM
---
Network - Region 2 - PAL TOP vs. ITV - Region FREE - Blu-ray BOTTOM
---
Network - Region 2 - PAL TOP vs. ITV - Region FREE - Blu-ray BOTTOM
---
Network - Region 2 - PAL TOP vs. ITV - Region FREE - Blu-ray BOTTOM
---
Network - Region 2 - PAL TOP vs. ITV - Region FREE - Blu-ray BOTTOM
---
Network - Region 2 - PAL TOP vs. ITV - Region FREE - Blu-ray BOTTOM
---
Network - Region 2 - PAL TOP vs. ITV - Region FREE - Blu-ray BOTTOM
---
Network - Region 2 - PAL TOP vs. ITV - Region FREE - Blu-ray BOTTOM
---
| | | |
| --- | --- | --- |
| DVD Box Cover | | |
| | | Network (UK) coming out with their Blu-ray in July 2014: |
| Distribution | Network - Region 2 - PAL | ITV - Region FREE - Blu-ray |