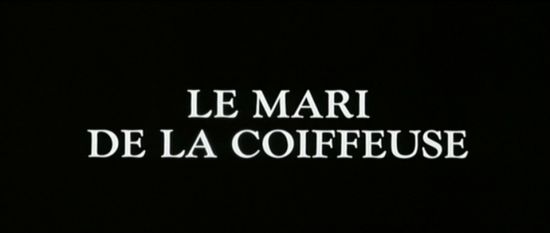 (aka "The Hairdresser's Husband" )
directed by Patrice Leconte
France 1990
Jean Rochefort plays Antoine, an older man with a fetish for getting his hair cut due to a pubescent crush he had on a hairdresser as a child. As an adult, he becomes infatuated with gorgeous hairdresser Mathilde (Anna Galiena). Although Antoine's father has drilled into him that "women are like crosswords; the harder to get, the sweeter they are," Mathilde does not require much pursuing to get her to wed Antoine. They marry in the salon (Mathilde even gives a customer a shave during the festivities). Antoine spends his days ogling his wife while she works in the salon and Mathilde seems to get as much pleasure out of being intensely watched while serving a handful of quirky customers; Antoine even pleasures Mathilde while she is shampooing a customer. Things go swimmingly until Mathilde – who has been visiting the retired hairdresser Isadore (Maurice Chevit) who gave her his shop in a rest home – starts to realize that her clients are getting older and she grows fearful of the time when Antoine will stop loving her whereupon things take a tragic turn.

Part of Leconte's "Obsession Trilogy" (which includes MONSIEUR HIRE - - and PARFUME D'YVONNE), THE HAIRDRESSER'S HUSBAND is by turns funny and moving. Despite its reputation, Leconte's film is nowhere near as outrageous as the "sex is funny" art films of the likes of Bigas Luna, Pedro Almadovar, or the classy erotica of Tinto Brass. Like those films though, it embodies that effortless sensuality that feels equally organic in a European comedy, thriller, or tragic love story (a la BETTY BLUE). Rochefort (so good in Leconte's excellent, underrated MAN ON THE TRAIN) is both funny and believable while Galiena (of Tinto Brass' SENSO '45 – see BLACK ANGEL - ) is sweet and affecting as well as sensual without losing her skirt. It goes without saying that Chabrol cinematographer Eduardo Serra's cinematography is stunning whether presenting panoramic seaside views or the expanse of the salon set lit either by warm sunlight or nourish blue and bottomless blacks. Michael Nyman (who also scored Leconte's MONSIEUR HIRE but is probably most well known for his score for Jane Campion's THE PIANO) proves once again here that he is criminally underrated outside of the art film genre.
Excerpt of review from Eric Cotenas at Lovelockandload located HERE
Posters
Theatrical Release: 3 October 1990
Reviews More Reviews DVD Reviews
DVD Comparison:
Severin - Region 1 - NTSC vs. DVDY Films - Region 2 - PAL
Big thanks to Eric Cotenas for all the Screen Caps!
(Severin - Region 1 - NTSC - LEFT vs. DVDY Films - Region 2 - PAL - RIGHT)
DVD Box Covers

Distribution

Severin

Region 1 - NTSC

DVDY Films
Region 2 - PAL
Runtime
1:21:21
1:18:03 (4% PAL speedup)
Video

2.36:1 Original Aspect Ratio

16X9 enhanced
Average Bitrate: 7.2 mb/s
NTSC 720x480 29.97 f/s

2.38:1 Original Aspect Ratio

16X9 enhanced
Average Bitrate: 6.15 mb/s
PAL 720x576 25.00 f/s

NOTE: The Vertical axis represents the bits transferred per second. The Horizontal is the time in minutes.

Bitrate:

Severin

Bitrate:

DVDY Films

Audio
French (Dolby Digital 2.0 mono)

French (Dolby Digital 2.0 mono)

Subtitles
English, none
English, Alsatian, Basque, Breton, Corse, none
Features
Release Information:
Studio: Severin

Aspect Ratio:
Widescreen anamorphic - 2.36:1

Edition Details:
• Leconte on Leconte Part 1 - Interview with director Patrice Leconte (French with English subtitles - 16:9; 36:12)
• The Hairdresser's Recollections - Interview with Anna Galiena (English - 16:9; 17:41)
• Trailer (French with English subtitles - 1.85:1; 16:9; 1:21)

DVD Release Date: April 28, 2009
Amaray

Chapters 15

Release Information:
Studio: DVDY Films

Aspect Ratio:
Widescreen anamorphic - 2.38:1

Edition Details:
• Short Film: Le Batteur du Boléro (no dialogue - 1.66:1; 16:9; 8:02)
• Interview with Patrice Leconte (French only - 54:56)
• Interview with cinematographer Eduardo Serra (French only - 11:15)
• Trailer (French only - 1:22)
• Patrice Leconte Filmography


DVD Release Date: January 1, 2001
Amaray

Chapters 19
Comments

Severin's disc transfers the film at the correct frame-rate and is progressive and anamorphic. The French disc has PAL speedup but the audio has been thankfully pitch-corrected. The French transfer looks slightly brighter than the Severin transfer. While both are pleasing, I find myself preferring the Severin transfer's colors. Although both discs are dual-layer, neither gives the film the full bitrate treatment (at the current bitrates, this 82 minute feature - 78 minutes in PAL - itself would fit on a single layer disc). Still, the bitrate is more than sufficient for cinematographer Serra's sumptuous yet naturalistic visuals (although the Severin disc has a slightly higher bitrate, the bitrate graphs look similar enough). The DVDY disc is an exact reissue of the out of print Gaumont disc (you can find it on eBay usually paired with DVDY's reissue of the English friendly Gaumont disc of Andrzej Zulawski's LA FIDELITE). The Severin DVD is mislabeled as being in stereo with a Dolby Surround logo on the back cover. The track does indeed have the Pro Logic flag enabled but the mono sound is comparable to the pitch-corrected PAL disc (both sound the same in stereo playback and spread out the same in virtual surround).



The shorter Leconte interview on the Severin disc is new and not a port of the French disc's longer interview (the Severin interview is titled "Leconte on Leconte Part 1" as the interview is more career-focused rather than title focused and is continued on Severin's disc of Leconte's YVONNE'S PERFUME). In "The Hairdresser's Recollections," Anna Galiena recalls that she saw Leconte's MONSIEUR HIRE (currently being mistreated on DVD in R1 by Kino) shortly after finishing work on Chabrol's QUIET DAYS IN CLICHY and wanted to work for him. She learned that she was up for the part along with several other Italian actresses and figured that the role would go to Ornella Muti. The French DVD's extras are not English friendly but it does feature Leconte's short film LE BATTEUR DE BOLERO which does not contain dialogue. Second Sight's cropped UK disc (apparently a correct aspect ratio release was reissued as part of a Leconte boxed set) features Leconte's first short film LA FAMILLE HEUREUSE. Although the DVDY disc can be found cheaply, the Severin disc is more than respectable with its progressive, anamorphic transfer and substantial extras.
---

DVD Menus
(Severin - Region 1 - NTSC - LEFT vs. DVDY Films - Region 2 - PAL - RIGHT)
| | |
| --- | --- |
| | |
| | |
| | |
| | |
| | |
| | |
---
Screen Captures
(Severin - Region 1 - NTSC - TOP vs. DVDY Films - Region 2 - PAL - BOTTOM)
Subtitle Sample
---
(Severin - Region 1 - NTSC - TOP vs. DVDY Films - Region 2 - PAL - BOTTOM)
---
(Severin - Region 1 - NTSC - TOP vs. DVDY Films - Region 2 - PAL - BOTTOM)
---
(Severin - Region 1 - NTSC - TOP vs. DVDY Films - Region 2 - PAL - BOTTOM)
---
(Severin - Region 1 - NTSC - TOP vs. DVDY Films - Region 2 - PAL - BOTTOM)
---
(Severin - Region 1 - NTSC - TOP vs. DVDY Films - Region 2 - PAL - BOTTOM)