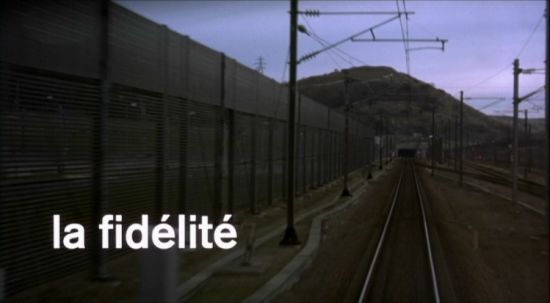 (aka "Wierność" or "seXuelles")
directed by Andrzej Zulawski
France 2000
Sophie Marceau plays Clelia, an art photographer hired to work for the tabloid branch of a multimedia empire of a Ted Turner-type Mac Roi who just may be her father. Her arty (often out-of-focus) photographs enrage her supervisor (an energetic performance from Edith Scob of EYES WITHOUT A FACE) but prove successful. Clelia meets and falls in love Cleve (Pascal Gregory), whose family publishing company has just been bought out by Clelia's boss. After his father dies, Cleve dumps his marriage-of-convenience fiancee (Mac Roi's sister) to marry Clelia. There domestic bliss is constantly disrupted by her mother's illness and death, Mac Roi's takeovers, and various family scandals (Cleve's bishop brother runs off with a married woman and touchingly conveys the motivations behind his decision to a bloodthirsty press). In spite of her intense love for Cleve, Clelia finds herself falling for photographer Nemo (Patrick Dempsey look-alike Guillaume Canet), constantly under threat after exposing child brothels and a black market organ trade. Though Clelia never consummates her relationship with Nemo, the emotional infidelity is devastating enough to send Cleve into a tailspin which finds him collaborating with Mac Roi and company whose flashy, muckraking multimedia empire also supports various illegal activities.

The above description does not even encompass all that is going on in the two-and-a-half hour film. A far more effective film about the effects of emotional infidelity than EYES WIDE SHUT (which says and does less in the same amount of running time), LA FIDELITE is perhaps the most mainstream of Zulawski's films but not without its share of quirks. The Zulawski style is there: lengthy takes, tracking and steadicam shots (the film apparently won a French award for best steadicam shot). The seemingly mock-sentimental is actually very appropriate to the level of Zulawski's melodrama which extends from intimate recitations of poetry (in English by Gregory and Marceau with a delightful accent) to HK-style gunplay and explosions. At times, the film seems like an acting portfolio for Marceau, demonstrating her range (here she is in an erotic scene, here she is in high drama, here she is with a machine gun) and her performance is right up there with Isabelle Adjani's (whom she at times resembles) extraordinary work in the earlier Zulawski film POSSESSION or Romy Schnedier in his IMPORTANCE OF LOVE. Pascal Gregory gives a delightfully quirky performance in what might have been a doir role. Canet also gives a strong performance but is overshadowed by the other two leads. Also notable are Scob and Marina Hands as Clelia's sweet yet duplicitous half-sister. The film was produced by Paulo Branco, who has produced such art-house fare as Chantal Ackerman's LA CAPTIVE. The photography is slick and the costumes are from the usual chic mix of designers one encounters in such films that skirt the arthouse and mainstream genres.
Poster
Theatrical Release: 5 April 2000
Reviews More Reviews DVD Reviews
DVD Review: Lauren Films - Region 2 - PAL
Big thanks to Eric Cotenas for the Review!
DVD Box Cover

CLICK to order from:

Distribution

Lauren Films

Region 2 - PAL

Runtime
2:39:26 (4% PAL speedup)
Video

1.85:1 Original Aspect Ratio

16X9 enhanced
Average Bitrate: 5.88 mb/s
PAL 720x576 25.00 f/s

NOTE: The Vertical axis represents the bits transferred per second. The Horizontal is the time in minutes.

Bitrate

Audio
French Dolby Digital 5.1; Spanish Dolby Digital 5.1
Subtitles
Spanish; French; English; none
Features
Release Information:
Studio: Lauren Films

Aspect Ratio:
Widescreen anamorphic - 1.85:1

Edition Details:
• Trailer
• Cast and Director Biographies
• Technical Crew List
• Other Recommendations

DVD Release Date: 21 March 2006
Amaray

Chapters 12
Comments:

The Lauren Films DVD from Spain is a nice presentation of the Zulawski's film but barebones as far as extras are concerned. The French DVD (which also had English subtitles) featured a Zulawski audio commentary (in French) and interviews with the main actors but may no longer be in print. The Spanish DVD is cheap, dual-layered, anamorphic, with optional English subtitles (the Spanish track can be viewed without subtitles but you must select English, French, or Spanish subtitles when viewing the original French track). There is also an Italian DVD with English subtitles but specs say it only has Italian 5.1 audio. Beware the Chinese DVD which splits the film onto two discs and is cropped (it does feature English subs and is incredibly cheap on eBay).

One caveat: a passage of poetry spoken in English by Pascal Gregory is overdubbed in Spanish on the French track. Another read in English by Sophie Marceau is not overdubbed on the French track.

The only other flaw I found with this release is the meager 12 chapters for a 2 1/2 hour film.
---

DVD Menus

---
Screen Captures
Subtitle Sample