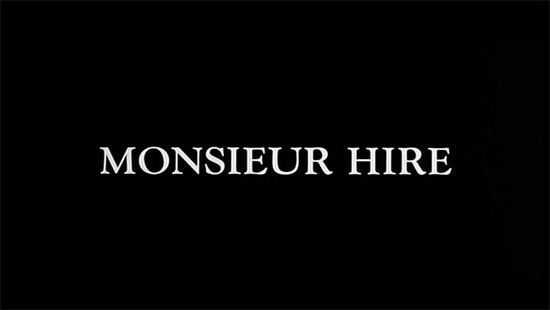 (aka "M. Hire" )
directed by Patrice Leconte
France 1989
A superb thriller containing the ugliest portrait of French provincialism since Henri-Georges Clouzot's LE CORBEAU, Patrice Leconte's MONSIEUR HIRE is set in a Parisian suburb in which conformity reigns supreme. Based on the Georges Simenon novel that also inspired Julien Duvivier's PANIQUE, MONSIEUR HIRE is a penetrating psychological portrait of a love-starved outsider who, by the film's end, arouses the audience's protective instincts. When a young girl is murdered, a dogged police investigator (Wilms) immediately suspects Hire (Blanc), a loner distrusted and hated by his neighbors. Tormented by children who play vicious pranks on him, Hire is hounded mercilessly by the detective. Hire resembles his tormenter in that he is an ever-vigilant soul, if in a less acceptable form--for the outcast is a voyeur who spies on Alice (Bonnaire), the woman has moved in across the way. Eventually, Alice spots her secret admirer and, surprisingly, pays him a visit rather than reporting him to the police. An uninhibited free spirit, she is drawn to Hire and allows him to share the simple pleasures of his life with her. Despite continual harassment from the detective, Hire even makes plans to move to Switzerland with Alice, who, unfortunately, has a ne'er-do-well boyfriend (Thuillier). The denouement provides a heartrending exploration of duplicity and betrayal, with a particularly effective freeze-frame halting the action just before it flows into the twist ending. Rather than jazz up the suspense through the conventional device of cross-cutting, director Leconte works within the frame to create a sense of inexorable doom.
Posters
Theatrical Release: France 24 May 1989, Canada 9 September 1989 (Toronto Film Festival)
Reviews More Reviews DVD Reviews
DVD Comparison:
Second Sight - Region 2 - PAL vs. Kino - Region 1 - NTSC
Big thanks to Per-Olof Strandberg for the PAL caps!
(Second Sight - Region 2 - PAL LEFT vs. Kino - Region 1 - NTSC RIGHT)
DVD Box Cover

Distribution

Second Sight

Region 2 - PAL

Kino Video

Region 1 -

NTSC
Runtime
1:15:45 (4% PAL speedup)
1:19:00
Video

2.35:1 Original Aspect Ratio
Average Bitrate: 7.54 mb/s
PAL 720x576 25.00 f/s

2.35:1 Aspect Ratio
Average Bitrate: 5.6 mb/s
NTSC 720x480 29.97 f/s

NOTE: The Vertical axis represents the bits transferred per second. The Horizontal is the time in minutes.

Bitrate

Second Sight

Bitrate

Kino

Audio
French (Dolby Digital 2.0)
French (Dolby Digital 2.0)
Subtitles
English (Forced on most systems)
English, none
Features
Release Information:
Studio: Second Sight

Aspect Ratio:
Widescreen anamorphic - 2.35:1

Edition Details:
• None
• DVD-5 (SS-SL)

DVD Release Date: May 15, 2006
Keep Case

Chapters 17

Release Information:
Studio: Kino Video

Aspect Ratio:
Widescreen anamorphic - 2.35:1

Edition Details:
• Interview with Patrice Leconte

• Trailer

• Stills Gallery
• DVD-5 (SS-SL)

DVD Release Date: November 20, 2007
Keep Case

Chapters 1

6
Comments:

ADDITION: Kino - November 07': Firstly a great film and to no surprise Kino has given region 1 an interlaced transfer (note combing in some caps below). Also on a single layered-disc it is softer (hazier) and weaker in terms of contrast and color as well. 2.0 channel audio seems comparable. On the positive the subtitles on the Kino are removable and it offers some supplements - a short 2 minute subtitled interview with Leconte, a trailer and stills gallery. Not much but better than nothing.

I prefer the Second Sight DVD (even with the slumping US $ - the Kino is ridiculously priced - almost double the PAL edition) but for those with tube systems - it shouldn't matter too much. I strongly recommend the film.

Gary Tooze

***

On the Second Sight: I'm very happy that Patrice Leconte's best film comes on a solid DVD. It's not perfect - there's a slight softness, occasional blurriness during movement, and a few dark scenes that appear a bit brightened (causing that blacks becomes grey). Still this DVD is on the better-side and the anamorphic picture looks good even with a projector.

The sound is dynamic and Michael Nyman's score is given justice. Even though the film is short there is no extra material on it. On my computer the English subtitles can be removed, but not on my DVD player.
---

DVD Menus
(Second Sight - Region 2 - PAL LEFT vs. Kino - Region 1 - NTSC RIGHT)
---
Screen Captures
(Second Sight - Region 2 - PAL TOP vs. Kino - Region 1 - NTSC BOTTOM)
---
(Second Sight - Region 2 - PAL TOP vs. Kino - Region 1 - NTSC BOTTOM)
---
(Second Sight - Region 2 - PAL TOP vs. Kino - Region 1 - NTSC BOTTOM)
---
(Second Sight - Region 2 - PAL TOP vs. Kino - Region 1 - NTSC BOTTOM)
---
(Second Sight - Region 2 - PAL TOP vs. Kino - Region 1 - NTSC BOTTOM)
---
(Second Sight - Region 2 - PAL TOP vs. Kino - Region 1 - NTSC BOTTOM)
---
(Second Sight - Region 2 - PAL TOP vs. Kino - Region 1 - NTSC BOTTOM)
---