Review by Gary Tooze
Studio:
Theatrical: Sony
Video: Sony Pictures Classic
Disc:
Region: FREE (as verified by the Momitsu region FREE Blu-ray player)
NOTE
:

While the US Sony edition is Region FREE the Canadian Maple edition is region-locked to 'A'

Runtime: 2:03:49.422

Disc Size: 38,445,877,459 bytes

Feature Size: 27,665,123,328 bytes

Total Bitrate: 29.79 Mbps

Chapters: 16

Case: Standard Blu-ray case

Release date: March 10th, 2009
Video:
Aspect ratio: 2.35:1
Resolution: 1080p
Video codec: MPEG-4 AVC Video
Audio:
Dolby TrueHD Audio English 2689 kbps 5.1 / 48 kHz / 2689 kbps / 16-bit (AC3 Core: 5.1 / 48 kHz / 640 kbps)
Subtitles:
English, English (SDH), French, none
Extras:
•
Infectious Diseases in Cattle: Bloggers Roundtable 36:38 HD
•
The Story of Caden Cotard: In Conversation with Phillip Seymour Hoffman 12:08 HD
• In and Around Synecdoche, NY : The Making of Synecdoche, NY (19:00 - SD)
• NFTS/Script Factory Masterclass with Charlie Kaufman (27:40)
Bitrate: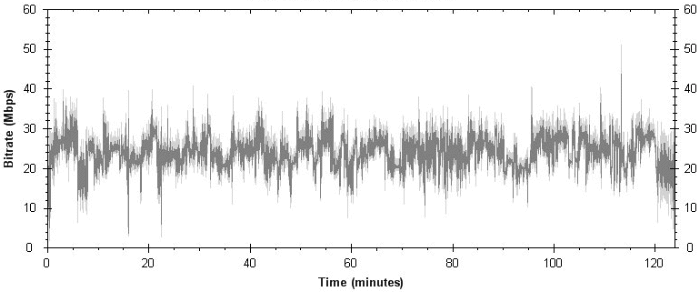 Description: SYNECDOCHE, NEW YORK, the directorial debut of Academy AwardŽ Winner Charlie Kaufman, premiered earlier this year at the Cannes Film Festival and was met with great excitement from both critics and audiences. Not only will SYNECDOCHE, NEW YORK play esteemed North American festivals in Toronto, Hamptons, Austin, Chicago and Ft. Lauderdale this fall, but will also be honored at other international festivals in London, Sitges and Rio, just to name a few.

Locally and internationally, the film continues to spark discussion and conversation on so many important levels. Please regard the following quotes from critics that have expressed praise after experiencing SYNECDOCHE, NEW YORK.
The Film:
I think you have to see Charlie Kaufman's "Synecdoche, New York" twice. I watched it the first time and knew it was a great film and that I had not mastered it. The second time because I needed to. The third time because I will want to. It will open to confused audiences and live indefinitely. A lot of people these days don't even go to a movie once. There are alternatives. It doesn't have to be the movies, but we must somehow dream. If we don't "go to the movies" in any form, our minds wither and sicken.

This is a film with the richness of great fiction. Like Suttree, the Cormac McCarthy novel I'm always mentioning, it's not that you have to return to understand it. It's that you have to return to realize how fine it really is. The surface may daunt you. The depths enfold you. The whole reveals itself, and then you may return to it like a talisman.

Wow, is that ever not a "money review." Why will people hurry along to what they expect to be trash, when they're afraid of a film they think may be good? The subject of "Synecdoche, New York" is nothing less than human life and how it works. Using a neurotic theater director from upstate New York, it encompasses every life and how it copes and fails. Think about it a little and, my god, it's about you. Whoever you are.
Excerpt from Roger Ebert at The Chicago Sun Times located HERE
Image :
NOTE: The below Blu-ray captures were obtained directly from the
Blu-ray disc.
The Blu-ray image comes across quite nicely although there aren't many significant instances where the detail is pristine - showing the hi-res to full effect. This is probably more in line with the way it was shot - and the editing which has a significant amount of faster cuts. Colors, on the other hand are rendered beautifully and infrequent exuberance is quite notable. I see no untoward manipulations. Technically it also seems competent being dual-layered with the feature taking up over 27 Gig and the bitrate approaches 30 Mbps. Daylight scenes are bright and look true with warmer skin tones. There are a few scenes that exhibit depth. I don't think that this Blu-ray image will dramatically surpass the SD-DVD, but there is no question that this is high-def and it is the best way to see this marvelous film. While not demo' material this nonetheless gives a healthy presentation without flaws.
CLICK EACH BLU-RAY CAPTURE TO SEE ALL IMAGES IN FULL 1920X1080 RESOLUTION
Audio :
We are given TrueHD 5.1 which but the film has little in the way of effect noises and the mix seems wasted on the consistent and clean dialogue. Synecdoche, New York's music has some tracks written by director/writer Charlie Kaufman and Jon Brion and everything fits the film's mood(s) to perfection. Sony offer no DUBs and only English and French subtitles leading us to believe this is a region 'A' -locked edition. NOTE: It is actually Region - FREE!
Extras :
Supplements offer a couple of extras in HD and 2 in SD. Infectious Diseases in Cattle: Bloggers Roundtable runs almost 40 minutes and has a group of 5 movie bloggers sitting together discussing their enjoyment of the film. The Story of Caden Cotard: In Conversation with Phillip Seymour Hoffman is 12-minutes and also in HD. In and Around Synecdoche, NY : The Making of Synecdoche, NY runs 19 minutes and discusses some of the many details and visuals clues of the film from production and beyond. NFTS/Script Factory Masterclass with Charlie Kaufman is about 1/2 an hour talking with an unnamed reviewer. Unfortunately there isn't a lot of substance to the this part but there some answers worth listening to - it should have been longer with better questions. So, no commentary but decent viable extras and nice to see Sony taking advantage of putting some in 1080.
BOTTOM LINE:
What a fantastic film! It strikes the perfect balance between amusement and philosophical warmth. How in the world do you do this so well Charlie Kaufman? This, and possibly Frozen River (a completely different film) may be my favorites of this early year on 'disc'. I've called 3 friends to recommend this already and purchased a DVD to give to one who was also very keen on Being John Malkovich. The film's quirkiness doesn't benefit adherence to strict classification - excepting that you may be able to tell that Kaufman wrote it. Synecdoche, NY is totally brilliant but it may be rejected by many viewers who don't embrace the film's deliberate aberrations and subtle, intentional, incongruities. It's one you never want to end and like Ebert suggests - seeing it a second time may be crucial to gaining full appreciation. If I had reviewed this a few days earlier it would have definitely been our Feature Blu-ray of the Month. Unlike the film, the Blu-ray is quite simple - a competent 1080P, un-manipulated transfer with one HD audio option and some solid supplements. We STRONGLY recommend!
Gary Tooze
March 4th, 2009