Frozen River Blu-ray
(Courtney Hunt, 2008)
Review by Gary Tooze
Studio: Sony - Region 'A'
Video:
Aspect ratio: 1.78:1
Chapters: 16
Feature film: 1080p /
MPEG-4 AVC Video
Disc Size: 27,576,627,152 bytes
Feature Size: 24,698,658,816 bytes
Time: Extended: 1:36:55.810
Total Bitrate: 33.97 Mbps
Bitrate: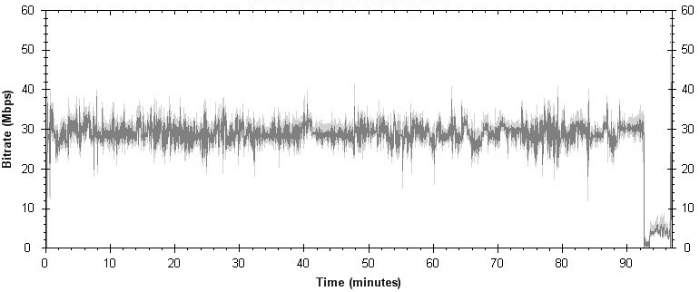 Audio:
Dolby TrueHD Audio English 2320 kbps 5.1 / 48 kHz / 2320 kbps / 16-bit
(AC3 Core: 5.1 / 48 kHz / 640 kbps)
Commentary: Dolby Digital Audio English 192 kbps 2.0 / 48 kHz / 192 kbps / Dolby
Surround

Subtitles:
English, French, none
Extras
• Commentary with Director Courtney Hunt and Producer Heather Rae
• Theatrical trailer (1:00 - HD)
• Previews
• BD-Live
S
tandard Blu-ray case
Release Date: February 10th, 2009
Summary: Frozen River is a dramatic feature film which takes place in the days before Christmas near a little-known border crossing on the Mohawk reservation between New York State and Quebec. Here, the lure of fast money from smuggling presents a daily challenge to single moms who would otherwise be earning minimum wage. Two women- one white, one Mohawk, both single mothers faced with desperate circumstances- are drawn into the world of border smuggling across the frozen water of the St. Lawrence River. Melissa Leo (21 Grams, The Three Burials of Melquiades Estrada, television's Homicide: Life on the Street) plays Ray, Misty Upham plays Lila, and Oscar nominee Michael O'Keefe (The Great Santini, Caddyshack, Ironweed) plays the New York State Trooper who ultimately brings the two to justice....
The Film:
Do these two women bond? This is not a story of bonding. It is a story of need. They hardly have a conversation that isn't practical and immediate, and theory and sentiment are beyond them. Neither actress is afraid to seem cold and detached. That we know their inner feelings is a tribute to the film. I don't know how Hunt came by her knowledge of this world, but it feels exact and familiar. Even the scenes with a state trooper (Michael O'Keefe) are played quietly, and with a certain sympathy. But notice the grim realism of a scene at a topless bar (also in a house trailer).

And there is an awesome, terrifying beauty in their journeys across the ice. "I've seen semis make it," Lila says. The Mohawk reservation on the American side provides a kind of sanctuary for smugglers -- although the tribal elders are wise to her and won't let her own a car. Ray's status as a white woman gives them a kind of immunity -- for a while. The way the trooper approaches the case is matter-of-fact and humane.

In detail after detail, "Frozen River" is the story of two lives in economic emergency, and two women who are brave and resourceful and ready to do what's necessary. It doesn't play sides. It isn't about illegal aliens or smuggling. It's about replacing popcorn and Tang with a meal at the Chopper, and some nice TV dinners. That it climaxes on Christmas Eve doesn't even seem contrived, just sad.
Excerpt from Roger Ebert at the Chicago Sun-Times located HERE
Image :
NOTE: The below Blu-ray captures were ripped directly from the
Blu-ray disc.
With a few infrequent landscape and close-up shot exceptions Frozen River looks quite sparse for 1080P 'brilliant' resolution - just as the cinematography intended. The film itself is sparse.... and connotes perfect storytelling. The film rarely exhibits pristine detail - it's not that it's intentionally hazy - it is just abjectly real in its visuals. Dirty snow, and mud and desperation poverty extend from every corner of the film's graphic presentation. This would not have the same inertia if everything looked ultra-sharp. There is evident grain, strong and accurate colors and a true-appearing image presentation of this immaculate film. The Blu-ray disc is dual-layered with a moderate bitrate. It did it's job with a faithful and rewarding exploration of soured lifestyles.... in the extreme.
CLICK EACH BLU-RAY CAPTURE TO SEE ALL IMAGES IN FULL 1920X1080 RESOLUTION
Audio & Music:

The TrueHD track shows some range but almost solely with the film's soundtrack - a subtly impacting score by Peter Golub and Shahzad Ismaily
. Aside from minor traffic noises and some inconsequential gunplay the film is devoid of any impacting sound effects. The strength of the audio is, just as the film experience, an underlying appreciation - less overt with English or French subtitles - we've been informed that this
Blu-ray
disc is region FREE
Extras:
Trailer in HD, previews, BD-Live and an essential commentary by director Courtney Hunt and producer Heather Rae.
BOTTOM LINE : The most profound compliment I can give this film is that it most closely resembled my all-time favorite work of cinema - The Dardenne brother's Rosetta. Our human-condition struggles may seem divergent but, in essence, Frozen River reminds us that they are really all the same - no matter our economic circumstance. The hardships are so unendurable at times it is almost humorous. I give credit to the editing of this film as it exported a lot of power to the narrative. I have trouble believing that this is Courtney Hunt's first film - and she is slightly younger than I to compound that insult. This film seems more important than anything I might ever do with my life - I guess that is saying enough (about her and myself.) I have not seen the DVD, available HERE, but this Blu-ray, for $10 more - certainly has my recommendation, regardless that it may only be limited improvement, with Frozen River being as close to a masterpiece of pure cinema as I have seen in a very, very long time.
Gary Tooze
February 7th, 2009