Review by Leonard Norwitz
Studio:
Theatrical: Warner
Video:
Warner Home Video
Disc:
Region: FREE!
Runtime: 1:53:45.819
Disc Size: 29,672,769,948 bytes
Feature Size: 16,239,169,536 bytes
Average Bitrate: 19.03 Mbps
Chapters: 23
Case: Standard Blu-ray case
Release date: February 27th, 2007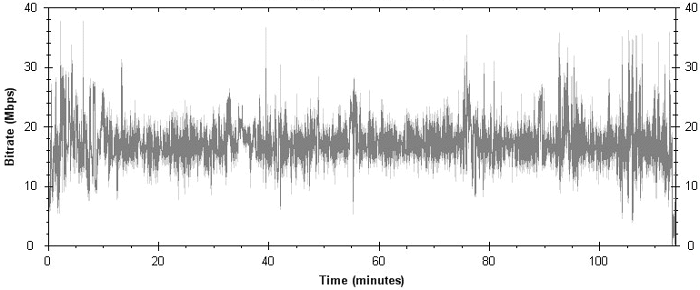 Video:
Aspect ratio: 1.78:1
Resolution: 1080p
Video codec: VC-1 Video
Audio:
Dolby Digital Audio English 192 kbps 2.0 / 48 kHz / 192 kbps / Dolby Surround
Dolby Digital Audio English 192 kbps 2.0 / 48 kHz / 192 kbps / Dolby Surround
Dolby Digital Audio French 192 kbps 1.0 / 48 kHz / 192 kbps
Dolby Digital Audio Spanish 192 kbps 1.0 / 48 kHz / 192 kbps
Subtitles:
English, English (SDH), French, Spanish, none
Extras:
• Commentary by Director Peter Yates
• Additional Scene in SD (2:00)
• Featurette: The Cutting Edge: The Magic of Movie Editing in HD (1:39:23)
• Featurette: Steve McQueen: The Essence of Cool (SD - 1:27:03)
• Featurette: Bullitt: Steve McQueen's Commitment to Reality (SD - 10:14)
Description: His new assignment seems routine: protecting a star witness for an important trial. But before the night is out, the witness lies dying and cool, no-nonsense Detective Frank Bullitt (Steve McQueen) won't rest until the shooters and the kingpin pulling their strings are nailed. From opening shot to closing shootout, Bullitt crackles with authenticity: San Francisco locations, crisp dialogue and to-the-letter police, hospital and morgue procedures. An Oscar winner for Best Film Editing (1968), this razor-edged thriller features one of cinema history's most memorable car chases. Buckle up and brace for unbeatable action.
Comment:
The Movie:
8.5
Bullitt is a police drama complex enough to make it fresh on repeated viewings. Unlike Harry Callahan, Detective Frank Bullitt is a respected, no nonsense police officer with a great public image. He is handpicked by Walter Chalmers - a political hack, currently leading an investigation into organized crime - to protect his star witness. In due course, the witness gets whacked. Bullitt wants to know why. Chalmers just wants to shift the blame.
McQueen's Bullitt is the personification of cool, like his Thomas Crown (the same year), with a gun and a Ford Mustang GT390. The Mustang's nemesis is a black Dodge Charger 440 R/T. When the bad guys in the Charger try to follow and ambush Bullitt, he suddenly appears in their rear view mirror: one of the great visuals in cinema. Lalo Schifrin's jazzy score sets the tone for some while before it quits in favor of the sound of engine revs and whacked cars. Perhaps I'm getting old, but I had to avert my eyes during a couple of the G-force drops to avoid getting sick. More than your typical stunt-filled computer-enhanced thriller of the last few years, this movie absolutely must be seen on as large a screen as possible for that genuine sinking feeling.
Schifrin's music perfectly sets the tone is right at the outset of the movie, even before we see an image (coincidentally, a night view of Chicago.) Visually, this is my favorite part of the movie, as the titles give way to alternating black & white and color images of cat & mouse danger.
There is one less than convincing scene when Bullitt's girlfriend, played by a breathtakingly beautiful Jacqueline Bissett, confronts him with a speech about how she doesn't believe he could not become part of the sewer he spends his life in. We wait for him to say, "But someone has to do it." Happily, he doesn't, and thus retrieves what could have been a wretched moment. The scene does play in the same kind of matter of fact tone that most of the film works in, so there's that going for it. But Bissett sounds like she's reading lines prepared by a campaign manager. When Chalmers does that sort of thing – which he does often, Robert Vaughan brings it off with great slime, but Bissett may be the wrong choice to make the speech. Perhaps I find her too sweet for the part. For all her grousing, Bullitt stops long enough during the great chase to make sure that help was at hand for a downed motorcyclist. Perhaps she should have known her man better, but I give her some slack for having just witnessed her first homicide.
Image : 8/9
NOTE: The below Blu-ray captures were ripped directly from the
Blu-ray disc.
The first number indicates a relative level of excellence compared to other Blu-ray video discs on a ten-point scale. The second number places this image along the full range of DVD and Blu-ray discs.
Bullitt was filmed before there were dramatic breakthroughs in film and lens technology that would permit photography in low light situations without the kind of grain that persists in some of the shots here. (I'll bet the producers just loved that!) The image of Bullitt is often meant to be gritty, even murky, like its subject matter. The BD and 2-Disc Special Edition SD appear to have been transferred from the same high definition master, so we're getting what is likely to be the best possible transfer for some while to come. The movie is generally grainy, though sharp. Daylight scenes, dramatically sharp. Night scenes, especially outdoors, often appear unaided by supplementary lighting, which gives the picture a realistic, though sometimes impenetrable look. Some of the early scenes (where Lt. Bullitt first meets Chalmers and at the Coffee Cantata) may have looked OK on the big screen, but the auxiliary lighting looks unconvincing on front projection . . . probably even more so on plasmas.
We might think that a movie whose film stock is "compromised" as much as Bullitt would make a poor candidate for a high-def presentation. This might be true if your intent is merely to show off how cool your video display is. But if you were to watch the BD edition of Bullitt in its entirety and then scan a few scenes in SD, you might wonder how you could sit through it at 480p on a large screen: The scenes have very little dimension. Even in the daytime shots, your scaler will be working overtime trying to sort out what is grain and what is blue sky or a stone building. I have a good one and yet the image quivers with digital guesswork. Not so on the Blu-ray, which hums along with nary a squawk, once we get used to the limitations and benefits of the film stock.
Not that we make decisions to watch or own based on such things, but the cover mislabels the aspect ratio as 2.4:1. The picture is really 1.78:1, slightly cropped (4%) from the original 1.85.
CLICK EACH BLU-RAY CAPTURE TO SEE ALL IMAGES IN FULL 1920X1080 RESOLUTION
Audio : 6
The music and dialog is clear enough, but if you close your eyes during the car chase, you will be surprised by how flat and compressed it is. The visuals more than make up for the lack of audio dynamics.
Operations : 5
The film begins shortly after loading following a brief stop at the FBI warning and the Warner Home Video logo. The menu has what I feel is a major flaw: the commentary can only be accessed in the Special Features section, and from there, the soundtrack can only be accessed via the Languages menu. This is idiotic as well as damn inconvenient. Why not use the Audio function: everybody else does, nearly? Moreover, when Yates refers to the soundtrack, said soundtrack does not come to foreground as it should, and remains nearly inaudible.
Extras : 8
The VC-1 coding of Bullitt manages to fit onto one disc all of the Special Features found on the SD 2-disc Special Edition DVD: an informative running commentary by director, Peter Yates, originally recorded for the SD edition; a 10 minute short titled Steve McQueen's Commitment to Reality; and two 90 minute documentaries: Steve McQueen: The Essence of Cool and The Cutting Edge: The Magic of Movie Editing - the latter in very nice 1080p no less, is about editing in general, though it features the famous car chase. Bullitt, no surprise, won the Oscar for film editing, and rightly so.
Recommendation: 8
I am revisiting this video a year and a half after I wrote the above review. Since then I have added surround sound and uncompressed audio capability as well as having upgraded my projector from the JVC RS1 to the RS10.

I stand behind my earlier thoughts on Bullitt in regards the audio: music and dialogue is good, but the big car chase on San Francisco's streets and later chase through the airport is still lacking. I think it could benefit from the kind of sonic facelift that uncompressed audio can offer. even retaining the original 2.0. But 5.1 would be a nice option.

The image seems a tad sharper than I first thought, despite the grain. There are scenes, for example when the detective retraces the victim's steps by cab and when Chalmers accosts Capt. Bennet in front of Grace Cathedral that show just how stunning Technicolor can be. And my freshly calibrated RS10 projector is able to reveal more shadow information than previously, so the overall impression of Bullitt on video is more satisfying than it appeared when I reviewed it initially. I suspect that the crushing of blacks is a result of the original photography.

At its release (June, 2008) as now (February, 2009) this first generation Blu-ray of this classic thriller remains the best available video in terms of both audio and image - and until the inevitable upgrade, it remains warmly recommended.
Leonard Norwitz
Revisited February, 2009