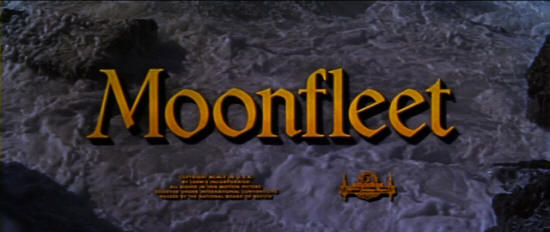 (aka "Les Contrabandiers de Moonfleet" )
It's appropriate that a movie like Moonfleet, which is so revered in France amongst Lang's late movies (Luc Moullet, Bernard Eisenschitz, Godard…) should find a modest but satisfying DVD release in that country.

At the most obvious level Moonfleet joins a small band of adventure movies with children as central figures in some sort of journey from innocence to knowledge. The list is small but quite noble: Laughton's Night of the Hunter, Ted Tezlaff's The Window and Mackendrick's High Wind in Jamaica among few others.

Lang's film begins with orphaned John Mohune (Jon Whiteley) setting out to forge a relationship with his fabulous but unseen relative/father figure Jeremy Fox (Stewart Granger.) Unlike the lone antiheroes of other great Lang 50s pictures – Glenn Ford in The Big Heat, Arthur Kennedy in Rancho Notorious – Mohune isn't seeking revenge, but rather the affirmation of an idealized hero. In Lang's Universe the reverse of character is often the truth, and in the course of Mohune's two substantial scenes in the "underground" (the Pirate's lair and the Well) Granger is precipitously forced into an ambivalently redemptive act of violence to save Mohune's life. I wholeheartedly recommend viewing and reviewing Bernard Eisenschitz's lucid and poetic short commentaries.


There is a pronounced thematic and formal circularity in Moonfleet harking back to the "enchanted Glade" of Siegfried and forward to the labyrinthine architecture of the Palace in Indian Tomb and Tiger of Eschnapur. Eisenschitz talks about the "tests" that Lang's protagonists are obliged to undertake, through linear and temporal space, to reach some sort of knowledge of life and recognition of their destinies. Moonfleet joins other great Langs as a beautiful illustration of that lifelong theme in his work.
Posters
Theatrical Release: June 24th, 1955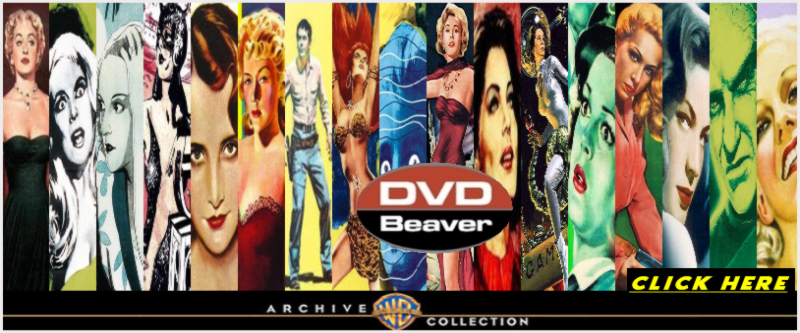 Reviews More Reviews DVD Reviews
DVD Comparison:
Warner France - Region 2 - PAL vs. Warner Archive - Region 0 - NTSC
Big thanks to Gregory Meshman for the Warner Archive captures!
Warner France - Region 2 - PAL LEFT vs. Warner Archive - Region 0 - NTSC
RIGHT
DVD Box Cover

Distribution

Warner France

Region 2 - PAL

Warner Archive

Region 0 - NTSC

Runtime
1:22:32 (4% PAL speedup)
1:26:42
Video

2.35 Original Aspect Ratio

16X9 enhanced
Average Bitrate: mb/s
PAL 720x576 25.00 f/s

2.35:1 Original Aspect Ratio

16X9 enhanced
Average Bitrate: 6.21 mb/s
NTSC 720x480 29.97 f/s

NOTE: The Vertical axis represents the bits transferred per second. The Horizontal is the time in minutes.

Bitrate: PAL

Bitrate: NTSC

Audio
English DD 2 Channel Stereo; French Mono DUB
Dolby Digital 2.0 Stereo (English)
Subtitles
English, French, Dutch, Swedish, Greek, none
None
Features
Release Information:
Studio: Warner France

Aspect Ratio:
Widescreen anamorphic - 2.35

Edition Details:
• Featurette: Secret's From Underground

• Fritz Lang's Messages



DVD Release Date: September 24th 2003
Snapper

Chapters 21

Release Information:
Studio: Warner Home Video

Aspect Ratio:
Widescreen anamorphic - 2.35:1

Edition Details:
• None

DVD Release Date: October 12, 2010
Keep Case

Chapters 9
Comments:

ADDITION: Warner Archive - December 2010: The Warner Archive MOD disc is progressive, single-layered and anamorphic. There are no extras and no subtitles. There doesn't appear to be a large difference in the image quality between the two releases. The Warner may be marginally brighter and slightly cropped on the side edges. The French edition has PAL speed-up, an optional French DUB and subtitle choices plus some extras. Even with the current WBShop sale the French disc is still cheaper - and in stock. Only those with sensitivity to PAL speed-up, or who are locked to NTSC, should consider the Archive disc.

Gary Tooze

***

ON THE FRENCH DVD: This release of Fritz Lang's 1955 picture from Warner France comes a few years before the exemplary Légendes du Cinema series, and its less than lustrous transfer, not to mention the snapper case belies its age. The disc is dual layered with the movie occupying one side of the disc with 4.13 Gig. The image quality is somewhat murky, image is a little soft and colors while clean have a brownish tinge. The print used is free of damage like speckles and surface marks but the DVD image is ultimately a slave to the typically early fifties Eastmancolor process. Nonetheless it's a marked step up from Moonfleet's only previous home video version on a 1995 Laserdisc which had dreadfully pumped up color with bleeding and sundry other problems. It's a perfectly serviceable image, without ever looking brilliant, but I recommend it unreservedly for newcomers to the movie who are interested in Lang. And for Langians the disc is a no-brainer. Given the movie's relative obscurity in English speaking repertory cinema I strongly doubt Moonfleet will see a major Region 1 makeover any time soon.

The two short bonus feature commentaries by Bernard Eisenschitz are lovingly and lucidly composed. Eisenschitz, like other French Langian cinephiles is able to probe and relate Lang's thematic imagery and engage viewers effortlessly with the many levels of meaning in the picture. Happily the Shorts are also subbed (English only.) The original English Stereo soundtrack is clean and direct. And subtitles (I only checked French and English) are comprehensive.
---

DVD Menus
Warner France - Region 2 - PAL LEFT vs. Warner Archive - Region 0 - NTSC RIGHT

| | |
| --- | --- |
| | |
| | |
---
Screen Captures
Warner France - Region 2 - PAL TOP vs. Warner Archive - Region 0 - NTSC BOTTOM
---
Warner France - Region 2 - PAL TOP vs. Warner Archive - Region 0 - NTSC BOTTOM
---
Warner France - Region 2 - PAL TOP vs. Warner Archive - Region 0 - NTSC BOTTOM
---
Warner France - Region 2 - PAL TOP vs. Warner Archive - Region 0 - NTSC BOTTOM
---
Warner France - Region 2 - PAL TOP vs. Warner Archive - Region 0 - NTSC BOTTOM