NOTE: The below Blu-ray captures were taken directly from the Blu-ray disc.

ADDITION: Film Movement Blu-ray (November 2019): Film Movement have transferred Fritz Lang's Indian Epic to 2 dual-layered Blu-ray discs with max'ed out bitrates. These are cited as being from "4K Restorations".

NOTE: 76 more full resolution (1920 X 1080) Blu-ray captures for Patrons are available HERE.

Firstly, to get this out of the way; there is a German Blu-ray, HERE, but we do not own to compare. I have the French Wild Side Blu-ray version and despite the menu stating an English audio option ("Anglais"), it, indeed does not have one nor English subtitles only German and a French DUB for audio and optional French subtitles.. See the menu here (click to enlarge)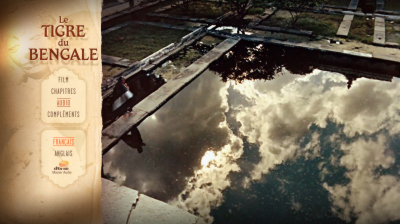 As for the Film Movement, we compared two captures with the Wild Side and the US version is significantly superior in regards to the visuals and showing more information in the frame.
The 1080P may be a bit underwhelming to some, only because the previous DVDs were reference quality for their time. The colors are paler, but consistent and this too has more information in the frames than the SDs. I can't speak to the accuracy of the colors but I can tell you it looked amazing on my system. Just as jaw-dropping as the DVDs were 15-years ago. The Tiger of Eschnapur looks the best of the two in terms of quality although The Indian Tomb may have the more lush visuals. AS I say, both looked extraordinary on my OLED.
Now, there were some anomalies that I recall on the DVDs as well. At 37-minutes, 58:17 as well of The Tiger of Eschnapur, and about 1/2 hour into the Indian Tomb. It looks like the original sequences were damaged and replaced. I can't be sure, but the brief disparity is worth noting. Here are some samples;
(click to enlarge)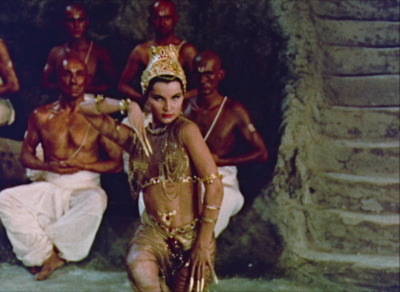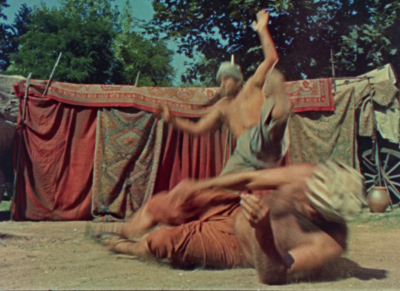 Something else I noticed more in HD were the visibility of some effects and make-up, Below is an example of a wire, holding the. very fake looking. snake, such is the power of this high resolution:
see wire (click to enlarge)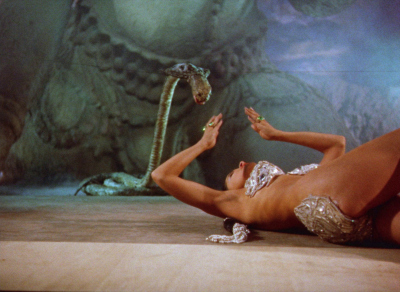 On their Blu-ray, Film Movement use 2.0 channel linear PCM mono tracks (24-bit) in the original German language only - no English DUBs present. It is another advancement in the film's audio and score on The Tiger of Eschnapur was credited by Michel Michelet (Douglas Sirk's Lured, Renoir's Diary of a Chambermaid, Arthur Ripley's The Chase, Joseph Losey's M) and on The Indian Tomb credited to Gerhard Becker. The ritualistic dancing numbers showed the superiority of the audio as well as tiger growls and other effects. The DUBbing, when used, is apparent. Film Movement offer optional English subtitles on their Region 'A' Blu-ray.

The Film Movement Blu-ray offer the same (I think they are the same, although don't recall hearing some information regarding brown-face make-up and tigers in the wild) audio commentaries, for both Der Tiger von Eschnapur and Das indische Grabmal, by film scholar David Kalat and the 20-minute German documentary on the making of the Lang's Indian Epic. I enjoyed Debra Paget, For Example a 36-minute video essay by Mark Rappaport in 2016. It's a portrait of American actress and dancer Debra Paget, under contract for 20th-Century Fox during the 1950's. Also there are short restoration trailers for both films and the package has a 20-page booklet with an essay by film scholar Tom Gunning (author of The Films of Fritz Lang: Allegories of Vision and Modernity).

Even with a few reservations (would have liked the English DUB)

it's a film package I am thrilled to own in English-friendly Blu-ray. Fritz Lang's young-lad pulpy adventure yarns are delightful fodder for this reviewer. I almost can't wait for a cold rainy Sunday, fireplace roaring, to re-watch these beauty-soaked gems.

Gary Tooze

ADDITION: Masters of Cinema - (April 2011): We shouldn't have to say too much. There doesn't appear to be any differences in the, still, excellent video quality. It remains incredibly impressive visually - the top tier of the SD format showing excellent colors and even some depth uncharacteristic of that format.

Audio offers the original German (defaults to) and the English DUB made for overseas distribution. There are optional English subtitles - again, not DUB-titles. The English credit sequence is an option.

Aside from the fact that the out-of-print Fantoma is asking exorbitant prices by third party sellers - the MoC offers fabulous commentaries by David Kalat, a 20-minute documentary (German with English subtitles) on the 'Making of...' The Indian Epic, 3 minutes of vintage 8mm footage shot on location by actress Sabine Bethmann plus original French trailers for both Der Tiger von Eschnapur and Das indische Grabmal and lastly a lengthy booklet containing an essay on the films by Lang scholar Tom Gunning (The Films of Fritz Lang: Allegories of Vision and Modernity); excerpts from interviews with Fritz Lang about the film etc.

Magnificent! - Masters of Cinema have done it again - the easiest DVD purchase of the year!

***

ON THE FANTOMA: Admittedly my memory is not what it used to be, but I suggest to you that this is the best image of a film on DVD pre-1960 that I can recall in recent reviewing. It is flawlessly sharp with bursting colors (that tiger capture below looks like it might jump right off the screen!). Seamlessly branched after the initial credits to show the same film with optional original German or English dubbed audio. NOTE: the DUB and English subtitles do not match. We of course suggest the original (mostly) German audio. Extras include a digital photo gallery with behind-the-scenes shots and posters.

out of

NOTE: This Boxset is 'unavailable' in many Online locations. I wouldn't delay - it will fetch big bucks very soon.