| | |
| --- | --- |
| | S E A R C H D V D B e a v e r |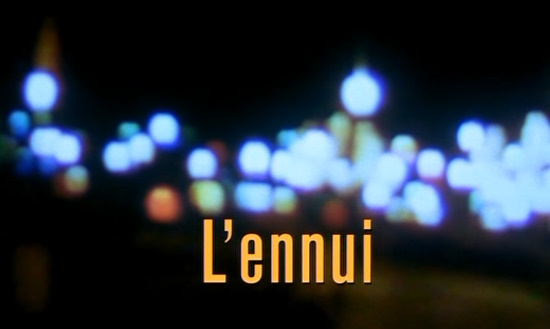 directed by Cédric Kahn
France 1998
Jaded after the failure of his marriage, Martin (Berling) has 'given up love', and taken to his car. On one voyeuristic drive around Paris he sees something spark between a girl and a grave older man. Drawn in, he tracks the man to a bar, and later, to his studio, only to find him dead of a heart attack and the girl, Cécilia (Guillemin, a revelation) - his muse - collecting her belongings. Martin interrogates, accosts and couples with her, a dance he performs as an increasingly frantic ritual over the following months, compelled and confounded by this docile and wholly unremarkable girl's casual availability and calm impenetrability. It's like banging a brick wall. Sex and ennui make strange but apt cinematic bedfellows. Kahn's adaptation of Alberto Moravia's Boredom bears a close resemblance to Godard's treatment of the same author's Le Mépris - thematically more than cinematically - with its fateful study of an incompatible, inscrutable relationship. Moravia's clinical, obsessive analysis of the pitfalls of sexual attraction and rejection offers potentially gloomy going, and the narrative here certainly spins round and round nowhere. But Kahn enlivens the drama by comically spiking Martin's mono-maniacal self-absorbtion, and counterposes Berling's restless neurotic and Guillemin's unflappable, unyielding enigma to dynamic and fascinating effect.
Poster
Theatrical Release: December 16th, 1998
Reviews More Reviews DVD Reviews
DVD Comparison:
Fox Lorbe
r - Region 0 - NTSC vs. Artificial Eye Film Co. - Region 2- PAL
(Fox Lorber - Region 0 - NTSC LEFT vs. Artificial Eye Film Co. - Region 2- PAL RIGHT)
DVD Box Cover

Distribution

Fox Lorber

Region 0 - NTSC

Artificial Eye

Region 2 - PAL

Runtime
2:02:12
1:56:52 (4% PAL Speedup)

Video

1.79:1 Original Aspect Ratio
Average Bitrate: 4.66 mb/s
NTSC 720x480 29.97 f/s

1.85:1 Original Aspect Ratio

16X9 enhanced
Average Bitrate: 4.74 mb/s
NTSC 720x480 29.97 f/s

NOTE: The Vertical axis represents the bits transferred per second. The Horizontal is the time in minutes.

Bitrate : Fox Lorber

Bitrate: Artificial Eye

Audio
French (Dolby Digital 2.0 Mono)
French (Dolby Digital 2.0 Mono)
Subtitles
English (burned-in)
English, None
Features
Release Information:
Studio: Fox Lorber

Aspect Ratio:
Widescreen letterboxed - 1.79:1

Edition Details:
• 2 Theatrical Trailers

• Filmographies (text)

• Production Credits (text)

DVD Release Date: December 19th, 2000

Keep case

Chapters 12

Release Information:
Studio: Artificial Eye

Aspect Ratio:
Widescreen anamorphic - 1.85:1

Edition Details:
• Text interview with Cedric Khan
• Cast And Director Filmographies
• Original theatrical trailer


DVD Release Date: April 16th, 2001 Keep Case

Chapters

21
Comments:

A very lopsided comparison with the PAL AE DVD being far ahead of its North American counterpart. The Region 2 release is anamorphic (The Fox/Lorber is not) colors and detail are far superior on the UK DVD and it has removable subtitles. It is interesting to note though that Fox/Lorber did not use a PAL master but and NTSC one (which is contrary to their early practices) so although it is widescreen letterboxed there is no visible combing but the image has had some manipulation (contrast boosting). Both DVDs are single layered.

There isn't much in the way of extras but the Artificial Eye DVD does have a decent text interview with director Kahn. Both have trailers but the Fox/Lorber shows both domestic and foreign.

I've really come to enjoy all of Cédric Kahn's cinema that I have seen (Robert Succo and Red Lights) but L'Ennui is my personal favorite although the other two mentioned are more critically lauded. His films can often be harsh dealing with topics that certainly have an edge with Kahn boldly including graphic sexual scenes. I look forward to viewing more of his daring work on DVD in the future. As for now I strongly recommend this film - it is highly impacting.
---

DVD Menus

(Fox Lorber - Region 0 - NTSC LEFT vs. Artificial Eye Film Co. - Region 2- PAL RIGHT)
---
Screen Captures
(Fox Lorber - Region 0 - NTSC TOP vs. Artificial Eye Film Co. - Region 2- PAL BOTTOM)
Subtitle Sample: Not exact frame
---
(Fox Lorber - Region 0 - NTSC TOP vs. Artificial Eye Film Co. - Region 2- PAL BOTTOM)
---
(Fox Lorber - Region 0 - NTSC TOP vs. Artificial Eye Film Co. - Region 2- PAL BOTTOM)
---
(Fox Lorber - Region 0 - NTSC TOP vs. Artificial Eye Film Co. - Region 2- PAL BOTTOM)