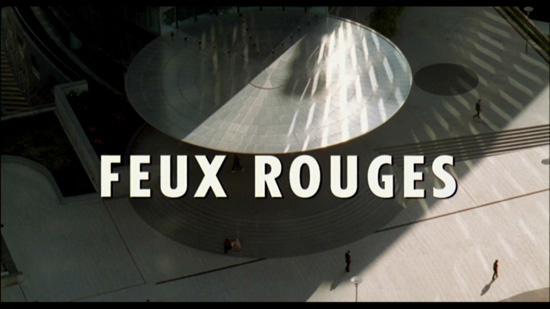 (aka "Red Lights" )
directed by Cédric Kahn
France 2004
Listed as a collaborator, French novelist George Simenon, best known for his stories about Maigret, moved, first to Canada, then later to the USA, in 1945, during which his novels changed location from Belgium or France to America. Here he wrote the 1955 novel "The Hitchhiker", which tells the story of a married couple, who drive from New York to Maine during Labour Day.

Cédric Kahn changed the location to the area around Bordeaux, France, as well as tightened the narrative in terms of the protagonist.

Antoine is a man, who, while his wife, a corporate Lawyer, is successful, is trapped in his job as an insurance agent. Disappointed he finds comfort within alcohol. With already a few beers and whiskies on his back, the couple takes off to pick up their children, who has spend summer at a colony. But hardly have they hit the highway, before they begin to argue and over the course of the evening, Antoine turns more and more to drinks, and eventually, Helene have had enough, and while Antoine is away, she leaves to take the train. Failing to catch up with the train, he turns to more drinking and eventually takes up a hitchhiker, who turns out to be a prisoner, who escaped prison earlier during the day and now is hunted by the police.

Kahn very wisely avoids the cliché of repetition, as the story is well known and has been told many times before. Instead, Kahn focuses on character, here Antoine, who undergoes a tribunal of character, becoming more and more drunk, more and more detached from reality… until reality dawns upon him. Thus it is not so much the story that drives the narrative, but the study of a little man.

As central motifs deal with guilt and identity, "Feux Rouge" has Hitchcockian notes and Kahn hints very heavily towards them by opening the film with bird eye mise-en-scene of glorious architecture, noting upon "North by Northwest", as well as using Debussy's "Nuages", which Herrmann's borrowed from for his theme to "North by Northwest". Yet contra to Hitchcock, their journey goes from Boulogne and south south-east, and the Hitchcock reference is only as much as noted here.

The direction is superb and Kahn nonchalant presents us with key images, while, thru Antoine, tightens the narration more and more, thru such simple mise-en-scene, basically only endless roads and the interior of a car. This only works with a great actor: Here Jean-Pierre Darroussin simply is stunning and delivers an incredible performance.

Those who expect a hard-core thriller will be disappointed. First and foremost, "Feux Rouge" is an intense character study, suggesting that self-realization and innocence only can be retaken by violent force. A devilish brilliant film.
Posters
Theatrical Release: February 10, 2004 (Berlin International Film Festival)
Reviews More Reviews DVD Reviews
Recommended Reading in French Cinema (CLICK COVERS or TITLES for more information)
The Films in My Life
by Francois Truffaut, Leonard Mayhew

French Cinema: A Student's Guide
by Philip Powrie, Keith Reader
Agnes Varda by Alison Smith
Godard on Godard : Critical Writings by Jean-Luc Godard
Notes on the Cinematographer by Robert Bresson
French New Wave
by Jean Douchet, Robert Bonnono, Cedric Anger, Robert Bononno
French Cinema: From Its Beginnings to the Present
by Remi Fournier Lanzoni
Truffaut: A Biography by Antoine do Baecque and Serge Toubiana
Check out more in "The Library"
---
DVD Review: Artificial Eye - Region 2 - PAL
Big thanks to Henrik Sylow for the Review!
DVD Box Cover

CLICK to order from:

Distribution

Artificial Eye

Region 2 - PAL

Runtime
1:41:55 (4% PAL speedup)
Video

1.85:1 Original Aspect Ratio

16X9 enhanced
Average Bitrate: 7.00 mb/s
PAL 720x576 25.00 f/s

NOTE: The Vertical axis represents the bits transferred per second. The Horizontal is the time in minutes.

Bitrate

Audio
2.0 Dolby Digital French, 5.1 Dolby Digital French
Subtitles
English, None
Features
Release Information:
Studio: Artificial Eye

Aspect Ratio:
Widescreen anamorphic - 1.85:1

Edition Details:
• Interviews
• - Cédric Kahn (21:31)
• - Jean-Pierre Darroussin (21:21)
• - Carole Bouquet (21:19)
• Trailer
• Filmographies

DVD Release Date: January 24, 2005
Transparent Keep Case

Chapters 12
Comments:

With the exception of colour banding (watch grayscales on the wall to the left in capture #1), this is a flawless and beautiful image, very controlled in its palette.

The additional material is mainly three interviews with the director Cédric Kahn, and the two leading actors, Jean-Pierre Darroussin and Carole Bouquet. Great and very informative interviews.

From what it looks like, they are the same as on the French 2-disc "Edition collector" from Wild Side Video, which in addition also has a 1 hour documentary about the making of, and a 1 hour documentary about George Simenon. Sadly, the French DVD has no English subs, and equally sadly, Artificial Eye didn't make this a 2-disc SE with fill extras. This film would be worth it. Still, a great DVD.
---

DVD Menus

---
Subtitle sample
Captures resized to 800px width from 1016px original