NOTE: The below Blu-ray captures were taken directly from the Blu-ray disc.

ADDITION: Kino Blu-ray (April 2023): Kino have transferred 21 short art film experiments as part of their Silent Avant-Garde Blu-ray package. They are cited as being "Restored to HD to 5K scans made from 35mm and 16mm picture elements" The films are:

• The Twenty-Four Dollar Island (1925), 14 min
• Eisenstein Mexican Footage (1930), 5 min
• Anemic Cinema (1926), 7 min
• Pas De Deux (1924), 4 min
• Vorkapich Montage Sequences (5-8, 1928-1934), 5 min
• A Bronx Morning (1931), 14 min
• Look Park (1973), 10 min
• Life and Death of 9413 (1927), 14 min
• Hande (1927), 13 min
• Return to Reason (1923), 2 min
• Manhatta (1921), 12 min
• Ballet Mechanique (1924, 1931), 13 min
• Hearts of Age (1934), 8 min
• Escape, Synchromy No. 4 (1938), 4 min
• N.Y., N.Y. 1949-1958, 15 min
• The Eclipse (1936-1949), 21 min
• Tenga fe (1906), 1922, 2022, 7 min
• The Enchanted City (1922), 12 min

We love Avant-Garde cinema and have reviewed Kino's own DVD package; Avant Garde - Experimental Cinema of the 1920s & 1930s, HERE as well - we also covered Flicker Alley's Blu-ray set of Masterworks of American Avant-garde Experimental Film 1920-1970, HERE. There are a few of the same films in those sets ands we have compared a few captures below. An opening screen describes 'In many cases, the digital picture and sound qualities surpass vintage prints and earlier restored versions of the same titles." There are, predictable, damage, scratches and other marks.

NOTE: We have added 80 more large resolution Blu-ray captures (in lossless PNG format) for DVDBeaver Patrons HERE

On their Blu-ray, Kino use a DTS-HD Master 2.0 channel tracks (24-bit.) Each film features a brilliant accompaniment of original silent
film music specially prepared, composed and/or performed by the likes of Donald Sosin, Gustavo Matamoros, John Alden Carpenter, Ludwig van Beethoven, Jacob Druckman, Jacques Offenbach Carlos Dominguez, Alex Lough, Marc Blitzstein, Guy Livingston, Paul Lehrman, George Antheil, Charles Amirichanian, Johann Sebastian Bach, Leopold Stokowski, Gene Forrell, Rafael Audinot, Alberto de Bru, Cuarteto Caney, and Christian Wolff. It all sounds fantastic in the clean lossless transfers. These are silent films - some with English title cards - and hence Kino do not offer any subtitles on their Region FREE Blu-ray.

The Kino Blu-ray

offers no extras but an extensive introduction describing the restorations. An example (Eisenstein Mexican Footage) would be:

A film background description example (Return to Reason):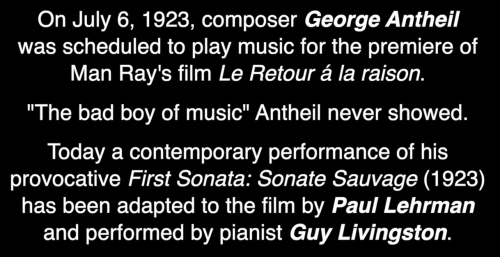 or (Ballet Mechanique):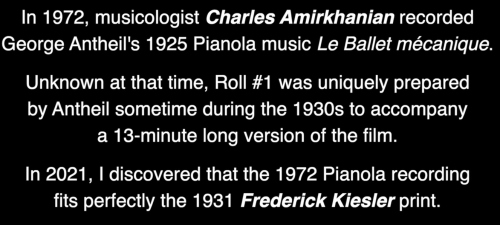 The opening introduction describes:

"Silent Avant-Garde desires to focus on the creative possibilities of image, sound and silence used in American-made experimental films of the 20th century. The final experience represents an artful expressionism unique to the motion picture medium.

Over a century ago - between the late 19th and early 20th century - all cinema was technically silent. Films were experimental in nature for no one had recorded moving images prior to the mid- 1870s. In order to express themselves in silence, filmmakers had to grapple with inventing a new visual language to communicate complex ideas. Music was added afterwards. Hence most films expressed musical ideas in total silence. Within these limited means, a truly silent cinema explored the progression of time through ever-shifting moving images. Outstanding examples abound and are presented here."

We are very fortunate that Daryl Chin wrote and article for DVDBeaver entitled "At Home and Abroad - Some views From the Avant Garde on DVD" for those keen on learning about Avant Garde cinema.

One excellent facet of this Kino Blu-ray is the ability of the presentation to run the films consecutively - over 3-hours worth. I suggest it's a great thing to have on in the background when friends are over - some of the visuals are fascinating. It is sure to initiate conversations. Unique, rich, poetic images that draw you into an exceptional world of creative beauty and historic splendor. The textured, deep black level imagery of Vorkapich Montage sequences, as one example, are a hypnotic treat. Certainly recommended to the right cinephile crowd.