NOTE: The below Blu-ray captures were taken directly from the Blu-ray disc.

ADDITION: Mondo Macabro Blu-ray (January 2023): Mondo Macabro have transferred Sergio Bergonzelli's In the Folds of the Flesh to Blu-ray. It offers separate transfers of both the English DUB and original Italian-language features. The only difference are in the credits and text overlays within the film but otherwise they have the exact same running time. I expect this could have been more efficiently transferred as seamlessly-branched. The English titled version is slightly more robustly rendered with a marginally higher bitrate. Both of the 1080 image quality is very pleasing with bright colors, visible textures and modestly tight detail. It looked solid on my system if having inherent softness.

NOTE: We have added 74 more large resolution Blu-ray captures (in lossless PNG format) for DVDBeaver Patrons HERE

On their Blu-ray, Mondo Macabro use a DTS-HD Master dual-mono tracks (16-bit) in the original Italian and English language DUB. In the Folds of the Flesh has plenty of aggression and it has a modest punch with elevated bass. The score by Jesús Villa Rojo (with only one other feature film credit), and can have some funkiness but that suits the film experience. Audio is clean with consistent dialogue in the lossless transfer. Mondo Macabro offer optional English subtitles on their Region FREE Blu-ray.

The Mondo Macabro Blu-ray

offers a new commentary by Samm Deighan on bother versions. She discusses on whether this is a true Giallo - and that it has hints of Nazisploitation - that she expands on (referencing Love Camp 7) as well as the film's Gothic elements, home invasion genre, or even politische. She sees the opening credits as similar to Corman's Poe cycle. She states how we question just who the protagonist is in In the Folds of the Flesh, how this could be considered a Giallo version of The Addams Family and the unconventional-ness of the film an d family characters. She observes the female characters and their relationships to sex and violence, Pier Angeli's 'Falesse' as a probable nymphomaniac - she identifies when J+B Scotch is being imbibed (a Giallo marker!),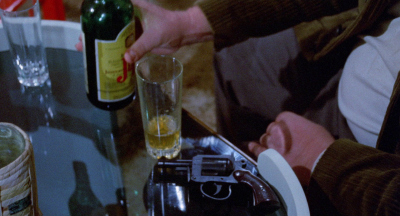 how the films reminds her of Mario Bava's Hatchet for the Honeymoon and how the flashback sequences seem to alter the plot direction. She's great. Included is a 22-minute featurette from Nocturno Video entitled In The Folds of Sergio Bergonzelli where people who knew and worked with Bergonzelli talk about their experiences of making films with him. These include director/writer Mario Caiano (who wrote story on which In The Fold of the Flesh was based), Producer Corrado Colombo and actor Attilio Perillo. It is in Italian with English subtitles. Lastly are English and Italian trailers plus Mondo Macabro's usual fun trailer reel.

Sergio Bergonzelli's In the Folds of the Flesh is pretty wild with a highly unusual family incorporating incest, parricide and fatherly abuse. I mean, the residence has Etruscan skeletons and two pet vultures! Samm's commentary filled in a few holes or supported my suspicions regarding the, fairly convoluted and less-explained, plot. Not quite Giallo, but it has a lot in common. It will certainly be intriguing to the adventurous genre fan. It has some attractive gals; Pier Angeli (Ulysses), Eleonora Rossi Drago (Antonioni's Le Amiche) and María Rosa Sclauzero (Avanti!). Mondo Macabro do it again, bringing another, totally unique, world cinema film to Blu-ray

with appreciated extras. Calling In the Folds of the Flesh 'bizarre' would be accurate. Enjoy!