The below Blu-ray captures were taken directly from the Blu-ray disc.
NOTE
: The entire Legacy Blu-ray collection is reviewed
HERE
.
ADDITION Shout! Factory Blu-ray - September 2013: This is the first Blu-ray of the 4-Blu-ray 7 DVD Bruce Lee Legacy Collection being released by Shout! Factory. It is a large book-style package (see photos above) with The Big Boss, Fist Of Fury, The Way Of The Dragon and Game of Death in 1080P. We hope to cover the entire set by later this week.
P
retty much the same deal as the others, but as we don't have the corresponding Asian Blu-ray we can't compare. But this dual-layered transfer looks remarkably improved beside the DVDs. Colors and contrast plus a sense of depth are areas where the 1080P advances. The film will always look lackluster and choppy but it is encouraging to see some grain. Artifacts, even on Fortune Star were fairly commonplace but the Blu-ray visuals have little to none.
Audio has the same multiple options: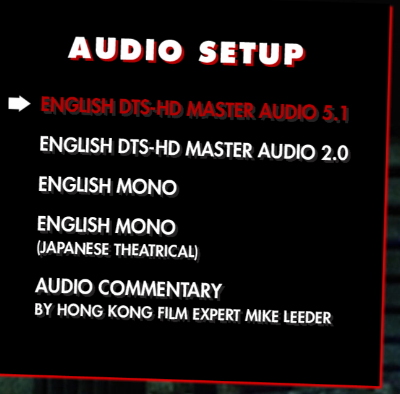 and the lossless surround bump was the best I have heard for viewing the film. The less-robust 9and more original) options are appreciated to better immerse yourself in the theatrical experience. There are optional English subtitles on the region 'A'-locked Blu-ray disc.
Included is the similar supplements from the other 3 films - a commentary by Hong Kong film expert Mike Leeder - again rougher than appreciated audio but still informative. There are trailers, a stills gallery Alt Ending and Opening plus some Outtake and Bloopers. We get the 40-minute piece Game of Death Revisited as well as some deleted scenes and revisiting many of the Game of Death Locations. What some many enjoy is the Game of Death Japanese Print in HD (12,712,261,632 bytes at 16 Mbps - if anyone is interested.) It doesn't look great but is interesting nonetheless - if only from a cultural standpoint.
For such a painfully hokey idea of releasing an additional Bruce Lee film after his death - this strangely works to a certain degree. Again, most probably the best home theatre experience of Game of Death.
***

ON THE DVD: Once again, the Fortune Star has the upper hand, with beautiful natural colours and great details. The Hong Kong Legends image is cropped by approximately 4.5% and has a weird colour setting, sometimes "yellowish", sometimes "blueish". That some scenes are more grainy than others is due to the use of different stock and material.
The Fortune Star has the original mono track, which is preferable ahead of the mixed 5.1 and DTS. The added rear sounds are not as intrusive on this film, as on the previous Lee films.

In terms of extra, Hong Kong Legends once again prove to be the king. A superb audio commentary by Bey Logan, alternate openings, deleted scenes, documentary. Just impressive.