NOTE: The below Blu-ray and or 4K Ultra HD captures were taken directly from the disc but are limited by the computer display (see below) they are seen with.

ADDITION: Universal 20th Anniversary - 2-disc - Region FREE -

4K Ultra HD

(November 2018):

Firstly, The Big Lebowski 4K Ultra HD is available in two package options; A standard edition with 2 disc - a 4K UHD transfer (with HDR10) and the same 2011 Blu-ray already reviewed here. The more advanced package has that plus a collectable bag, ball pencil holder, polishing cloth in the form of a small sleeve-less sweater that holds the disc case and a rug (really ties the package together) as a potential mouse-pad. (see images above). Both options 4K Ultra HD discs are identical - it is mainly the LE accoutrements and both offer a digital copy of The Big Lebowski (Subject to expiration,)

DVDBeaver have over 5,000 Blu-ray reviews on this website and over 10,000 disc reviews in total. The problem with reviews that use screen captures are standardization of the methodology used to obtain them - and while we have recently made an adjustment to improve representation in this area - both un-standardized, un-calibrated, computer monitors and a variety of home theatre viewing systems become a factor. This makes comparisons all the more important since the images are all viewed on the same monitor and the differences are apparent.

4K Ultra HD

produces another significant issue - it is likely that the monitor you are seeing this review is not an HDR-compatible display (High Dynamic Range) where each pixel can be assigned with a wider and notably granular range of color and light.

We have reviewed the following

4K UHD packages to date: 2001: A Space Odyssey (using the included Blu-ray to showcase the new restoration color difference), The Neon Demon (No HDR), Dawn of the Dead (No HDR), Saving Private Ryan (simulated HDR and 'raw' captures), Suspiria (No HDR), The Texas Chain Saw Massacre (No HDR) and I Am Legend (simulated and 'raw' HDR captures).

Our adjustment is trying to

simulate the same strong color scheme - we cannot - but it is definitely closer than the 4K UHD captures as viewed on a standard computer monitor. We have included one 'raw' un-simulated' capture to show detail in the 3,840 by 2,160 resolution.

We are using an LG B6 65" 4K UHD HDR OLED TV display supporting both HDR & Dolby Vision: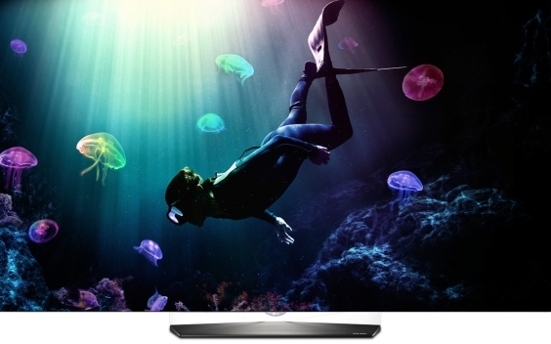 and an Oppo UDP-203 4K Ultra HD Blu-ray Disc Player with HDR & Dolby Vision (UHD, Blu-ray, 3D, DVD, DVD-Audio, SACD and CD).

But on your computer monitor we cannot due justice to the 4K Ultra HD image. After extensive attempts - we have come close. Before the world screams - our simulation captures are not standardized (for future reviews) and do not give a valid representation - yes, the 4K UHD is certainly superior to our simulation.

The captures we have taken are native resolution: 3,840 by 2,160 pixels which you can see when you click on them. The resolution in 4K movie theaters is marginally higher at 4,096 by 2,160 pixels. To appreciate the advancement mathematically it is 4X the number of pixels on a 1080p Blu-ray display, and almost 24X times the resolution of your old SD Sony Trinitron tube television (standard definition).

This

is on a dual-layered Ultra HD disc (taking up 63 Gig with over almost 61 Gig for the film itself!) The video bitrate is about almost triple that of the Blu-ray. The old 1080P - as well as being soft-ish with reported digitization - had dull colors and the new image is a revelation by comparison. The 4K Ultra HD is significantly brighter (bunny's bikini looks almost neon), balanced, rich and unrelentingly vibrant with the HDR infusion. It is glorious. Skin tones warm, detail advances and there is abundant depth but the value is probably most apparent in the colors over the drab Blu-ray. Hopefully the few simulation screen captures with give you an idea of the vast improvement.

As for The Big Lebowski image presentation quality - it is superior to that of Blu-ray over DVD. It is substantial and hard to describe how good it really looks.

As for the audio - it is a very robust DTS-HD Master 7.1 track and it also improves upon the previous editions. Bob Dylan's "The Man In Me" to Big Johnson's "Viva Las Vegas" and even the beloved Creedence sound deep and crisp in the new audio transfer and Universal's disc has a few optional foreign-language DUBs and subtitle options including English and English (SDH). Like all UHD disc this is Region FREE - playable worldwide on the appropriate equipment.

The 2-disc 4K Ultra HD package has the exact same VC-1 Blu-ray from 2011 with all the same extras and the feature (see below). The 4K Ultra HD disc is bare bones with no extras.

Well, this is a TOP 100 (of all time) film as judged by many critics. The improvement over the poorly transferred Blu-ray is so welcome for fans of the film who can indulge in it over and over - now looking brilliant as if it is brand new. Wow! For fans - this is a reason to upgrade their system to 4K Ultra HD, if 2001: A Space Odyssey or Saving Private Ryan weren't enough reason already.

***

ADDITION: Universal - Region FREE Blu-ray - August 2011': "This won't stand Man, this digitization won't stand, man". The Universal looks to have some egregious DNR - which displeases 'The Dude' to no end. Even though the Universal is dual-layered it tends to look waxy and very orange compared to the Italian 1080P. Both use the VC-1 but upon close inspection the newer Universal is softer with a loss of detail and frequently seems slightly cropped, possibly zoomed-in, beside the European Blu-ray. Now the Cecchi Gori - Region 'B' does have more artefacts but purchasers will have to weigh what they can live with in regards to the Universal transfer. I think we have been accurate on most capture matches (off positively on at least one) and if you download both 1080 resolution image files and toggle back and forth you can see the issue.

As for the audio- the new Universal sounds super via a DTS-HD Master 5.1 at a robust 4104 kbps. It exceeds the Italian release sounding having more depth and presence. Perhaps a little more noticeable is the audio and all the great songs of the film sound tighter and crisper (from Bob Dylan's "The Man In Me" to Big Johnson's "Viva Las Vegas" and even the beloved Creedence). The Universal Blu-ray offers optional subtitles and it Region FREE.

The Universal is stacked with cool extras. Beyond what was on the last 2-disc DVD the Blu-ray is housed in a 'limited edition' collectible 28-pg book packaging including an exclusive interview, Jeff Bridges' on-set photography, a film timeline, trivia. There is a digital copy available (with expires 12/31/2012) and three U-Control features: Scene Companion – where you can watch behind the scenes footage, interviews and more while you watch the film, secondly Mark It, Dude – this on-screen counter keeps track of the "F-bombs," "Dudes" and Lebowski-isms during the film - and lastly The Music of The Big Lebowski (accessible from the Set-up menu – identifies the songs in the film and create a custom playlist. Fans might also enjoy the 10-minute featurette The Dude Abides: The Big Lebowski Ten Years Later with the cast recalling the film production.

I must say that I am disappointed in the DNR - but the rest of the disc (package, supplements and audio) are all outstanding. The BD has value from that standpoint but those with discerning taste in the visual portion of their Home theater presentation will be scratching their head.

***

ADDITION: Cecchi Gori - Region 'B' Blu-ray - December 2010':

'The Dude' might prefer the shorter version of our comments here - so, yes, the Italian Blu-ray is better - it is VC-1 encoded and may have come from the previous HD-DVD (one of the few prominent titles available on HD-DVD that have not yet come to Region 'A' Blu-ray). While technically adept, (progressive, 3X the bitrate of the last DVD etc.) is doesn't swell in visual quality - it has fewer artifacts (still maintaining some), a shade of edge-enhancement from some boosting, and it is grainer than I would have anticipated. It is not a dramatic upgrade but the depth and detail both improve. So do colors - marginally. How discerning you, or your system, are will be the biggest factor in identifying the improvement.

Extras include 7-minutes of snippet interviews with Jeff Bridges, John Goodman, Steve Buscemi and the Coens and 3 -minutes of behind-the-scenes shooting. despite the shortness this is still interesting to fans of the film.

This is long overdue for region 'A' but I still have no date in sight and who knows when another Blu-ray of The Big Lebowski will come to region 'B' (unless there is a Scandinavian one I don't know about). Impatient fans may wish to indulge - this is one film that just continues to get better with age.

***

ADDITION: Anniversary Edition - September 08': Come one Universal! Triple dipping (if you include the HD edition) is dicey territory but quadruple dipping (and eventually centuple when the Blu-ray surfaces) can be downright ignorant. But anyway, the DNR (or whatever created the softness) of the Collector's Edition has been removed (or greatly minimized). On the image front it's no contest with this new Anniversary being the best bet of the three - and the screen grabs below should corroborate that story.

Audio and subtitle options are the same as the Collector's Edition.

Supplements: All the old extras are included - Mortimer Young introduction, Production notes, Theatrical trailer, the 25 minute, Making of the Big Lebowski and the Jeff Bridges Photography album. But new to this two disc are two ten minutes featurettes - The Dude's Life and The Dude Abides: The Big Lebowski Ten Years Later with input from cast and the director brothers. All good - and interesting to finally hear some of them speak about the film. 4+ minutes on the surreal dream sequence of 'The Dude' lengthily entitled Flying Carpets & Bowling Pin Dreams: The Dream Sequences of The Dude, a clunky interactive map for the real geeks about the film (I raise my hand), an edited bit on The Lebowski Fest: An Achiever's Story - which can be very amusing and finally a trailer for the Coens' new film Burn After Reading.

Bottom line is that with the HD player in mothballs, this new Anniversary Edition is pretty sweet with the cool supplements and the vastly improved SD image. At only $14 it's a must-own for the many fans of the film - I'm ashamed to say - 'yes, buy again' but I really feel it's worth it although I suspect a Blu-ray within a year.

****

ON THE ORIGINAL vs. THE COLLECTOR EDITION: There was a lot of artifacts in the original NTSC edition of this DVD which made it quite distracting for normal viewing. This was due to the fact that Universal put both Full Screen and Widescreen edition of one side of a dual layered DVD - hence the bitrate/s was unusually low. The new issue is certainly smoother but also a bit softer in appearance. The new release has faithfully maintained the 1.85 scope while the old anamorphized to lose approx 4% at 1.78 (there is some noticeable cropping on the sides of the first release and the bottom of the new one). Both are tight to the frame maximizing horizontal resolution. Colors are different and I feel that the new release colors are more accurate to the theatrical presentation, than the old edition which looked a shade boosted. I do suspect the new colors of being slightly washed possibly due to the shifting of the pixels to remove the old artifacts?! - I don't know. It is still not a perfect image transfer with the haziness but I do feel improved from the weak first edition. In the extras department the new Collector's edition has a 5 minute introduction by a 'Mortimer Young' of 'Forever Young Film Preservation' who gives some erroneous, but fatuous background of the film and its rescue from a Wilmington archive fire. This includes a sample of re-dubbing from Italian. Both editions contain 24 minute The Making of the Big Lebowski featurette. The new edition has optional English, French and Spanish subtitles, where the old only offered French and Spanish.

- Gary Tooze