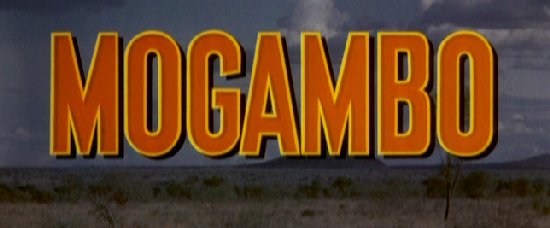 directed by John Ford
U.S.A. 1953
John Ford's 1953 remake of Red Dust lies far from his field of personal interest--in Africa, in fact--but it is a creditable sex and safari yarn. Ava Gardner more than holds her own against Jean Harlow's original performance, lending her dusky energy to a tritely conceived part: she's the international call girl who falls for the great white hunter (Clark Gable, far more interesting than he was in the first version). As the temptingly pure and fragile Englishwoman, Grace Kelly was closer to Ford's sympathy and understanding, but Gardner walks off with the movie and the man. Oddly, the studio scenes are more atmospheric than the location shots.
Excerpt from Dave Kehr's comments at the Chicago reader located HERE
Posters
Theatrical Release: 9 October 1953
Reviews More Reviews DVD Reviews
DVD Review: Warner Home Video - Region 1 - NTSC
Big thanks to Gregory Meshman for the Review!
DVD Box Cover

CLICK to order from:

Distribution

Warner Home Video

Region 1,2,3,4 - NTSC

Runtime
1:55:56
Video

1.33:1 Original Aspect Ratio
Average Bitrate: 5.73 mb/s
NTSC 720x480 29.97 f/s

NOTE: The Vertical axis represents the bits transferred per second. The Horizontal is the time in minutes.

Bitrate

Audio
English Dolby Digital 1.0, French DUB Dolby Digital 1.0
Subtitles
English, French, Spanish, None
Features
Release Information:
Studio: Warner Home Video

Aspect Ratio:
Fullscreen - 1.33:1

Edition Details:
• Thetrical Trailer (3:22)

DVD Release Date: December 20, 2005 in Target, Online June 6th, 2006
Keepcase

Chapters 32
| | |
| --- | --- |
| Comments | In a strange move, Warner Home Video released 2 John Ford lesser titles exclusively to Target stores in U.S. Both titles have been available in Europe (U.K., Germany) and Australia since July 2004 and copyright of the new DVDs confirm they were made in 2004. Most likely, they will be released to other stores later in 2006 with upcoming Clark Gable Signature Boxset. The un-restored image is rather good, but with some damage (capture 3 for 3 Godfathers, capture 4 for Mogambo). The only extra on each disc is a theatrical trailer. |
---




DVD Menus

---
Screen Captures
Subtitle sample














DONATIONS Keep DVDBeaver alive:
Mail cheques, money orders, cash to: or CLICK PayPal logo to donate!
Thank You!
John Ford's - Mogambo - Clark Gable DVD Review John Ford Mogambo Clark Gable DVD Review John Ford Mogambo Clark Gable DVD Review John Ford Mogambo Clark Gable DVD Review John Ford Mogambo Clark Gable DVD Review John Ford Mogambo Clark Gable DVD Review John Ford Mogambo Clark Gable DVD Review John Ford Mogambo Clark Gable DVD Review John Ford Mogambo Clark Gable DVD Review John Ford Mogambo Clark Gable DVD Review John Ford Mogambo Clark Gable DVD Review John Ford's - Mogambo - Clark Gable DVD Review John Ford Mogambo Clark Gable DVD Review John Ford Mogambo Clark Gable DVD Review John Ford Mogambo Clark Gable DVD Review John Ford Mogambo Clark Gable DVD Review John Ford Mogambo Clark Gable DVD Review John Ford Mogambo Clark Gable DVD Review John Ford Mogambo Clark Gable DVD Review John Ford Mogambo Clark Gable DVD Review John Ford Mogambo Clark Gable DVD Review John Ford Mogambo Clark Gable DVD Review John Ford's - Mogambo - Clark Gable DVD Review John Ford Mogambo Clark Gable DVD Review John Ford Mogambo Clark Gable DVD Review John Ford Mogambo Clark Gable DVD Review John Ford Mogambo Clark Gable DVD Review John Ford Mogambo Clark Gable DVD Review John Ford Mogambo Clark Gable DVD Review John Ford Mogambo Clark Gable DVD Review John Ford Mogambo Clark Gable DVD Review John Ford Mogambo Clark Gable DVD Review John Ford Mogambo Clark Gable DVD Review John Ford's - Mogambo - Clark Gable DVD Review John Ford Mogambo Clark Gable DVD Review John Ford Mogambo Clark Gable DVD Review John Ford Mogambo Clark Gable DVD Review John Ford Mogambo Clark Gable DVD Review John Ford Mogambo Clark Gable DVD Review John Ford Mogambo Clark Gable DVD Review John Ford Mogambo Clark Gable DVD Review John Ford Mogambo Clark Gable DVD Review John Ford Mogambo Clark Gable DVD Review John Ford Mogambo Clark Gable DVD Review John Ford's - Mogambo - Clark Gable DVD Review John Ford Mogambo Clark Gable DVD Review John Ford Mogambo Clark Gable DVD Review John Ford Mogambo Clark Gable DVD Review John Ford Mogambo Clark Gable DVD Review John Ford Mogambo Clark Gable DVD Review John Ford Mogambo Clark Gable DVD Review John Ford Mogambo Clark Gable DVD Review John Ford Mogambo Clark Gable DVD Review John Ford Mogambo Clark Gable DVD Review John Ford Mogambo Clark Gable DVD Review John Ford's - Mogambo - Clark Gable DVD Review John Ford Mogambo Clark Gable DVD Review John Ford Mogambo Clark Gable DVD Review John Ford Mogambo Clark Gable DVD Review John Ford Mogambo Clark Gable DVD Review John Ford Mogambo Clark Gable DVD Review John Ford Mogambo Clark Gable DVD Review John Ford Mogambo Clark Gable DVD Review John Ford Mogambo Clark Gable DVD Review John Ford Mogambo Clark Gable DVD Review John Ford Mogambo Clark Gable DVD Review John Ford's - Mogambo - Clark Gable DVD Review John Ford Mogambo Clark Gable DVD Review John Ford Mogambo Clark Gable DVD Review John Ford Mogambo Clark Gable DVD Review John Ford Mogambo Clark Gable DVD Review John Ford Mogambo Clark Gable DVD Review John Ford Mogambo Clark Gable DVD Review John Ford Mogambo Clark Gable DVD Review John Ford Mogambo Clark Gable DVD Review John Ford Mogambo Clark Gable DVD Review John Ford Mogambo Clark Gable DVD Review John Ford's - Mogambo - Clark Gable DVD Review John Ford Mogambo Clark Gable DVD Review John Ford Mogambo Clark Gable DVD Review John Ford Mogambo Clark Gable DVD Review John Ford Mogambo Clark Gable DVD Review John Ford Mogambo Clark Gable DVD Review John Ford Mogambo Clark Gable DVD Review John Ford Mogambo Clark Gable DVD Review John Ford Mogambo Clark Gable DVD Review John Ford Mogambo Clark Gable DVD Review John Ford Mogambo Clark Gable DVD Review John Ford's - Mogambo - Clark Gable DVD Review John Ford Mogambo Clark Gable DVD Review John Ford Mogambo Clark Gable DVD Review John Ford Mogambo Clark Gable DVD Review John Ford Mogambo Clark Gable DVD Review John Ford Mogambo Clark Gable DVD Review John Ford Mogambo Clark Gable DVD Review John Ford Mogambo Clark Gable DVD Review John Ford Mogambo Clark Gable DVD Review John Ford Mogambo Clark Gable DVD Review John Ford Mogambo Clark Gable DVD Review John Ford's - Mogambo - Clark Gable DVD Review John Ford Mogambo Clark Gable DVD Review John Ford Mogambo Clark Gable DVD Review John Ford Mogambo Clark Gable DVD Review John Ford Mogambo Clark Gable DVD Review John Ford Mogambo Clark Gable DVD Review John Ford Mogambo Clark Gable DVD Review John Ford Mogambo Clark Gable DVD Review John Ford Mogambo Clark Gable DVD Review John Ford Mogambo Clark Gable DVD Review John Ford Mogambo Clark Gable DVD Review John Ford's - Mogambo - Clark Gable DVD Review John Ford Mogambo Clark Gable DVD Review John Ford Mogambo Clark Gable DVD Review John Ford Mogambo Clark Gable DVD Review John Ford Mogambo Clark Gable DVD Review John Ford Mogambo Clark Gable DVD Review John Ford Mogambo Clark Gable DVD Review John Ford Mogambo Clark Gable DVD Review John Ford Mogambo Clark Gable DVD Review John Ford Mogambo Clark Gable DVD Review John Ford Mogambo Clark Gable DVD Review John Ford's - Mogambo - Clark Gable DVD Review John Ford Mogambo Clark Gable DVD Review John Ford Mogambo Clark Gable DVD Review John Ford Mogambo Clark Gable DVD Review John Ford Mogambo Clark Gable DVD Review John Ford Mogambo Clark Gable DVD Review John Ford Mogambo Clark Gable DVD Review John Ford Mogambo Clark Gable DVD Review John Ford Mogambo Clark Gable DVD Review John Ford Mogambo Clark Gable DVD Review John Ford Mogambo Clark Gable DVD Review John Ford's - Mogambo - Clark Gable DVD Review John Ford Mogambo Clark Gable DVD Review John Ford Mogambo Clark Gable DVD Review John Ford Mogambo Clark Gable DVD Review John Ford Mogambo Clark Gable DVD Review John Ford Mogambo Clark Gable DVD Review John Ford Mogambo Clark Gable DVD Review John Ford Mogambo Clark Gable DVD Review John Ford Mogambo Clark Gable DVD Review John Ford Mogambo Clark Gable DVD Review John Ford Mogambo Clark Gable DVD Review John Ford's - Mogambo - Clark Gable DVD Review John Ford Mogambo Clark Gable DVD Review John Ford Mogambo Clark Gable DVD Review John Ford Mogambo Clark Gable DVD Review John Ford Mogambo Clark Gable DVD Review John Ford Mogambo Clark Gable DVD Review John Ford Mogambo Clark Gable DVD Review John Ford Mogambo Clark Gable DVD Review John Ford Mogambo Clark Gable DVD Review John Ford Mogambo Clark Gable DVD Review John Ford Mogambo Clark Gable DVD Review