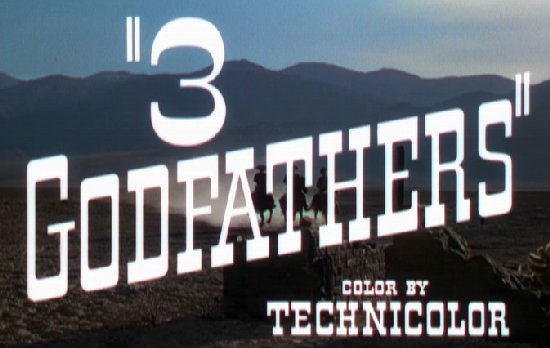 (aka "Three Godfathers" )
directed by John Ford
U.S.A. 1948
Queasily kind-hearted action comedy - filmed umpteen times before and since - in which three outlaws are forced to take care of an orphaned baby. Of all Ford's westerns, this is the one that best shows his unblinking attachment to a sentimental, mythical view of the West - one governed by codes of decency and chivalry that only existed in his head. This is the film against which the revisionist westerns of the 1960s and 1970s were aligned: mounted gunmen sweetened into cuddly uncles, for the benefit of the American public. It's phoney, it's bunk - and it might just persuade you of a beautiful lie.
Excerpt from Channel 4 located HERE
Posters
Theatrical Release: 1 December 1948
Reviews More Reviews DVD Reviews
DVD Review: Warner Home Video - Region 1 - NTSC
Big thanks to Gregory Meshman for the Review!
DVD Box Cover

CLICK to order from:

Also available in the John Wayne-John Ford Film Collection with The Searchers Ultimate Edition / Stagecoach Two-Disc Special Edition / Fort Apache / The Long Voyage Home / The Wings of Eagles / She Wore a Yellow Ribbon and They Were Expendable
Distribution

Warner Home Video

Region 1,2,3,4 - NTSC

Runtime
1:46:08
Video

1.33:1 Original Aspect Ratio
Average Bitrate: 5.24 mb/s
NTSC 720x480 29.97 f/s

NOTE: The Vertical axis represents the bits transferred per second. The Horizontal is the time in minutes.

Bitrate

Audio
English Dolby Digital 1.0, French DUB Dolby Digital 1.0
Subtitles
English, French, Spanish, None
Features
Release Information:
Studio: Warner Home Video

Aspect Ratio:
Fullscreen - 1.33:1

Edition Details:
• Thetrical Trailer (3:21)

DVD Release Date: December 20, 2005 in Target, Online June 6th, 2006
Keepcase

Chapters 28
| | |
| --- | --- |
| Comments | In a strange move, Warner Home Video released 2 John Ford lesser titles exclusively to Target stores in U.S. Both titles have been available in Europe (U.K., Germany) and Australia since July 2004 and copyright of the new DVDs confirm they were made in 2004. Most likely, they will be released to other stores later in 2006 with upcoming John Ford boxset. The unrestored image is rather good, but with some damage (capture 3 for 3 Godfathers, capture 4 for Mogambo). The only extra on each disc is a theatrical trailer. |
---




DVD Menus


---
Screen Captures
Subtitle sample
---
Recommended Reading for Western Genre Fans (CLICK COVERS or TITLES for more information)
Mail cheques, money orders, cash to: or CLICK PayPal logo to donate!
Thank You!
John Ford's - 3 Godfathers - John Wayne DVD Review John Ford 3 Godfathers John Wayne DVD Review John Ford 3 Godfathers John Wayne DVD Review John Ford 3 Godfathers John Wayne DVD Review John Ford 3 Godfathers John Wayne DVD Review John Ford 3 Godfathers John Wayne DVD Review John Ford 3 Godfathers John Wayne DVD Review John Ford 3 Godfathers John Wayne DVD Review John Ford 3 Godfathers John Wayne DVD Review John Ford 3 Godfathers John Wayne DVD Review John Ford's - 3 Godfathers - John Wayne DVD Review John Ford 3 Godfathers John Wayne DVD Review John Ford 3 Godfathers John Wayne DVD Review John Ford 3 Godfathers John Wayne DVD Review John Ford 3 Godfathers John Wayne DVD Review John Ford 3 Godfathers John Wayne DVD Review John Ford 3 Godfathers John Wayne DVD Review John Ford 3 Godfathers John Wayne DVD Review John Ford 3 Godfathers John Wayne DVD Review John Ford 3 Godfathers John Wayne DVD Review John Ford's - 3 Godfathers - John Wayne DVD Review John Ford 3 Godfathers John Wayne DVD Review John Ford 3 Godfathers John Wayne DVD Review John Ford 3 Godfathers John Wayne DVD Review John Ford 3 Godfathers John Wayne DVD Review John Ford 3 Godfathers John Wayne DVD Review John Ford 3 Godfathers John Wayne DVD Review John Ford 3 Godfathers John Wayne DVD Review John Ford 3 Godfathers John Wayne DVD Review John Ford 3 Godfathers John Wayne DVD Review John Ford's - 3 Godfathers - John Wayne DVD Review John Ford 3 Godfathers John Wayne DVD Review John Ford 3 Godfathers John Wayne DVD Review John Ford 3 Godfathers John Wayne DVD Review John Ford 3 Godfathers John Wayne DVD Review John Ford 3 Godfathers John Wayne DVD Review John Ford 3 Godfathers John Wayne DVD Review John Ford 3 Godfathers John Wayne DVD Review John Ford 3 Godfathers John Wayne DVD Review John Ford 3 Godfathers John Wayne DVD Review John Ford's - 3 Godfathers - John Wayne DVD Review John Ford 3 Godfathers John Wayne DVD Review John Ford 3 Godfathers John Wayne DVD Review John Ford 3 Godfathers John Wayne DVD Review John Ford 3 Godfathers John Wayne DVD Review John Ford 3 Godfathers John Wayne DVD Review John Ford 3 Godfathers John Wayne DVD Review John Ford 3 Godfathers John Wayne DVD Review John Ford 3 Godfathers John Wayne DVD Review John Ford 3 Godfathers John Wayne DVD Review John Ford's - 3 Godfathers - John Wayne DVD Review John Ford 3 Godfathers John Wayne DVD Review John Ford 3 Godfathers John Wayne DVD Review John Ford 3 Godfathers John Wayne DVD Review John Ford 3 Godfathers John Wayne DVD Review John Ford 3 Godfathers John Wayne DVD Review John Ford 3 Godfathers John Wayne DVD Review John Ford 3 Godfathers John Wayne DVD Review John Ford 3 Godfathers John Wayne DVD Review John Ford 3 Godfathers John Wayne DVD Review John Ford's - 3 Godfathers - John Wayne DVD Review John Ford 3 Godfathers John Wayne DVD Review John Ford 3 Godfathers John Wayne DVD Review John Ford 3 Godfathers John Wayne DVD Review John Ford 3 Godfathers John Wayne DVD Review John Ford 3 Godfathers John Wayne DVD Review John Ford 3 Godfathers John Wayne DVD Review John Ford 3 Godfathers John Wayne DVD Review John Ford 3 Godfathers John Wayne DVD Review John Ford 3 Godfathers John Wayne DVD Review John Ford's - 3 Godfathers - John Wayne DVD Review John Ford 3 Godfathers John Wayne DVD Review John Ford 3 Godfathers John Wayne DVD Review John Ford 3 Godfathers John Wayne DVD Review John Ford 3 Godfathers John Wayne DVD Review John Ford 3 Godfathers John Wayne DVD Review John Ford 3 Godfathers John Wayne DVD Review John Ford 3 Godfathers John Wayne DVD Review John Ford 3 Godfathers John Wayne DVD Review John Ford 3 Godfathers John Wayne DVD Review John Ford's - 3 Godfathers - John Wayne DVD Review John Ford 3 Godfathers John Wayne DVD Review John Ford 3 Godfathers John Wayne DVD Review John Ford 3 Godfathers John Wayne DVD Review John Ford 3 Godfathers John Wayne DVD Review John Ford 3 Godfathers John Wayne DVD Review John Ford 3 Godfathers John Wayne DVD Review John Ford 3 Godfathers John Wayne DVD Review John Ford 3 Godfathers John Wayne DVD Review John Ford 3 Godfathers John Wayne DVD Review John Ford's - 3 Godfathers - John Wayne DVD Review John Ford 3 Godfathers John Wayne DVD Review John Ford 3 Godfathers John Wayne DVD Review John Ford 3 Godfathers John Wayne DVD Review John Ford 3 Godfathers John Wayne DVD Review John Ford 3 Godfathers John Wayne DVD Review John Ford 3 Godfathers John Wayne DVD Review John Ford 3 Godfathers John Wayne DVD Review John Ford 3 Godfathers John Wayne DVD Review John Ford 3 Godfathers John Wayne DVD Review John Ford's - 3 Godfathers - John Wayne DVD Review John Ford 3 Godfathers John Wayne DVD Review John Ford 3 Godfathers John Wayne DVD Review John Ford 3 Godfathers John Wayne DVD Review John Ford 3 Godfathers John Wayne DVD Review John Ford 3 Godfathers John Wayne DVD Review John Ford 3 Godfathers John Wayne DVD Review John Ford 3 Godfathers John Wayne DVD Review John Ford 3 Godfathers John Wayne DVD Review John Ford 3 Godfathers John Wayne DVD Review John Ford's - 3 Godfathers - John Wayne DVD Review John Ford 3 Godfathers John Wayne DVD Review John Ford 3 Godfathers John Wayne DVD Review John Ford 3 Godfathers John Wayne DVD Review John Ford 3 Godfathers John Wayne DVD Review John Ford 3 Godfathers John Wayne DVD Review John Ford 3 Godfathers John Wayne DVD Review John Ford 3 Godfathers John Wayne DVD Review John Ford 3 Godfathers John Wayne DVD Review John Ford 3 Godfathers John Wayne DVD Review John Ford's - 3 Godfathers - John Wayne DVD Review John Ford 3 Godfathers John Wayne DVD Review John Ford 3 Godfathers John Wayne DVD Review John Ford 3 Godfathers John Wayne DVD Review John Ford 3 Godfathers John Wayne DVD Review John Ford 3 Godfathers John Wayne DVD Review John Ford 3 Godfathers John Wayne DVD Review John Ford 3 Godfathers John Wayne DVD Review John Ford 3 Godfathers John Wayne DVD Review John Ford 3 Godfathers John Wayne DVD Review John Ford's - 3 Godfathers - John Wayne DVD Review John Ford 3 Godfathers John Wayne DVD Review John Ford 3 Godfathers John Wayne DVD Review John Ford 3 Godfathers John Wayne DVD Review John Ford 3 Godfathers John Wayne DVD Review John Ford 3 Godfathers John Wayne DVD Review John Ford 3 Godfathers John Wayne DVD Review John Ford 3 Godfathers John Wayne DVD Review John Ford 3 Godfathers John Wayne DVD Review John Ford 3 Godfathers John Wayne DVD Review John Ford's - 3 Godfathers - John Wayne DVD Review John Ford 3 Godfathers John Wayne DVD Review John Ford 3 Godfathers John Wayne DVD Review John Ford 3 Godfathers John Wayne DVD Review John Ford 3 Godfathers John Wayne DVD Review John Ford 3 Godfathers John Wayne DVD Review John Ford 3 Godfathers John Wayne DVD Review John Ford 3 Godfathers John Wayne DVD Review John Ford 3 Godfathers John Wayne DVD Review John Ford 3 Godfathers John Wayne DVD Review John Ford's - 3 Godfathers - John Wayne DVD Review John Ford 3 Godfathers John Wayne DVD Review John Ford 3 Godfathers John Wayne DVD Review John Ford 3 Godfathers John Wayne DVD Review John Ford 3 Godfathers John Wayne DVD Review John Ford 3 Godfathers John Wayne DVD Review John Ford 3 Godfathers John Wayne DVD Review John Ford 3 Godfathers John Wayne DVD Review John Ford 3 Godfathers John Wayne DVD Review John Ford 3 Godfathers John Wayne DVD Review