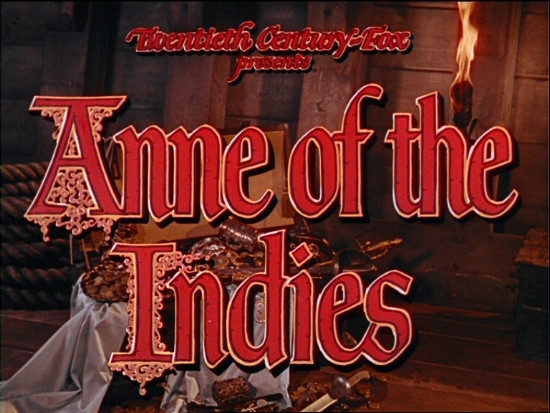 (aka 'La flibustière des Antilles')
51
Forty years before Cutthroat Island came Jacques Tourneur's interpretation of equal rights in piracy, here, Jean Peters is a notorious female pirate who unwittingly falls for the former pirate captain (Louis Jourdan) secretly spying on her for the British. There's a fair bit of mildly engaging swash and buckle here, while Peters makes for a comely love interest-cum-villainess, but otherwise this never rises beyond the level of standard B-Movie frolic. Wet Sunday afternoon entertainment.
Excerpt from Channel 4 located HERE
Posters
Theatrical Release: October 18th, 1951
Reviews More Reviews DVD Reviews
DVD Review: Carlotta Films - Region 2 - PAL
DVD Box Cover

CLICK to order from:

Other Classique Americain cinema on DVD from Carlotta:

(CLICK COVERS FOR MORE INFO)

Distribution
Carlotta - Region 2 - PAL
Runtime
1:17:57
Video
1.33:1 Original Aspect Ratio
Average Bitrate: 8.32 mb/s
PAL 720x576 25.00 f/s

NOTE: The Vertical axis represents the bits transferred per second. The Horizontal is the time in minutes.

Bitrate:

Audio
English (Dolby Digital 2.0)
Subtitles
French (player generated), NONE
Features

Release Information:
Studio: Carlotta Films

Aspect Ratio:
Original Aspect Ratio 1.33:1

Edition Details:

• Les Flibustieres De Rackham (4 minutes)

• Variations Sur Anne Providence (17 minutes)


DVD Release Date: November 17th, 2005
Keep Case
Chapters: 12
Comments:

NOTE: Like Bigger Than Life and going by the initial menus one might expect this to be like many of this years crop of un-transferred (in NTSC) a great English language films by French production companies that have player generated forced subtitles on the original English audio track. BUT on all three of my Malata DVD players (856, 393a, 520) this was not the case - these subtitles are NOT forced on the English audio. So I can only make the assumption that they are not forced on any players but even if they are mandatory on some DVD playback units, they easily removable on all computers with DVD burners (see HERE) - software is free, fortunately the film is slightly less than 4.75 Gig (single layer blank) clocking in as the English film only (no subs, extras or menus) at 4.620 Gig. This means there will be no degradation in image quality. Our assumption is that these subs will not be forced on any DVD players but can only go by the ones we own. If we hear that they are mandatory on some players we will report which player it is in this review. So far though, the news is very good.

Another very strong, un-manipulated image from Carlotta Films. The colors are decent, good contrast and sharpness. There are a few moments in the film where the quality is a shade inferior, but it is very infrequent. I also see some good film grain. Although you might think that the two extra featurettes have English audio as the option appears using your remote - in fact they do not. This is a fabulous Tourneur film and one we strongly recommend!
---



DVD Menus

---
Subtitle Sample
Screen Captures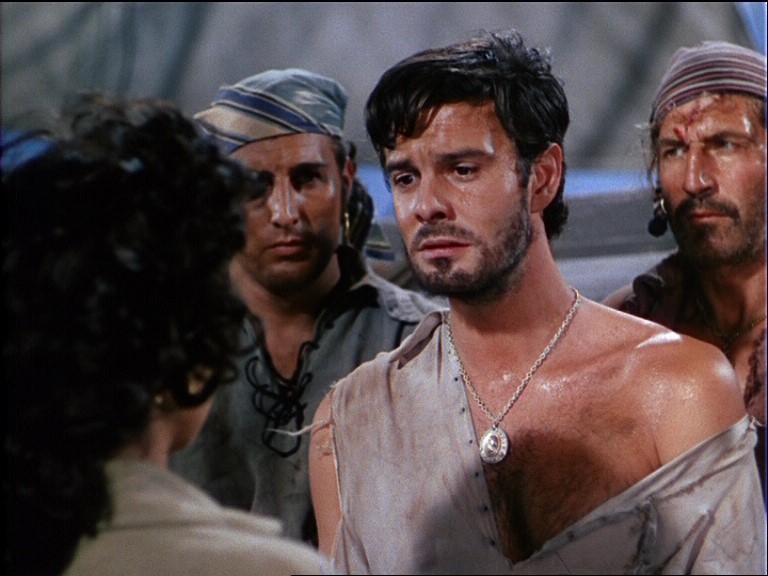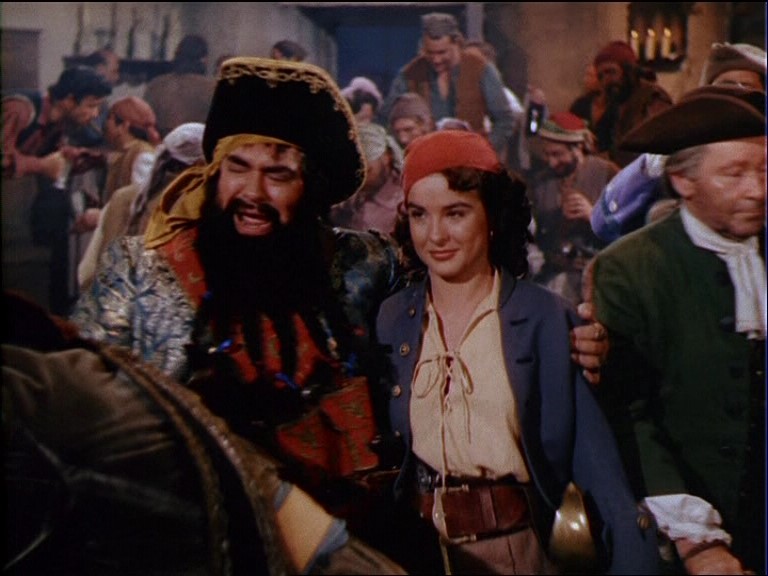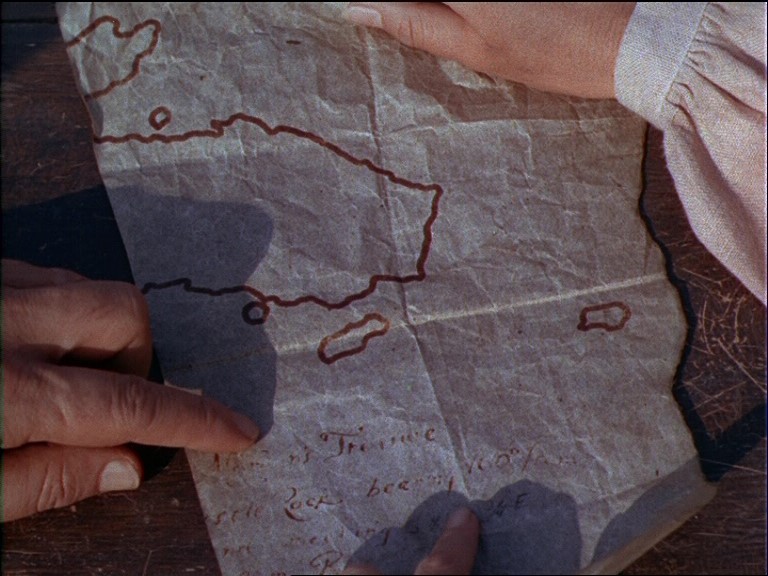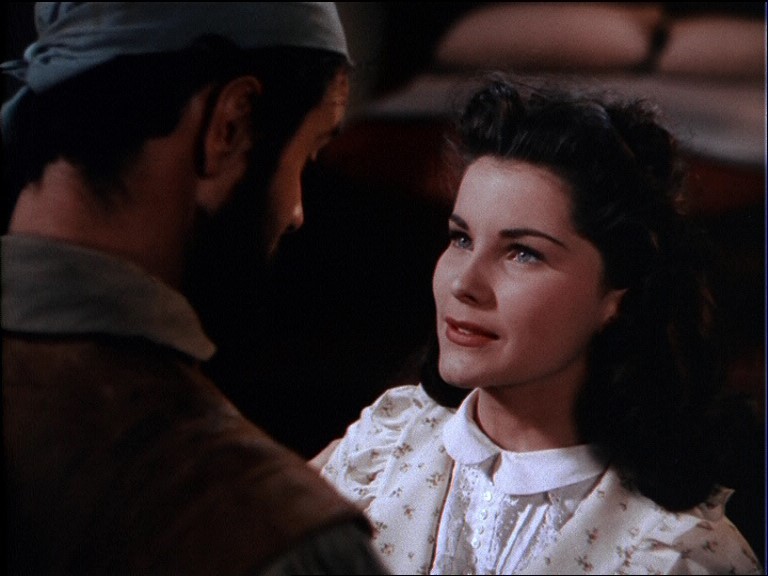 ---
---
DVD Box Cover

CLICK to order from:

Other Classique Americain cinema on DVD from Carlotta:

(CLICK COVERS FOR MORE INFO)

Distribution
Carlotta - Region 2 - PAL




















DONATIONS Keep DVDBeaver alive:
Mail cheques, money orders, cash to: or CLICK PayPal logo to donate!
Gary Tooze

Mississauga, Ontario,

CANADA
Thank You!
Jacques Tourneur's - Anne of the Indies - DVD Review Jacques Tourneur Anne of the Indies DVD Review Jacques Tourneur Anne of the Indies DVD Review Jacques Tourneur Anne of the Indies DVD Review Jacques Tourneur Anne of the Indies DVD Review Jacques Tourneur Anne of the Indies DVD Review Jacques Tourneur Anne of the Indies DVD Review Jacques Tourneur Anne of the Indies DVD Review Jacques Tourneur Anne of the Indies DVD Review Jacques Tourneur Anne of the Indies DVD Review Jacques Tourneur's - Anne of the Indies - DVD Review Jacques Tourneur Anne of the Indies DVD Review Jacques Tourneur Anne of the Indies DVD Review Jacques Tourneur Anne of the Indies DVD Review Jacques Tourneur Anne of the Indies DVD Review Jacques Tourneur Anne of the Indies DVD Review Jacques Tourneur Anne of the Indies DVD Review Jacques Tourneur Anne of the Indies DVD Review Jacques Tourneur Anne of the Indies DVD Review Jacques Tourneur Anne of the Indies DVD Review Jacques Tourneur's - Anne of the Indies - DVD Review Jacques Tourneur Anne of the Indies DVD Review Jacques Tourneur Anne of the Indies DVD Review Jacques Tourneur Anne of the Indies DVD Review Jacques Tourneur Anne of the Indies DVD Review Jacques Tourneur Anne of the Indies DVD Review Jacques Tourneur Anne of the Indies DVD Review Jacques Tourneur Anne of the Indies DVD Review Jacques Tourneur Anne of the Indies DVD Review Jacques Tourneur Anne of the Indies DVD Review Jacques Tourneur's - Anne of the Indies - DVD Review Jacques Tourneur Anne of the Indies DVD Review Jacques Tourneur Anne of the Indies DVD Review Jacques Tourneur Anne of the Indies DVD Review Jacques Tourneur Anne of the Indies DVD Review Jacques Tourneur Anne of the Indies DVD Review Jacques Tourneur Anne of the Indies DVD Review Jacques Tourneur Anne of the Indies DVD Review Jacques Tourneur Anne of the Indies DVD Review Jacques Tourneur Anne of the Indies DVD Review Jacques Tourneur's - Anne of the Indies - DVD Review Jacques Tourneur Anne of the Indies DVD Review Jacques Tourneur Anne of the Indies DVD Review Jacques Tourneur Anne of the Indies DVD Review Jacques Tourneur Anne of the Indies DVD Review Jacques Tourneur Anne of the Indies DVD Review Jacques Tourneur Anne of the Indies DVD Review Jacques Tourneur Anne of the Indies DVD Review Jacques Tourneur Anne of the Indies DVD Review Jacques Tourneur Anne of the Indies DVD Review Jacques Tourneur's - Anne of the Indies - DVD Review Jacques Tourneur Anne of the Indies DVD Review Jacques Tourneur Anne of the Indies DVD Review Jacques Tourneur Anne of the Indies DVD Review Jacques Tourneur Anne of the Indies DVD Review Jacques Tourneur Anne of the Indies DVD Review Jacques Tourneur Anne of the Indies DVD Review Jacques Tourneur Anne of the Indies DVD Review Jacques Tourneur Anne of the Indies DVD Review Jacques Tourneur Anne of the Indies DVD Review Jacques Tourneur's - Anne of the Indies - DVD Review Jacques Tourneur Anne of the Indies DVD Review Jacques Tourneur Anne of the Indies DVD Review Jacques Tourneur Anne of the Indies DVD Review Jacques Tourneur Anne of the Indies DVD Review Jacques Tourneur Anne of the Indies DVD Review Jacques Tourneur Anne of the Indies DVD Review Jacques Tourneur Anne of the Indies DVD Review Jacques Tourneur Anne of the Indies DVD Review Jacques Tourneur Anne of the Indies DVD Review Jacques Tourneur's - Anne of the Indies - DVD Review Jacques Tourneur Anne of the Indies DVD Review Jacques Tourneur Anne of the Indies DVD Review Jacques Tourneur Anne of the Indies DVD Review Jacques Tourneur Anne of the Indies DVD Review Jacques Tourneur Anne of the Indies DVD Review Jacques Tourneur Anne of the Indies DVD Review Jacques Tourneur Anne of the Indies DVD Review Jacques Tourneur Anne of the Indies DVD Review Jacques Tourneur Anne of the Indies DVD Review Jacques Tourneur's - Anne of the Indies - DVD Review Jacques Tourneur Anne of the Indies DVD Review Jacques Tourneur Anne of the Indies DVD Review Jacques Tourneur Anne of the Indies DVD Review Jacques Tourneur Anne of the Indies DVD Review Jacques Tourneur Anne of the Indies DVD Review Jacques Tourneur Anne of the Indies DVD Review Jacques Tourneur Anne of the Indies DVD Review Jacques Tourneur Anne of the Indies DVD Review Jacques Tourneur Anne of the Indies DVD Review Jacques Tourneur's - Anne of the Indies - DVD Review Jacques Tourneur Anne of the Indies DVD Review Jacques Tourneur Anne of the Indies DVD Review Jacques Tourneur Anne of the Indies DVD Review Jacques Tourneur Anne of the Indies DVD Review Jacques Tourneur Anne of the Indies DVD Review Jacques Tourneur Anne of the Indies DVD Review Jacques Tourneur Anne of the Indies DVD Review Jacques Tourneur Anne of the Indies DVD Review Jacques Tourneur Anne of the Indies DVD Review Jacques Tourneur's - Anne of the Indies - DVD Review Jacques Tourneur Anne of the Indies DVD Review Jacques Tourneur Anne of the Indies DVD Review Jacques Tourneur Anne of the Indies DVD Review Jacques Tourneur Anne of the Indies DVD Review Jacques Tourneur Anne of the Indies DVD Review Jacques Tourneur Anne of the Indies DVD Review Jacques Tourneur Anne of the Indies DVD Review Jacques Tourneur Anne of the Indies DVD Review Jacques Tourneur Anne of the Indies DVD Review Jacques Tourneur's - Anne of the Indies - DVD Review Jacques Tourneur Anne of the Indies DVD Review Jacques Tourneur Anne of the Indies DVD Review Jacques Tourneur Anne of the Indies DVD Review Jacques Tourneur Anne of the Indies DVD Review Jacques Tourneur Anne of the Indies DVD Review Jacques Tourneur Anne of the Indies DVD Review Jacques Tourneur Anne of the Indies DVD Review Jacques Tourneur Anne of the Indies DVD Review Jacques Tourneur Anne of the Indies DVD Review Jacques Tourneur's - Anne of the Indies - DVD Review Jacques Tourneur Anne of the Indies DVD Review Jacques Tourneur Anne of the Indies DVD Review Jacques Tourneur Anne of the Indies DVD Review Jacques Tourneur Anne of the Indies DVD Review Jacques Tourneur Anne of the Indies DVD Review Jacques Tourneur Anne of the Indies DVD Review Jacques Tourneur Anne of the Indies DVD Review Jacques Tourneur Anne of the Indies DVD Review Jacques Tourneur Anne of the Indies DVD Review Jacques Tourneur's - Anne of the Indies - DVD Review Jacques Tourneur Anne of the Indies DVD Review Jacques Tourneur Anne of the Indies DVD Review Jacques Tourneur Anne of the Indies DVD Review Jacques Tourneur Anne of the Indies DVD Review Jacques Tourneur Anne of the Indies DVD Review Jacques Tourneur Anne of the Indies DVD Review Jacques Tourneur Anne of the Indies DVD Review Jacques Tourneur Anne of the Indies DVD Review Jacques Tourneur Anne of the Indies DVD Review Jacques Tourneur's - Anne of the Indies - DVD Review Jacques Tourneur Anne of the Indies DVD Review Jacques Tourneur Anne of the Indies DVD Review Jacques Tourneur Anne of the Indies DVD Review Jacques Tourneur Anne of the Indies DVD Review Jacques Tourneur Anne of the Indies DVD Review Jacques Tourneur Anne of the Indies DVD Review Jacques Tourneur Anne of the Indies DVD Review Jacques Tourneur Anne of the Indies DVD Review Jacques Tourneur Anne of the Indies DVD Review Jacques Tourneur's - Anne of the Indies - DVD Review Jacques Tourneur Anne of the Indies DVD Review Jacques Tourneur Anne of the Indies DVD Review Jacques Tourneur Anne of the Indies DVD Review Jacques Tourneur Anne of the Indies DVD Review Jacques Tourneur Anne of the Indies DVD Review Jacques Tourneur Anne of the Indies DVD Review Jacques Tourneur Anne of the Indies DVD Review Jacques Tourneur Anne of the Indies DVD Review Jacques Tourneur Anne of the Indies DVD Review Jacques Tourneur's - Anne of the Indies - DVD Review Jacques Tourneur Anne of the Indies DVD Review Jacques Tourneur Anne of the Indies DVD Review Jacques Tourneur Anne of the Indies DVD Review Jacques Tourneur Anne of the Indies DVD Review Jacques Tourneur Anne of the Indies DVD Review Jacques Tourneur Anne of the Indies DVD Review Jacques Tourneur Anne of the Indies DVD Review Jacques Tourneur Anne of the Indies DVD Review Jacques Tourneur Anne of the Indies DVD Review