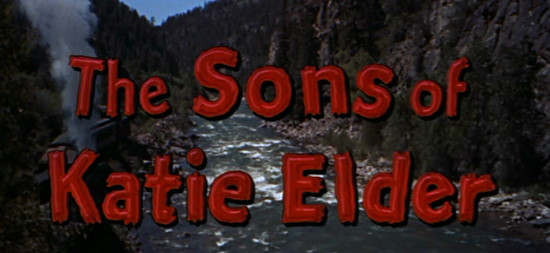 directed by Henry Hathaway
USA 1965
The Elder boys return to Clearwater, Texas for their Mother's funeral. John the eldest is a well known gunfighter and trouble follows him wherever he goes. The boys try to get back their ranch from the towns gunsmith who won it from their father in a card game with which he was shortly murdered there after but not before getting through the troubles that come with the Elders name.
Posters
Theatrical Release: July 1st, 1965
Reviews More Reviews DVD Reviews
DVD Review: Paramount - Region 1 - NTSC
DVD Box Cover

CLICK to order from:

Also available (very reasonably) in the John Wayne DVD Gift Set (The Shootist / The Sons of Katie Elder/ True Grit/ El Dorado/ The Man Who Shot Liberty Valance)

OR available (super cheap!) in the John Wayne DVD Collection - Amazon.com Exclusive (10-Disc Set) (1965) El Dorado, Hatari!, In Harm's Way, Rio Lobo, The Sons of Katie Elder, The Shootist, Donovan's Reef, Big Jake, The Man Who Shot Liberty Valance, True Grit)

Distribution
Paramount Home Video - Region 1 - NTSC
Runtime
2:01:36
Video
2.25:1 Original Aspect Ratio
Average Bitrate: 4.73 mb/s
NTSC 720x480 29.97 f/s

NOTE: The Vertical axis represents the bits transferred per second. The Horizontal is the time in minutes.

Bitrate:

Audio
English (Dolby Digital 2.0), DUB: French (Dolby Digital 2.0)
Subtitles
English (HoH), None
Features

Release Information:
Studio: Paramount Home Video

Aspect Ratio:
Original aspect Ratio 2.25:1

Edition Details:

• Trailer (3:13)

DVD Release Date: June 5th, 2001 (Repackaged - August 2005)
Keep Case
Chapters: 16
| | |
| --- | --- |
| Comments: | This is the same transfer of the original Paramount release - exact same disc in fact. The DVD has simply been reissued and repackaged to be included in a few Boxset options (of which we recommend the 10-disc'er, exclusive to Amazon, if you don't own any part of these or just one or two already). The image appears to be un-manipulated - is quite dark but I'll wager pretty close to its theatrical appearance - original audio - those awful yellow subtitles and a trailer as the only extra, but the price is right - especially when bundled in one of the boxsets. For western fans this may fall short of Mann or Boetticher but its Wayne in prime form and one of his better efforts (and lets not forget Dino too!). |
---



DVD Menus

---
Subtitle Sample
Screen Captures
---
---
Recommended Reading for Western Genre Fans (CLICK COVERS or TITLES for more information)
Check out more in "The Library"
---
DVD Box Cover

CLICK to order from:

Also available (very reasonably) in the John Wayne DVD Gift Set (The Shootist / The Sons of Katie Elder/ True Grit/ El Dorado/ The Man Who Shot Liberty Valance)

OR available (super cheap!) in the John Wayne DVD Collection - Amazon.com Exclusive (10-Disc Set) (1965) El Dorado, Hatari!, In Harm's Way, Rio Lobo, The Sons of Katie Elder, The Shootist, Donovan's Reef, Big Jake, The Man Who Shot Liberty Valance, True Grit)

Distribution
Paramount Home Video - Region 1 - NTSC
---






Henry Hathaway's - The Sons of Katie Elder - John Wayne DVD Review Henry Hathaway The Sons of Katie Elder John Wayne DVD Review Henry Hathaway The Sons of Katie Elder John Wayne DVD Review Henry Hathaway The Sons of Katie Elder John Wayne DVD Review Henry Hathaway The Sons of Katie Elder John Wayne DVD Review Henry Hathaway The Sons of Katie Elder John Wayne DVD Review Henry Hathaway The Sons of Katie Elder John Wayne DVD Review Henry Hathaway The Sons of Katie Elder John Wayne DVD Review Henry Hathaway The Sons of Katie Elder John Wayne DVD Review Henry Hathaway's - The Sons of Katie Elder - John Wayne DVD Review Henry Hathaway The Sons of Katie Elder John Wayne DVD Review Henry Hathaway The Sons of Katie Elder John Wayne DVD Review Henry Hathaway The Sons of Katie Elder John Wayne DVD Review Henry Hathaway The Sons of Katie Elder John Wayne DVD Review Henry Hathaway The Sons of Katie Elder John Wayne DVD Review Henry Hathaway The Sons of Katie Elder John Wayne DVD Review Henry Hathaway The Sons of Katie Elder John Wayne DVD Review Henry Hathaway The Sons of Katie Elder John Wayne DVD Review Henry Hathaway's - The Sons of Katie Elder - John Wayne DVD Review Henry Hathaway The Sons of Katie Elder John Wayne DVD Review Henry Hathaway The Sons of Katie Elder John Wayne DVD Review Henry Hathaway The Sons of Katie Elder John Wayne DVD Review Henry Hathaway The Sons of Katie Elder John Wayne DVD Review Henry Hathaway The Sons of Katie Elder John Wayne DVD Review Henry Hathaway The Sons of Katie Elder John Wayne DVD Review Henry Hathaway The Sons of Katie Elder John Wayne DVD Review Henry Hathaway The Sons of Katie Elder John Wayne DVD Review Henry Hathaway's - The Sons of Katie Elder - John Wayne DVD Review Henry Hathaway The Sons of Katie Elder John Wayne DVD Review Henry Hathaway The Sons of Katie Elder John Wayne DVD Review Henry Hathaway The Sons of Katie Elder John Wayne DVD Review Henry Hathaway The Sons of Katie Elder John Wayne DVD Review Henry Hathaway The Sons of Katie Elder John Wayne DVD Review Henry Hathaway The Sons of Katie Elder John Wayne DVD Review Henry Hathaway The Sons of Katie Elder John Wayne DVD Review Henry Hathaway The Sons of Katie Elder John Wayne DVD Review Henry Hathaway's - The Sons of Katie Elder - John Wayne DVD Review Henry Hathaway The Sons of Katie Elder John Wayne DVD Review Henry Hathaway The Sons of Katie Elder John Wayne DVD Review Henry Hathaway The Sons of Katie Elder John Wayne DVD Review Henry Hathaway The Sons of Katie Elder John Wayne DVD Review Henry Hathaway The Sons of Katie Elder John Wayne DVD Review Henry Hathaway The Sons of Katie Elder John Wayne DVD Review Henry Hathaway The Sons of Katie Elder John Wayne DVD Review Henry Hathaway The Sons of Katie Elder John Wayne DVD Review Henry Hathaway's - The Sons of Katie Elder - John Wayne DVD Review Henry Hathaway The Sons of Katie Elder John Wayne DVD Review Henry Hathaway The Sons of Katie Elder John Wayne DVD Review Henry Hathaway The Sons of Katie Elder John Wayne DVD Review Henry Hathaway The Sons of Katie Elder John Wayne DVD Review Henry Hathaway The Sons of Katie Elder John Wayne DVD Review Henry Hathaway The Sons of Katie Elder John Wayne DVD Review Henry Hathaway The Sons of Katie Elder John Wayne DVD Review Henry Hathaway The Sons of Katie Elder John Wayne DVD Review Henry Hathaway's - The Sons of Katie Elder - John Wayne DVD Review Henry Hathaway The Sons of Katie Elder John Wayne DVD Review Henry Hathaway The Sons of Katie Elder John Wayne DVD Review Henry Hathaway The Sons of Katie Elder John Wayne DVD Review Henry Hathaway The Sons of Katie Elder John Wayne DVD Review Henry Hathaway The Sons of Katie Elder John Wayne DVD Review Henry Hathaway The Sons of Katie Elder John Wayne DVD Review Henry Hathaway The Sons of Katie Elder John Wayne DVD Review Henry Hathaway The Sons of Katie Elder John Wayne DVD Review Henry Hathaway's - The Sons of Katie Elder - John Wayne DVD Review Henry Hathaway The Sons of Katie Elder John Wayne DVD Review Henry Hathaway The Sons of Katie Elder John Wayne DVD Review Henry Hathaway The Sons of Katie Elder John Wayne DVD Review Henry Hathaway The Sons of Katie Elder John Wayne DVD Review Henry Hathaway The Sons of Katie Elder John Wayne DVD Review Henry Hathaway The Sons of Katie Elder John Wayne DVD Review Henry Hathaway The Sons of Katie Elder John Wayne DVD Review Henry Hathaway The Sons of Katie Elder John Wayne DVD Review Henry Hathaway's - The Sons of Katie Elder - John Wayne DVD Review Henry Hathaway The Sons of Katie Elder John Wayne DVD Review Henry Hathaway The Sons of Katie Elder John Wayne DVD Review Henry Hathaway The Sons of Katie Elder John Wayne DVD Review Henry Hathaway The Sons of Katie Elder John Wayne DVD Review Henry Hathaway The Sons of Katie Elder John Wayne DVD Review Henry Hathaway The Sons of Katie Elder John Wayne DVD Review Henry Hathaway The Sons of Katie Elder John Wayne DVD Review Henry Hathaway The Sons of Katie Elder John Wayne DVD Review Henry Hathaway's - The Sons of Katie Elder - John Wayne DVD Review Henry Hathaway The Sons of Katie Elder John Wayne DVD Review Henry Hathaway The Sons of Katie Elder John Wayne DVD Review Henry Hathaway The Sons of Katie Elder John Wayne DVD Review Henry Hathaway The Sons of Katie Elder John Wayne DVD Review Henry Hathaway The Sons of Katie Elder John Wayne DVD Review Henry Hathaway The Sons of Katie Elder John Wayne DVD Review Henry Hathaway The Sons of Katie Elder John Wayne DVD Review Henry Hathaway The Sons of Katie Elder John Wayne DVD Review Henry Hathaway's - The Sons of Katie Elder - John Wayne DVD Review Henry Hathaway The Sons of Katie Elder John Wayne DVD Review Henry Hathaway The Sons of Katie Elder John Wayne DVD Review Henry Hathaway The Sons of Katie Elder John Wayne DVD Review Henry Hathaway The Sons of Katie Elder John Wayne DVD Review Henry Hathaway The Sons of Katie Elder John Wayne DVD Review Henry Hathaway The Sons of Katie Elder John Wayne DVD Review Henry Hathaway The Sons of Katie Elder John Wayne DVD Review Henry Hathaway The Sons of Katie Elder John Wayne DVD Review