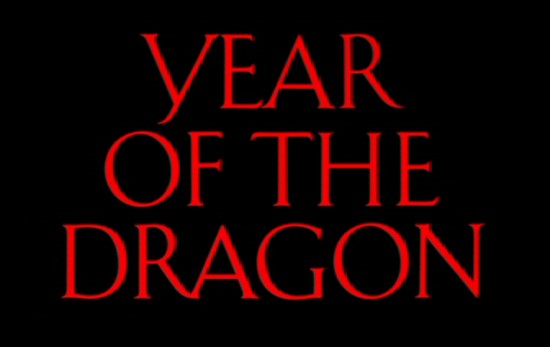 directed by Michael Cimino
USA 1985
Corruption. Extortion. Sometimes, even, assassination. For the tradition-bound mob bosses of Manhattan's Chinatown, there are age-old ways of running things. And now there's a police captain Stanley White's way.

Mickey Rourke portrays White, a war veteran who has a Vietnam-sized chip on his shoulder when dealing with an emerging blood feud in Chinatown. John Lone plays the crime lord standing in the line of fire of White's relentless campaign. And Academy Award-winning director Michael Crimino (The Deer Hunter), working from a screenplay based on the novel by Robert Daley (Prince Of The City) and co-scripted by Oliver Stone, fills the screen with adrenaline rushes of action and excitement.
Poster
Theatrical Release: August 16th, 1985
Reviews More Reviews DVD Reviews
DVD Review: Warner - Region 1,2,3,4 - NTSC
DVD Box Cover

CLICK to order from:

Distribution
Warner Home Video - Region 1,2,3,4 - NTSC
Runtime
2:14:12
Video
2.38:1 Original Aspect Ratio
Average Bitrate: 5.98 mb/s
NTSC 720x480 29.97 f/s

NOTE: The Vertical axis represents the bits transferred per second. The Horizontal is the time in minutes.

Bitrate:

Audio
English (Dolby Digital 5.1)
Subtitles
English, French, Spanish, None
Features

Release Information:
Studio: Warner Home Video

Aspect Ratio:
Original aspect Ratio 2.38:1

Edition Details:

• Commentary by director Michael Cimino
• Theatrical Trailer

DVD Release Date: May 31st, 2005
Keep Case
Chapters: 33
| | |
| --- | --- |
| Comments: | I would say that this is a very good job by Warner. Keeping the dark image and using no brightness manipulations we have a reasonably sharp picture, good colors and strong black levels. This film is a bit unique and sticks out from other mainstream productions garnering a bit of a cult following. Rourke is arguably at his best. Quite a coo for Warner to include the Cimino commentary as it really sheds light in certain areas. Good subtitles and 5.1 audio make this a good purchase offered at a reasonable price. out of |
---
---
Subtitle Sample
Screen Captures
---
DONATIONS Keep DVDBeaver alive and advertisement free:
Mail cheques, money orders, cash to: or CLICK PayPal logo to donate!
Gary Tooze

Mississauga, Ontario,

CANADA
Thank You!
Michael Cimino's Year of the Dragon - Warner - Region 1,2,3,4 - NTSC dvd review year of the dragon Michael Cimino Mickey Rourke dvd review year of the dragon Michael Cimino Mickey Rourke dvd review year of the dragon Michael Cimino Mickey Rourke dvd review year of the dragon Michael Cimino Mickey Rourke dvd review year of the dragon Michael Cimino Mickey Rourke dvd review year of the dragon Michael Cimino Mickey Rourke dvd review year of the dragon Michael Cimino Mickey Rourke dvd review year of the dragon Michael Cimino Mickey Rourke dvd review year of the dragon Michael Cimino Mickey Rourke dvd review year of the dragon Michael Cimino Mickey Rourke Michael Cimino's Year of the Dragon - Warner - Region 1,2,3,4 - NTSC dvd review year of the dragon Michael Cimino Mickey Rourke dvd review year of the dragon Michael Cimino Mickey Rourke dvd review year of the dragon Michael Cimino Mickey Rourke dvd review year of the dragon Michael Cimino Mickey Rourke dvd review year of the dragon Michael Cimino Mickey Rourke dvd review year of the dragon Michael Cimino Mickey Rourke dvd review year of the dragon Michael Cimino Mickey Rourke dvd review year of the dragon Michael Cimino Mickey Rourke dvd review year of the dragon Michael Cimino Mickey Rourke dvd review year of the dragon Michael Cimino Mickey Rourke Michael Cimino's Year of the Dragon - Warner - Region 1,2,3,4 - NTSC dvd review year of the dragon Michael Cimino Mickey Rourke dvd review year of the dragon Michael Cimino Mickey Rourke dvd review year of the dragon Michael Cimino Mickey Rourke dvd review year of the dragon Michael Cimino Mickey Rourke dvd review year of the dragon Michael Cimino Mickey Rourke dvd review year of the dragon Michael Cimino Mickey Rourke dvd review year of the dragon Michael Cimino Mickey Rourke dvd review year of the dragon Michael Cimino Mickey Rourke dvd review year of the dragon Michael Cimino Mickey Rourke dvd review year of the dragon Michael Cimino Mickey Rourke Michael Cimino's Year of the Dragon - Warner - Region 1,2,3,4 - NTSC dvd review year of the dragon Michael Cimino Mickey Rourke dvd review year of the dragon Michael Cimino Mickey Rourke dvd review year of the dragon Michael Cimino Mickey Rourke dvd review year of the dragon Michael Cimino Mickey Rourke dvd review year of the dragon Michael Cimino Mickey Rourke dvd review year of the dragon Michael Cimino Mickey Rourke dvd review year of the dragon Michael Cimino Mickey Rourke dvd review year of the dragon Michael Cimino Mickey Rourke dvd review year of the dragon Michael Cimino Mickey Rourke dvd review year of the dragon Michael Cimino Mickey Rourke Michael Cimino's Year of the Dragon - Warner - Region 1,2,3,4 - NTSC dvd review year of the dragon Michael Cimino Mickey Rourke dvd review year of the dragon Michael Cimino Mickey Rourke dvd review year of the dragon Michael Cimino Mickey Rourke dvd review year of the dragon Michael Cimino Mickey Rourke dvd review year of the dragon Michael Cimino Mickey Rourke dvd review year of the dragon Michael Cimino Mickey Rourke dvd review year of the dragon Michael Cimino Mickey Rourke dvd review year of the dragon Michael Cimino Mickey Rourke dvd review year of the dragon Michael Cimino Mickey Rourke dvd review year of the dragon Michael Cimino Mickey Rourke Michael Cimino's Year of the Dragon - Warner - Region 1,2,3,4 - NTSC dvd review year of the dragon Michael Cimino Mickey Rourke dvd review year of the dragon Michael Cimino Mickey Rourke dvd review year of the dragon Michael Cimino Mickey Rourke dvd review year of the dragon Michael Cimino Mickey Rourke dvd review year of the dragon Michael Cimino Mickey Rourke dvd review year of the dragon Michael Cimino Mickey Rourke dvd review year of the dragon Michael Cimino Mickey Rourke dvd review year of the dragon Michael Cimino Mickey Rourke dvd review year of the dragon Michael Cimino Mickey Rourke dvd review year of the dragon Michael Cimino Mickey Rourke Michael Cimino's Year of the Dragon - Warner - Region 1,2,3,4 - NTSC dvd review year of the dragon Michael Cimino Mickey Rourke dvd review year of the dragon Michael Cimino Mickey Rourke dvd review year of the dragon Michael Cimino Mickey Rourke dvd review year of the dragon Michael Cimino Mickey Rourke dvd review year of the dragon Michael Cimino Mickey Rourke dvd review year of the dragon Michael Cimino Mickey Rourke dvd review year of the dragon Michael Cimino Mickey Rourke dvd review year of the dragon Michael Cimino Mickey Rourke dvd review year of the dragon Michael Cimino Mickey Rourke dvd review year of the dragon Michael Cimino Mickey Rourke