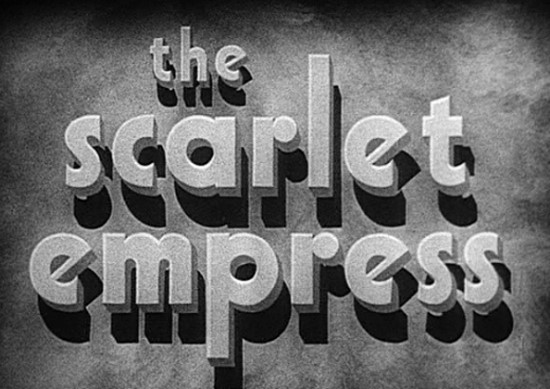 (aka 'Catherine the Great')
directed by Josef von Sternberg
USA 19
34
Filmmaker-svengali Josef von Sternberg escalates his obsession with screen legend Marlene Dietrich in this lavish depiction of sex and deceit in the 18th-century Russian court. A self-proclaimed "relentless excursion into style," the pair's sixth collaboration follows the exploits of Princess Sophia (Dietrich) as she evolves from trembling innocent to cunning sexual libertine Catherine the Great. With operatic melodrama, flamboyant visuals, and a cast of thousands, this ornate spectacle represents the apex of cinematic pageantry by Hollywood's master of artifice.
Posters
Theatrical Release: September 9th, 1934
Reviews More Reviews DVD Reviews
DVD Comparison:
Criterion - Region 0 - NTSC vs. Universal Pictures (FR) Region 2,4,5 - PAL
(Criterion - Region 0 - NTSC LEFT vs. Universal Pictures (FR) Region 2,4,5 - PAL RIGHT)
DVD Box Cover

Distribution
Criterion Collection Spine # 109 - Region 1- NTSC
Universal Pictures R2 (FR)
Region 2,4,5 - PAL

The Other Dietrich Classics available at Amazon France:

(CLICK COVERS)

Distribution
Universal (Europe) Home Video - Region 2,4,5- PAL

In Region 1 Marlene Dietrich: The Glamour Collection (Morocco/ Blonde Venus/ The Devil Is a Woman/ Flame of New Orleans/ Golden Earrings) is available and REVIEWED HERE

Runtime
1:44:24
1:40:39
Video
1.33:1 Original Aspect Ratio
Average Bitrate: 6.91 mb/s
NTSC 720x480 29.97 f/s
1.33:1 Aspect Ratio
Average Bitrate: 5.74 mb/s
PAL 720x576 25.00 f/s

NOTE: The Vertical axis represents the bits transferred per second. The Horizontal is the time in minutes.

Bitrate: Criterion

Bitrate: Universal Europe

Audio
English (Dolby Digital 1.0)
English (Dolby Digital 1.0)
Subtitles
English, None
English, German, French, Dutch, Hungarian, Norwegian, Polish, Swedish, Danish, Finnish, Czech, None
Features

Release Information:
Studio: Criterion

Aspect Ratio:
Original aspect Ratio 1.33:1

Edition Details:

• The 20-minute BBC documentary The World of Josef von Sternberg
• Production stills and lobby cards
• 10 page liner notes with essay by Robin Wood

DVD Release Date: May 8th, 2001
Keep Case
Chapters: 19

Release Information:
Studio: Universal (Europe) Home Video

Aspect Ratio:
Original Aspect Ratio 1.33:1

Edition Details:

• none

DVD Release Date: December 6th, 2005
Keep Case
Chapters: 18
Comments:

ADDITION- Universal (Europe) - Region 2,4,5 - PAL - June 06': It appears obvious that the Criterion either has boosted blacks or the print is much darker - I suspect a little of both. In many instances the darkness has obscured details from the image. The Criterion is also much dirtier - with excessive digital noise. The print used for both appears to be of a different source - with different damage marks. The Universal has far less scratches and blemishes but it still has some that are visible. The big problem with the Universal PAL transfer is that is is cropped - quite a lot on the left edge - but also some on the top and bottom.

Audio is much cleaner on the Universal PAL edition. Optional English subtitles appear acceptable on both - the PAL has many more options.

Extras go the way of the Criterion (as they usually do) as the Universal is bare bones.

Value leans towards the Universal as it is significantly cheaper.

About the Universal - It has been rumored that the British Film Institute had a pristine negative of the Sternberg gem in its archives from which the transfer was struck. (thanks Jordan)

BOTTOM LINE: - this is an outstanding film - worthy of any collection. Image quality easily goes to the Universal - BUT it is also cropped. I suppose it a personal decision if you can live with the cropping over the dirtier, darker Criterion. Personally, I didn't see the framing as impinging upon the intentions of the film, but you may disagree - and you'd be right to do so. I am very happy I have the Universal as I found the image quality significant enough to easily warrant a purchase. It really is apples and oranges.

****

This is the most digital noise /faux grain I have ever seen on any film/DVD. Even the most strident of grain-supporters (and I am one!) might find this excessive. There is also quite a lot of damage. Von Sternberg's legendary use of light and shadows remains quite accessible from the DVD image, but there will be many who find the image a deterrent to the viewing experience. Once I settled it, I was fine. It appears as though Criterion opted for the grain visual look as opposed to a more fractured piece-meal one. I'm okay with this - its obvious the print was in pretty poor shape and barring a full-scale restoration, this is the best that could be done. The excessive grain does dampen the sharpness though. Overall, I endorse this film/DVD. It has a vague appearance of attempting to look older than it is (like a Guy Maddin effect). Probably not as defined a representation of the film as you would want, but I was pleased enough to warrant it having a place on my shelf and subsequent re-visitations. Audio is weak but acceptable and the extra short featurette is a poignant touch to the package. Robin Wood wrote the articulate liner notes and we give this out of .
---



DVD Menus
(Criterion - Region 0 - NTSC LEFT vs. Universal Pictures (FR) Region 2,4,5 - PAL RIGHT)
---
Subtitle Sample
(Criterion - Region 0 - NTSC TOP vs. Universal Pictures (FR) Region 2,4,5 - PAL BOTTOM)
(Criterion - Region 0 - NTSC TOP vs. Universal Pictures (FR) Region 2,4,5 - PAL BOTTOM)
Screen Captures
(Criterion - Region 0 - NTSC TOP vs. Universal Pictures (FR) Region 2,4,5 - PAL BOTTOM)
---
(Criterion - Region 0 - NTSC TOP vs. Universal Pictures (FR) Region 2,4,5 - PAL BOTTOM)
---
(Criterion - Region 0 - NTSC TOP vs. Universal Pictures (FR) Region 2,4,5 - PAL BOTTOM)
---
(Criterion - Region 0 - NTSC TOP vs. Universal Pictures (FR) Region 2,4,5 - PAL BOTTOM)
---
(Criterion - Region 0 - NTSC TOP vs. Universal Pictures (FR) Region 2,4,5 - PAL BOTTOM)
---
(Criterion - Region 0 - NTSC TOP vs. Universal Pictures (FR) Region 2,4,5 - PAL BOTTOM)
DVD Box Cover

Distribution
Criterion Collection Spine # 109 - Region 1- NTSC
Universal Pictures R2 (FR)
Region 2,4,5 - PAL

The Other Dietrich Classics available at Amazon France:

(CLICK COVERS)

Distribution
Universal (Europe) Home Video - Region 2,4,5- PAL

In Region 1 Marlene Dietrich: The Glamour Collection (Morocco/ Blonde Venus/ The Devil Is a Woman/ Flame of New Orleans/ Golden Earrings) is REVIEWED HERE
---