Comments:
NOTE: The below Blu-ray captures were taken directly from the Blu-ray disc.

The Criterion Blu-ray of The Passion of Anna is part of their Ingmar Bergman's Cinema 100th Anniversary 30 Blu-ray Boxset (reviewed, as a work in-progress, HERE).

The Passion of Anna this Blu-ray with Shame. See comparative captures, a listing of technical details, extras etc., on this page. This is from a 2016 restoration from the original 35mm negative as evidenced by the starting source-text screen: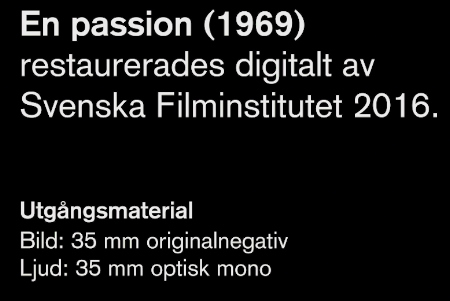 NOTE

: this release does include the simulated "hanging dog" sequence.

The transfer here is possibly the best one that I've seen yet in this (already incredible) set from Criterion. This is a transfer from the original 35mm negative. The film shares the Blu-ray disc with "Shame". The film has a supportive bitrate, though looks fine in motion. Detail is stunning in almost every single frame. The darker scenes are also very impressive, thanks to a robust contrast with a wide spectrum of blacks. Colors seem much more natural than the previous, non-anamorphic, MGM DVD edition, with the somewhat rosy hue of characters' faces now a more authentic flesh tone. Also worthy of note, this Blu-ray seems to have the correct framing, without the cropping (chopping?) of heads. Just an incredibly impressive transfer.

Criterion present Bergman's "Passion of Anna" with a 24-bit 1.0 Swedish linear PCM track. This is a fine track, with clearly audible dialogue (not that I understand what they're saying) and crisp sound effects. There are optional English subtitles on this Region FREE Blu-ray.

There are no extras for "The Passion of Anna" on this Blu-ray.

This Blu-ray of "The Passion of Anna" boasts an impressive transfer, even by Criterion's high standards. This Bergman Boxset is a must-own and this Blu-ray is gorgeous.

NOTE: Yes, as has been leaked, we can now confirm that this Blu-ray set is Region FREE!

ON THE DVD:

NOTE: Sent to us from John in email: "I recently purchased the German ARTHAUS-10 DVD Boxset "Ingmar Bergman Edition 2" with Passion of Anna in it. I knew the pictures from your site and... well, was quickly underwhelmed. The Arthaus picture quality is a LOT worse than the MGM version on your site (even though Arthaus seems to include screenshots sourced from that version in their DVD menu).

So I thought "OK, Arthaus is shit as in 70% of their releases, so let's get the MGM one for a few pounds."

I bought the UK-MGM version and was absolutely happy with the picture and sound quality. Really really great DVD, I thought... until I read some discussion on the film a few days later.
It seemed to me, as if I had missed something: "What about that dog that was hanging from the tree? Was that real?" Eh... which dog?
I re-visited the MGM DVD... nope, no hanging dogs at all.
Then I went over to the German Arthaus DVD... which once again looked as bad as before. But guess what? At around the 13:30 mark, there is a scene (faked, obviously, since we don't see the legs of the dog and it doesn't struggle at all) where a dog is hanged and rescued by Von Sydow's character.
I went back to the MGM DVD - did I miss this? And nope, I didn't miss it - at around the 14:00 minute mark (the MGM includes an opening for UA in the beginning), the film cuts and the scene is left out." (thanks John!)

It should be noted here the events that have transpired in regards to the MGM Boxset - originally scheduled for release on February 10th, 2004. Two of the 5 films, Shame and Hour of the Wolf, were not originally set in their proper aspect ratio of 1.37:1, but altered to 1.66:1. The Internet community banded together to voice their displeasure at this bastardization, and MGM have showed they were listening and are making amends by delaying the Boxset citing problems with "two of the films". More information can be found HERE. I am unsure if the other three films in the Boxset will be available individually, but I was fortunate enough to get my hands on this copy prior to the MGM announcement.

This is a decent DVD from MGM. Very strong image quality, even if not anamorphic. The aspect ratio appears to have been maintained - and the colors seem true (maybe a little too much red) and there is a lack of visible digital manipulation. Contrast and brightness are also exceptional for a non 16X9 offering. I don't see a lot of film grain, but overall I am very pleased with this image. The audio is quite adequate with no noticeable fluctuations. I have never found sound a huge part of Bergman expression anyway. The Extras are also top-notch. Elliott Gould reading Passion is kind of a throw away in my mind, but the "Disintegration of Passion" short featurette is terrific. The Commentary by Jesuit Priest Marc Gervais is also unique and insightful. White, clear, removable subs - ahhh.

After the initial letdown of the AR debacle in Shame and Hour of the Wolf, I didn't have my hopes up, but I am more than pleasantly surprised. A Great job on this DVD MGM.

out of