Firstly, a massive thank you to our Patreon supporters. Your generosity touches me deeply. These supporters have become the single biggest contributing factor to the survival of DVDBeaver. Your assistance has become essential.
What do Patrons receive, that you don't?
1) Our weekly Newsletter sent to your Inbox every Monday morning!
2) Patron-only Silent Auctions - so far over 30 Out-of-Print titles have moved to deserved, appreciative, hands!
3) Access to over 20,000 unpublished screen captures in lossless high-resolution format!
Please consider keeping us in existence with a couple of dollars or more each month (your pocket change!) so we can continue to do our best in giving you timely, thorough reviews, calendar updates and detailed comparisons. Thank you very much.






| | |
| --- | --- |
| | S E A R C H D V D B e a v e r |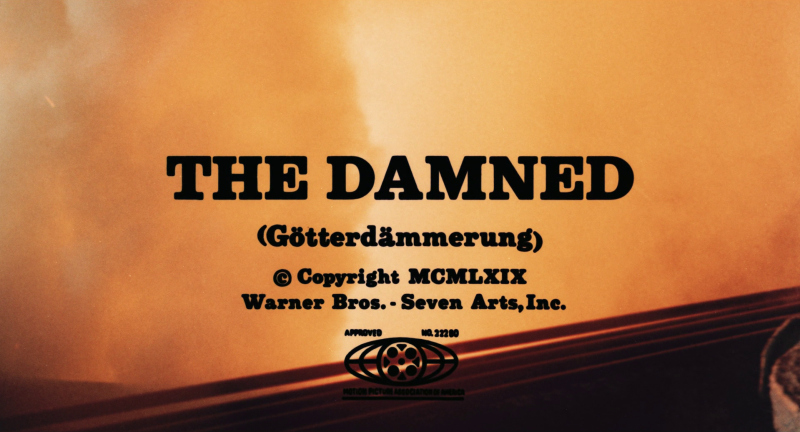 (aka "La Caduta Degli Dei" or "Die Verdammten")
directed by Luchino Visconti
Italy 1969
The
Blu-ray of The Damned is compared to the DVDs HERE
"1969's The Damned (La caduta degli dei) was director Luchino Visconti's most explosively controversial film to date. Set in the 1930s, the film zeroes in on a Krupp-like family of German munition manufacturers. Ever in pursuit of more millions to add to their already bulging coffers, the family plays along with the Nazis, descending into corruption, betrayal and murder all along the way. The stylized decadence depicted by Visconti was of such graphic intensity that the film was released in the U.S. with an X rating."

Posters
Theatrical Release: November 14th, 1969
Reviews More Reviews DVD Reviews
Recommended Books on Italian Cinema (CLICK COVERS or TITLES for more information)
DVD Comparison:
Warner - Region 1 - NTSC vs. Luce - Region 2 - PAL
Big thanks to Gregory Meshman for the Luce Screen Captures.
(Warner - Region 1 - NTSC - LEFT vs. Luce - Region 2 - PAL - RIGHT)
DVD Box Covers

Distribution

Warner Home Entertainment

Region 1 - NTSC

Luce
Region 2 - PAL
Runtime
2:36:50
2:30:00 (4% PAL speedup)
Video

1.66:1 Original Aspect Ratio

16X9 enhanced
Average Bitrate: 5.54 mb/s
NTSC 704x480 29.97 f/s

1.33:1.00 Open Matte
Average Bitrate: 6.66 mb/s
PAL 720x576 25.00 f/s

NOTE: The Vertical axis represents the bits transferred per second. The Horizontal is the time in minutes

Bitrate:

Warner

.

Bitrate:

Luce

Audio
English (Dolby Digital 2.0 Mono)

Italian (Dolby Digital 5.1) , Italian (Dolby Digital Mono)

Subtitles
English, Spanish, French and none
English, and none
Features
Release Information:
Studio: Warner Home Video

Aspect Ratio:
Widescreen anamorphic - 1.66:1



Edition Details:
• Theatrical trailer
• "Visconti" profiles the director on set (9:17)
• Widescreen anamorphic format

DVD Release Date: February 17, 2004
Snap Case

Chapters 35


Release Information:
Studio: LUCE

Aspect Ratio:
Open Matte- 1.33:1

Edition Details:

Interview with Armando Nannuzzi (no English subs)

Biography of Luchino Visconti

DVD Release Date: 2003
Keep Case
Chapters: 16

Comments:

The

Blu-ray of The Damned is compared to the DVDs HERE

The Luce Region 2 PAL DVD shows the film in Open Matte containing a substantial amount of additional information. I always questioned that if this were not meant to be shown in anything but the intended widescreen ratio, for what reason do they even make an Open Matte print ?... or better yet, keep it in existence ? Is it for TV viewing ? I understand it is a format of shooting, but as it is not as the director intended, why is this form of print kept around ?

Regardless, the anamorphic widescreen version is the way to go - the Warner image is sharper and really exemplifies the digital manipulation of the Luce DVD. The contrast boosting on the Luce gets very bad, distorting skin tones and color balance as well as creating inordinate brightness. For audio, the LUCE has 5.1 Italian as a choice (English subs), but the Warner only offers English 2.0 mono. No matter. go with the Warner which has a nice extra feature on Visconti.
---
DVD Menus
(Warner - Region 1 - NTSC - LEFT vs. Luce - Region 2 - PAL - RIGHT)
---
Screen Captures
(Warner - Region 1 - NTSC - TOP vs. Luce - Region 2 - PAL - BOTTOM)
---
(Warner - Region 1 - NTSC - TOP vs. Luce - Region 2 - PAL - BOTTOM)
---
(Warner - Region 1 - NTSC - TOP vs. Luce - Region 2 - PAL - BOTTOM)
---
(Warner - Region 1 - NTSC - TOP vs. Luce - Region 2 - PAL - BOTTOM)
---
(Warner - Region 1 - NTSC - TOP vs. Luce - Region 2 - PAL - BOTTOM)

---
Report Card:
| | |
| --- | --- |
| Image: | Warner |
| Sound: | - |
| Extras: | Warner |
| Menu: | - |
DVD Box Covers

Distribution

Warner Home Entertainment

Region 1 - NTSC

Luce
Region 2 - PAL