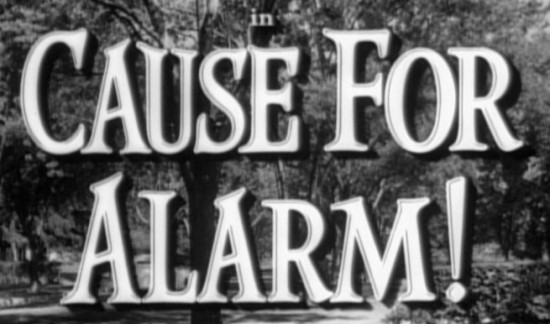 directed by Tay Garnett
USA 1951
Shot in only 14 days "Cause For Alarm" is a melodramatic B-movie made as a noir set in the suburbs of California. Producer and screenwriter, Tom Lewis, hired his then wife Loretta Young to play the lead. MGM studio director, Tay Garnett (The Postman Always Rings Twice), supposedly had the cast and camera crew well-prepared before shooting began, allowing them to finish so rapidly. I enjoyed it for the same reason I enjoy many early film noir's - it has a nice innocent quality to it done without a lot of fanfare or camera tricks or effects. I did smirk each time I saw Loretta Young thrusting out her tight-sweater'ed bosom (see captures below).
In the story, for such a loyal wife, Loretta seemed much more concerned with absolving herself from the blame of his death than missing her spouse. Still you get what you expect from these films, and they don't make any apologies. Film-noir classic fun!

out of

Posters
Theatrical Release: March 30th, 1951 - New York City

Reviews More Reviews DVD Reviews
DVD Review: Roan Group Archival Entertainment - Region 0 - NTSC
DVD Box Cover

CLICK to order from:

Distribution
Roan Group Archival Entertainment
Region 0 - NTSC
Runtime
1:11:39
Video
1.33:1.00 Original aspect ratio
Average Bitrate: 7.51 mb/s
NTSC 720x480 29.97 f/s
Bitrate:

Audio
English (Dolby Digital 2.0 Mono)
Subtitles
None
Features

Release Information:
Studio: Roan Archival Group

Aspect Ratio:
Standard - 1.33:1


DVD Release Date: Feb 4th, 2003
Keep Case
Chapters: none

Edition Details:


Two Features: THE STRANGER stars Orson Welles (also directed), Loretta Young and Edward G Robinson about a Nazi criminal hiding out in a small Connecticut town. (1946/86m/B&W) and CAUSE FOR ALARM with Loretta Young married to psychotic Barry Sullivan.(1951/73m/B&W)
Comments:

NOTE: On Roan's

Cause For Alarm - The real cause for alarm on the Roan DVD of CAUSE FOR ALARM! is that it is almost 2 minutes short: Chapter 3 ends with a fade-out on Loretta Young going back to the house (0:18:08); then chapter 4 starts abruptly in the middle of the next scene with a closeup of Ms. Young finishing a sentence, going "...thought has been for ourselves". The fade-out (a video fade, not a film fade) is the giveaway: Unlike this DVD, the film fades to Barry Sullivan, followed by Ms. Young entering the room and an argument ensuing. By the time she gets to say "(Every moment, every) thought has been for ourselves", 1 Minute and 59 seconds have passed which are missing on the Roan DVD. What's even more frustrating is that when the first release AED-2011 was replaced by AED-2011RM, the re-mastering affected only THE STRANGER. (Thanks Cristoph!)

"Cause For Alarm" is certainly not long enough of a film to be sold on individually on DVD, but Roan Group have included it with one of the stronger prints of Orson Welles "The Stranger". These films are in the public domain, but Roan produces the best of these prints onto DVD. This is no exception. a relatively clear and detailed black and white print with no visible digital enhancements. It has no menus screens, no chapters, no Extras and no subtitles, but with two pleasing and forgotten noir films, I say it is a very nice purchase if you can get it at a reasonable enough price. out of
---
Recommended Reading in Film Noir (CLICK COVERS or TITLES for more information)
Film Noir: An Encyclopedia Reference to the American Style
by Alain Silver, Elizabeth Ward

The Dark Side of the Screen: Film Noir

by Foster Hirsch

Somewhere in the Night: Film Noir and the American City

by Nicholas Christopher

Film Noir Reader 4 : The Crucial Films and Themes (Film Noir Reader)
by Alain Silver
The Art of Noir: The Posters and Graphics from the Classic Era of Film Noir
by Eddie Muller
The Little Black and White Book of Film Noir: Quotations from Films of the 40's and 50's
by Peg Thompson, Saeko Usukawa
Film Noir
by Alain Silver
Film Noir Guide: 745 Films of the Classic Era, 1940-1959
by Michael F. Keaney
Detours and Lost Highways: A Map of Neo-Noir
by Foster Hirsch
No DVD Menus
---
Screen Captures