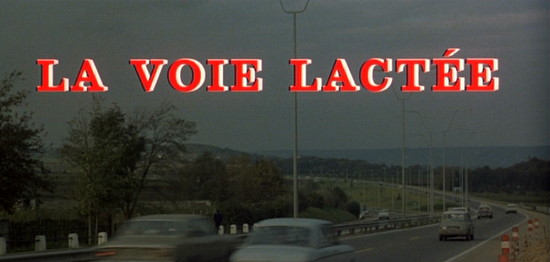 (aka "The Milky Way" or "La Voie lactÚe" or "Die Milchstra▀e" or "La Via lattea")
The first of what Luis Bunuel later proclaimed a trilogy (along with The Discreet Charm of the Bourgeoisie and The Phantom of Liberty) about "the search for truth," The Milky Way (La voie lactee) daringly deconstructs contemporary and traditional views on Catholicism with ribald, rambunctious surreality. Two French beggars, present-day pilgrims en route to Spain's holy city of Santiago de Compostela, serve as Bunuel's narrators for an anticlerical history of heresy, told with absurdity and filled with images that rank among Bunuel's most memorable (stigmatic children, crucified nuns) and hilarious (Jesus considering a good shave). A diabolically entertaining look at the mysteries of fanaticism, The Milky Way remains a hotly debated work from cinema's greatest skeptic.
***
In his autobiography The Last Sigh, Luis Bu˝uel suggests that "The Milky Way, The Discreet Charm of the Bourgeoisie, and The Phantom of Liberty form a kind of trilogy, or rather a triptych. All three have the same themes, sometimes even the same grammar; and all evoke the search for truth, as well as the necessity of abandoning it as soon as you've found it. All show the implacable nature of social rituals; and all argue for the importance of coincidence, of a personal morality, and of the essential mystery in all things, which must be maintained and respected." Bu˝uel and his frequent collaborator Jean-Claude CarriŔre wrote the first draft of The Milky Way in 1967 at the Parador Cazorla in the Andalusian mountains; a year and countless discourses later on "the Holy Trinity, the dual nature of Christ, and the mysteries of the Virgin Mary," the final draft was completed.
Excerpt of Ed Gonzalez's review at Slant magazine located HERE
Posters
Theatrical Release: July 6th, 1969
Reviews More Reviews DVD Reviews
DVD Comparison:
Warner (Bunuel Box 1) - Region 2 - PAL vs. Criterion - Region 1 - NTSC
Big thanks to Arvid for the Warner caps!
(Warner (Bunuel Box 1) - Region 2 - PAL LEFT vs. Criterion - Region 1- NTSC RIGHT)
DVD Box Cover

Distribution

Warner

Region 2 - PAL

Criterion Collection Spine #402 Region 1 - NTSC
Some other Luis Bu˝uel's films on Criterion DVD
Runtime
1:37:27 (4% PAL speedup)
1:41:48
Video

1.66:1 Original Aspect Ratio

16X9 enhanced
Average Bitrate: 5.89 mb/s
PAL 720x576 25.00 f/s

1.66:1 Aspect Ratio

16X9 enhanced
Average Bitrate: 6.18 mb/s
NTSC 720x480 29.97 f/s

NOTE: The Vertical axis represents the bits transferred per second. The Horizontal is the time in minutes.

Bitrate :

Warner

Bitrate :

Criterion

Audio
French (Dolby Digital 2.0)
French (Dolby Digital 1.0)
Subtitles
English (burnt in)
English, none
Features
Release Information:
Studio: Warner

Aspect Ratio:
Widescreen anamorphic - 1.66:1

Edition Details:
• Comes in boxset with Belle De Jour & Diary Of A Chambermaid

DVD Release Date: September 6, 2004
Digipack

Chapters 20

Release Information:
Studio: Criterion

Aspect Ratio:
Widescreen anamorphic - 1.66:1

Edition Details:
• Video introduction by screenwriter Jean-Claude Carriare
• New video interview with film scholar Ian Christie
• Luis Bunuel: Atheist Thanks to God, a documentary featuring several of Bunuel's close friends and collaborators
• Original theatrical trailer
• 38-page liner notes booklet featuring essays by Carlos Fuentes and Mark Polizzotti, and an interview with Luis Bunuel

DVD Release Date: August 21st, 2007
Keep case

Chapters

18
Comments:

ADDITION: Criterion - Region 1 - August 07': the softer palette Criterion (with a brownish hue) makes the Warner appear to have contrast boosting. Frankly, sometimes the Warner colors and transfer looks superior but for the most part the Criterion is the better overall image in my opinion - it certainly exhibits sharper detail at times. Another bonus on the Criterion is that the subtitles are not burnt-in like the Warner - they are removable. Both are anamorphic and progressive in the original 1.66 ratio.

Audio has Criterion at 1 channel (original?) to Warner's two but neither show dramatic differences in audible dialogue as judged by my ears.

Although Criterion doesn't have a commentary it does offer some decent supplements. It starts with a very good 28-minute video interview with film scholar Ian Christie - mostly surface stuff but he does touch upon some interesting veins of detail. Then a 32 minute piece, Luis Bu˝uel: Atheist Thanks to God; another good documentary featuring several of Bunuel's close friends and collaborators. Then a 6 minute kind of intro with Jean-Claude Carriare recorded in 2000. We have the trailer and a 38-page liner notes booklet featuring essays by Carlos Fuentes and Mark Polizzotti, and an interview with Luis Bu˝uel. Another complete effort by Criterion that Bu˝uel fans will relish. Recommended!

***

Initially it may appear a little softer than the other two DVDs in the Boxset (Belle de Jour and Diary of a Chambermaid), but upon closer inspection, it may have some softness to it, but it is of very decent quality. Quite strong. We don't have anything to compare it to but I gather the print may be in pretty decent shape - on the very positive I see no digital manipulations and colors seem quite true. Contrast is above average and again the only real failing are the burned-in subtitles. This Boxset is a big winner and we strongly recommend.

- Gary W Tooze
---



DVD Menus
(Warner (Bunuel Box 1) - Region 2 - PAL LEFT vs. Criterion - Region 1- NTSC RIGHT)
| | |
| --- | --- |
| | |
| | |
| | |
| | |
| | |
| | |
---
Subtitle Sample
(Warner (Bunuel Box 1) - Region 2 - PAL TOP vs. Criterion - Region 1- NTSC BOTTOM)
NOTE: Not exact frame
Screen Captures
(Warner (Bunuel Box 1) - Region 2 - PAL TOP vs. Criterion - Region 1- NTSC BOTTOM)
---
(Warner (Bunuel Box 1) - Region 2 - PAL TOP vs. Criterion - Region 1- NTSC BOTTOM)
---
(Warner (Bunuel Box 1) - Region 2 - PAL TOP vs. Criterion - Region 1- NTSC BOTTOM)
---
(Warner (Bunuel Box 1) - Region 2 - PAL TOP vs. Criterion - Region 1- NTSC BOTTOM)
---
(Warner (Bunuel Box 1) - Region 2 - PAL TOP vs. Criterion - Region 1- NTSC BOTTOM)
---
(Warner (Bunuel Box 1) - Region 2 - PAL TOP vs. Criterion - Region 1- NTSC BOTTOM)
Report Card:
| | |
| --- | --- |
| Image: | Criterion |
| Sound: | - |
| Extras: | Criterion |
| Menu: | Criterion |