Review by Gary Tooze
Production:
Theatrical: Clover Productions
Video: i-catcher Media
Disc:
Region: 'B'-locked (as verified by the Oppo Blu-ray player)
Runtime: 1:14:32.041
Disc Size: 23,691,582,865 bytes
Feature Size: 19,824,844,800 bytes
Video Bitrate: 29.80 Mbps
Chapters: 13
Case: Standard Blu-ray case
Release date: April 13th, 2017
Video:
Aspect ratio: 1.78:1
Resolution: 1080p / 23.976 fps
Video codec: MPEG-4 AVC Video
Audio:
DTS-HD Master Audio English 1565 kbps 2.0 / 48 kHz / 1565 kbps / 16-bit (DTS Core: 2.0 / 48 kHz / 1509 kbps / 16-bit)
DUB:
DTS-HD Master Audio German 1582 kbps 2.0 / 48 kHz / 1582 kbps / 16-bit (DTS Core: 2.0 / 48 kHz / 1509 kbps / 16-bit)
Commentaries:
Dolby Digital Audio German 192 kbps 2.0 / 48 kHz / 192 kbps / DN -4dB
Dolby Digital Audio German 192 kbps 2.0 / 48 kHz / 192 kbps / DN -4dB)
Subtitles:
German, none
Extras:
• 2 German audio commentaries (Ingo Strecker and Thomas Kerpen - Dr. Rolf Giesen, Uwe Sommerlad and Ivo Scheloske)
• Introduction by Dr. Rolf Giesen (4:44 - English or German options)
• American Title Sequence (0:43)
• Spanish Title Sequence (0:55)
• American Trailer (2:01)
• Super 8 Version (8:30)
• Gallery (3:17)
DVD
Bitrate:
Description: Engineer Mitch MacAfee (Jeff Morrow) spots a UFO while directing a study at the North Pole. But when the Air Force arrives, they cannot find anything visually or on radar, throwing Mitch's reputation into doubt. Soon, though, many airplanes are reporting attacks by a UFO, which turns out to be a giant speeding bird from outer space. Along with mathematician Sally Caldwell (Mara Corday), Mitch tries to determine a way to stop the bird, which has a force field that renders all weapons useless
The Film:
The movie that's literally a turkey! In an act of cosmic irony, an enormous bird from outer space descends upon the Earth and begins chowing down on people. As usual, scientists and the military must team up to save our planet. This hysterically feathered fable stars sci-fi icons Jeff Morrow (This Island Earth), Mara Corday (Tarantula!), Morris Ankrum (Invaders From Mars) and Robert Shayne (TV's The Adventures of Superman), and is directed by Fred F. Sears (Earth vs. The Flying Saucers).
Excerpt from DVDDrive-In located HERE
The Giant Claw was a 1950s monster movie. After the successes of the seminal atomic monster films The Beast from 20,000 Fathoms (1953) and Them! (1954), the floodgates were opened to a deluge of revived dinosaur and giant animals on the attack films. The Giant Claw was one of the few of these in which atomic radiation was not used as an explain-all raison d'etre.
The Giant Claw came from Sam Katzman who had gained a reputation as a low-budget producer in the 1940s, churning out a more than reasonable number of B Westerns and serials, including several East Side Kids comedies and a number of B mad scientist films featuring Bela Lugosi, as well as the serial version of Superman (1948). One of Katzman's better-budgeted films was the Ray Harryhausen alien invasion film Earth vs. The Flying Saucers (1956) upon which Fred F. Sears had been the director. Katzman and Sears worked together as director and producer on twenty-six other films, including the comic-book adaptation/serial Blackhawk (1952), the bizarre atomic werewolf film The WereWolf (1956) and The Night the World Exploded (1957), not to mention the classic rock'n'roll film Rock Around the Clock (1956) among others...
Excerpt from Moria located HERE
Image : NOTE: The below Blu-ray captures were taken directly from the Blu-ray disc.
The Giant Claw come to Blu-ray from i-catcher (Sidonis) Media out of Germany. The image quality shows a superiority over SD but there are some background artefacts. Generally it looks okay, decent contrast and detail - single-layered with a high bitrate. This 1080P provides a pleasing HD presentation in the 1.78:1 aspect ratio. The high resolution makes the wires extra visible and the liberal muse of stock footage shows wide discrepancy from the feature-shot footage. I suspect that most will be happy with the Blu-ray visuals.
NOTE: The Giant Claw is also part of the Icons of Horror Collection: Sam Katzman 2007 DVD set, reviewed HERE.
CLICK EACH BLU-RAY CAPTURE TO SEE ALL IMAGES IN FULL 1920X1080 RESOLUTION
Stock Footage - very damaged
Audio :
i-catcher offer a DTS-HD Master 2.0 channel track in both original English and a German DUB. Effects, including the creature growls, carry some unsettling depth.
The score by versatile and prolific, but uncredited, Mischa Bakaleinikoff (
Comanche Station,
It Came from Beneath the Sea
,
The Crooked Web
,
Earth vs. the Flying Saucers
,
The 27th Day
,
20 Million Miles to Earth
,
Lady for a Day
) sounds subtle and supportive.
There are optional German subtitles (see sample below) and m
y
Oppo
has identified it as being a region 'B'-locked.

Extras :
There are two audio commentaries - but both, only in German with Ingo Strecker and Thomas Kerpen plus another with Dr. Rolf Giesen, Uwe Sommerlad and Ivo Scheloske. Also included is a 5-minute introduction by Giesen in the option of English or German language where he identifies the film a one of the worst ever. There is the American and Spanish title sequences, an American trailer, a very rough looking Super 8 Version and a stills gallery. The package has some liner notes - in German with photos and includes a second disc DVD.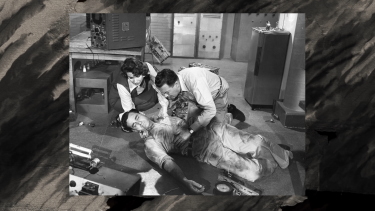 BOTTOM LINE:
The Giant Claw is incorrectly identified as the 'worst' creature-feature - but instead, is simply the cheesiest. The liberal use of weak stock footage, minimal on-screen time of the creature Plenty of shadows), visibility of wires and the awkward 'puppet' visuals - support this, low-budget, claim. It has the iconic Jeff Morrow (This Island Earth) and appealing Mara Corday (The Quiet Gun, Tarantula, Man Without a Star). The Blu-ray from i-catcher (Sidnois) has some effort with two commentaries (unfortunately neither English-friendly.) I thoroughly enjoyed revisiting the film especially with its charismatic flaws. One of the great creature-feature throwaways of the era. No collection is complete without it on Blu-ray. ;)
Gary Tooze
October 13th, 2017