NOTE: The below Blu-ray captures were taken directly from the Blu-ray disc.
ADDITION: Reino - Region FREE' - Blu-ray - November 2017: Not our first rodeo - a probable bootleg out of Spain. Firstly, it IS a pressed disc, not a BD-R but it is in 1080i PAL speed, 2.44:1, it has only lossy Dolby audio but there are some extras.
This is from the darker, bluer, Warner source - and starts with the MGM logo with the vampire animation: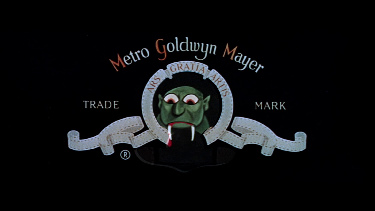 It doesn't show interlaced combing but is 4% sped up over the theatrical running time. The image shows improvement over SD - even if only a blow-up of 480. It doesn't look like that - I suspect they took the Euro-source and added subs and a Spanish DUB. That's my guess. It looks decent in-motion.
This is an English-friendly Blu-ray, where the French steelbook, HERE, I bought years ago had forced French subtitles for the English audio. This has the option for English audio and for English subtitles (see sample below.)
Extras include the animation sequence, a trailer and the 10-minute Vampires 101 - promo featurette with Max Wall - all in English with optional Spanish subtitles.
We say pass and let's get a bona-fide Blu-ray to compare here soon!
***
ON THE DVDs: Both DVD's is the long version of the movie, but have kept the US title "The Fearless Vampire Killers", as opposed to the "Dance of the Vampires" title shown at the top of this page from a recording from Danish television. For more information about the different cuts look HERE:

We no longer have the Brazil disc anymore so we can't see if the original mono track is included, the menu says a stereo track, but another review list it as a mono track.
There is visible damage to the Warner , but it definitely has the superior sharpness and contrast. The Cinemagia has some contrast boosting and is slightly cropped on the left edge. We recommend the anamorphic Warner most definitely in this case.

NOTE: The Warner is scaled down to 800 but the Cinemagia is in native resolution.