Review by Gary Tooze
Production:
Theatrical: A Bee One Productions / New World Pictures
Video: Vinegar Syndrome
Disc:
Region: FREE! (as verified by the Oppo Blu-ray player)
Runtime: 1:31:53.466
Disc Size: 24,761,918,212 bytes
Feature Size: 22,439,160,192 bytes
Video Bitrate: 29.85 Mbps
Chapters: 8
Case: Transparent Blu-ray case
Release date: February 23rd, 2016
Video:
Aspect ratio: 1.85:1
Resolution: 1080p / 23.976 fps
Video codec: MPEG-4 AVC Video
Audio:
DTS-HD Master Audio English 1082 kbps 1.0 / 48 kHz / 1082 kbps / 24-bit (DTS Core: 1.0 / 48 kHz / 768 kbps / 24-bit)
Subtitles:
English (SDH), None
Extras:
• Alfredo Zacharias Interview (11:18)
• Trailer (1:14)O
• Original cover artwork by Jay Shaw
• Reversible cover artwork
DVD
Bitrate:
Description:
Evil corporations have smuggled a deadly strain of South American killer bees into the United States and now the entire world may be on the brink of imminent destruction! As cities tumble, body counts rise, and mass hysteria ensues, scientist John Norman (John Saxon) thinks he might have discovered the secret strategy to stop
THE BEES
!
Directed by Alfredo Zacarias (
DEMONOID
) and co-starring Angel Tompkins, John Carradine, and Claudio Brook,
THE BEES
is an epic disaster film and drive-in classic, chock full of outrageous action and jaw-dropping plot twists. Vinegar Syndrome brings
THE BEES
into your living room, newly restored in 2k in its previously unavailable Director's Cut, and guaranteed to give you stingingly good entertainment.
The Film:
The horror sub-genre generally known as 'nature attacks' blossomed in the 1970's and probably reached perfection with Jaws (1975). Certainly Jaws was not the first movie to put humans at the mercy of a relentless animal antagonist but it's success guaranteed that it would never be the last. Being very well respected and the most profitable film of its type there was little doubt that more such movies would be made but while much fun can be had watching the various carbon copies with monsters of all types, it's the nature attacks tales that stretch outside the basic formula of Jaws that are the most interesting. That's not to say that most of these films are good but they are usually fascinating viewing just to see what threat from the animal kingdom can be blown up to epic proportions to frighten the public. I'm sure the producers of The Bees had Hitchcock's brilliant The Birds in mind as a template but that is a level of competence that this film could never reach.
Excerpt from TheBloodyPitofRod located HERE
Writer-producer-director Alfredo Zacharias is the man to blame for this 1978 horror movie, released by New World.
The Bees
stars John Saxon, Angel Tomkins and John Carradine. It was released in the same year as
The Swarm
in what was a very bad year for bees.
South American killer bees are annoyed that mankind has destroyed the environment and huge swarms of them terrorise the northern hemisphere. Scientists work to try to destroy them but then the bees mutate into a super-intelligent species.
Except for enjoying some brief sneaky laughs at its expense, intelligent viewers will probably want to avoid this botched Seventies eco-conscious disaster movie.
Excerpt from DerekWinnert located HERE
Image : NOTE: The below Blu-ray captures were taken directly from the Blu-ray disc.
The Bees comes to Blu-ray from Vinegar Syndrome advertised as "Newly scanned and restored in 2k from 35mm camera negative." This is single-layered with a very high bitrate and the image quality is impressive. Of course, that doesn't help the film much. In fact, the higher resolution probably makes the limited effects even more transparent from static clouds of bees to swarms looking, predominantly, yellow in flight. Frankly, this augments the so-bad-its-good presentation. It seems the source is in good condition - not having been utilized much in the past 40 years. The 1080P has strong detail, bright colors and plenty of depth - certainly in advance of what most might anticipate. This Blu-ray image is above expectations.
CLICK EACH BLU-RAY CAPTURE TO SEE ALL IMAGES IN FULL 1920X1080 RESOLUTION
Audio :
The film's audio is transferred in a DTS-HD Master 1.0 channel track at 1082 kbps. The mono is authentically flat without issue although the incessant bee buzzing can be irritating but carries some depth. The score is credited to Richard Gillis with one of his two other composer credits being Demonoid: Messenger of Death another Alfredo Zacarķas directed film. While unremarkable it does suit the film well. There are English (SDH) subtitles and m
y
Oppo
has identified it as being a region FREE disc playable on
Blu-ray
machines worldwide.
Extras :
Supplement
s include 11-minute interview with the writer/director Alfredo Zacharias who shows some pride at his film, production details - interacting with the bees - the cast and The Bees being in competition with Warner's
The Swarm
. There is also a trailer and the package has original artwork by Jay Shaw with a reversible cover visible through the transparent case. There is a second disc DVD included.
| | |
| --- | --- |
| | |
| | |
| --- | --- |
| | |
| | |
| --- | --- |
| | |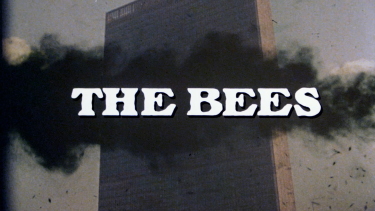 BOTTOM LINE:
Wow - surprisingly, it didn't garner any votes in our top 2016 year-end poll! :) No, The Bees is a real stinker - which may be appealing to some who love this 'animals attack' niche. Saxon is a mainstay - ditto for Mr. Carradine and his wild-eyed visage. Angel Tompkins had a penchant for these films with her role in 1988's Not of This Earth (uncredited voice of 'Davanna Girl'), Amazon Women on the Moon, Alligator but I recall her most from the immeasurably superior Prime Cut. The Bees is exactly what you might expect - only worse. The Vinegar Syndrome Blu-ray is a wonderful way to embrace this, often, silly genre that has a crossover with the same era's disaster popcorners. I lean to the apocalypse variety - which The Bees also touches upon. The effects are just so poor, dialogue stilted and performances unrealistic. I had an absolute ball. Recommended!
Gary Tooze
September 26th, 2017