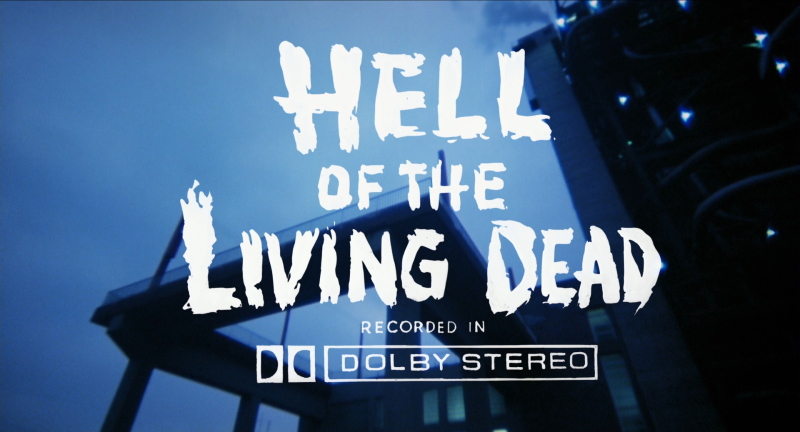 (aka "Zombie Creeping Flesh" or "Virus" or "Hell of the Living Dead" or "Virus: L'inferno dei morti viventi" or "Apocalipsis canÝbal" or "Night of the Zombies" )
directed by Bruno Mattei
Italy/Spain 1980
Legendary schlock-master Bruno Mattei (RATS: NIGHTS OF TERROR) really outdid himself with 1980's classic video nasty bile-fest ZOMBIE CREEPING FLESH. Banned by the British authorities back in the early days of VHS, thanks to its scenes of innards-chewing, eye-popping and throat-ripping excess, ZOMBIE CREEPING FLESH is a strangely moral eco-horror film that warns against the very real terrors of nuclear pollution and chemical fallout as residents in Papua, New Guinea are turned into flesh-hungry undead denizens! Directed with the splatter-enthusiastic aplomb that one would expect from Mattei - one of the underrated auteurs of golden age Italian gore - and penned by the iconic Z-movie maverick Claudio Fragrasso (ZOMBI 3/ TROLL 2), it is tough to deny that ZOMBIE CREEPING FLESH is every bit as eerily entertaining as it was almost 40 years ago!

Now presented uncut and uncensored, in an aesthetic presentation that will sizzle your senses, ZOMBIE CREEPING FLESH is back to chew its way into your living room - courtesy of 88 Films and its ever-impressive Italian Collection!
Posters
Theatrical Release: 20 January 1984 (USA)
Reviews More Reviews DVD Reviews
Comparison:
Blue Underground - Region 0 - NTSC vs. 88 Films - Region 'B' - Blu-ray
Big thanks to Eric Cotenas for the Blue Underground Screen Caps!
(Blue Underground - Region 0 - NTSC - LEFT vs. 88 Films - Region 'B' - Blu-ray - RIGHT)
Box Covers

Distribution

Blue Underground

Region 0 - NTSC

88 Films
Region 'B' - Blu-ray
Runtime
1:40:33
1:38:50.925
Video

1.83:1 Original Aspect Ratio

16X9 enhanced
Average Bitrate: 5.49 mb/s
NTSC 720x480 29.97 f/s

1.85:1 Disc Size: 37,005,083,202 bytes

Feature Size: 26,853,076,992 bytes

Total Bitrate:

29.88 Mbps

Dual-layered Blu-ray MPEG4 - AVC

NOTE: The Vertical axis represents the bits transferred per second. The Horizontal is the time in minutes.

Bitrate:

Blue Underground

Bitrate:

88 Films Blu-ray

Audio
English Dolby Digital 2.0 mono

LPCM Audio English 2304 kbps 2.0 / 48 kHz / 2304 kbps / 24-bit
LPCM Audio Italian 2304 kbps 2.0 / 48 kHz / 2304 kbps / 24-bit

Subtitles
None
English, None
Features
Release Information:
Studio: Blue Underground

Aspect Ratio:
Widescreen anamorphic - 1.83:1

Edition Details:
• 'Hell Rats of the Living Dead' interview with Bruno Mattei (16:9; 8:38))
• Trailer (16:9; 3:49)
• Poster and Still Gallery

DVD Release Date: 30 October 2007
Amaray

Chapters 24


Release Information:
Studio: 88 Films

1.85:1 Disc Size: 37,005,083,202 bytes

Feature Size: 26,853,076,992 bytes

Total Bitrate:

29.88 Mbps

Dual-layered Blu-ray MPEG4 - AVC

Edition Details:
• Margie Among the Living Dead - A 2017 Interview with star Margie Newton (22:06)
• Welcome to Hell - A 2017 Interview with Writer and Co-Director Claudio Fragasso and Screenwriter Rossella Drudi (26;11)
• Theatrical Trailer (3:46)
• Reversible Sleeve


Blu-ray Release Date: August 28th, 2017
Transparent Blu-ray Case inside cardboard slipcase

Chapters12

Comments

NOTE: The below Blu-ray captures were taken directly from the Blu-ray disc.

ADDITION: 88 Films - Region 'B' - Blu-ray (August 2017):

The 88 Films transfer is advertised as a "...sourced from the Original Negative.". It is probably similar to the Blue Underground 1080P transfer of the film from 2014, found HERE. There seems to be a sliver off the top and left edge and more on the bottom and right edge. This is dual-layered with a high bitrate, and the visuals look quite pleasing in advance of the SD with brighter image, better separated colors and a solid notch up in detail. Grain textures are wonderfully film-like for those who appreciate them. The film utilizes plenty of stock footage that is of a more modest quality but it tends to look fine in HD - adhering to the original appearance.

NOTE: I'm unclear of the reason for the discrepancy in the running time of the Blu-ray compared to the DVD.... will research.

For audio, we are given linear PCM transfers (24-bit) for the English, or Italian language versions. There are production-related weaknesses but the quality-level is consistent and reasonably clean, although post-DUB'ed quality is frequently an adventure. The score is credited to the legendary band Goblin (The Other Hell, The Bloodstained Shadow, Deep Red, Suspira) and is aggressive and synthesizer-heavy. It certainly suits the film - as disorienting as the zombified situation(s). The uncompressed sound quality is acceptable with minor depth. There are optional English subtitles and the Blu-ray disc is Region 'B' - playable worldwide.

There is a new interview with Margie Newton - still looking 'the babe' entitled Margie Among the Living Dead. It runs 22-minutes and is in Italian with optional English subtitles. She discusses her career and part in the film. Welcome to Hell is a, 26-minute, 2017 Interview with writer and co-director Claudio Fragasso and screenwriter Rossella Drudi discussing Bruno Mattei and the film production. There is a theatrical trailer and the package has a reversible sleeve (see bottom.)

Easy to see the Blu-ray is the way to go with getting the best presentation in your home theater. For Zombie-flic fans this is stacked with the apocalyptic undead - quite the bombastic gorefest. I thought it was a better-than-average and an enjoyable piece of the genre. Often is replaces, but provides a derivation from, Romero's Dawn Of The Dead, while hinting at humor. Sure - recommended!

- Gary and Eric
---
Menus
Blue Underground - Region 0 - NTSC -

| | |
| --- | --- |
| | |
| | |
88 Films - Region 'B' - Blu-ray
---
CLICK EACH BLU-RAY CAPTURE TO SEE ALL IMAGES IN FULL 1920X1080 RESOLUTION
S
ubtitle Sample 88 Films - Region FREE -
Blu-ray
---
---
(Blue Underground - Region 0 - NTSC - TOP vs. 88 Films - Region 'B' - Blu-ray - BOTTOM)
---
(Blue Underground - Region 0 - NTSC - TOP vs. 88 Films - Region 'B' - Blu-ray - BOTTOM)
---
(Blue Underground - Region 0 - NTSC - TOP vs. 88 Films - Region 'B' - Blu-ray - BOTTOM)
---
(Blue Underground - Region 0 - NTSC - TOP vs. 88 Films - Region 'B' - Blu-ray - BOTTOM)
---
(Blue Underground - Region 0 - NTSC - TOP vs. 88 Films - Region 'B' - Blu-ray - BOTTOM)
More Blu-ray Captures