Review by Gary Tooze
Production:
Theatrical: Compagnie Cinématographique de France
Video: ELEA-Media
/ X-Rated Eurokult
Disc:
Region: FREE (as verified by the Oppo Blu-ray player)
Runtime: 1:36:03.966
Disc Size: 24,024,462,560 bytes
Feature Size: 21,022,488,576 bytes
Video Bitrate: 21.99 Mbps
Chapters: 12
Case: Media Book Blu-ray case
Release date: December 1st, 2015
Video:
Aspect ratio: 2.35:1
Resolution: 1080p / 23.976 fps
Video codec: MPEG-4 AVC Video
Audio:
1968 DUB: DTS-HD Master Audio German 1232 kbps 2.0 / 48 kHz / 1232 kbps / 16-bit (DTS Core: 2.0 / 48 kHz / 1152 kbps / 16-bit)
1975 DUB: DTS-HD Master Audio German 1254 kbps 2.0 / 48 kHz / 1254 kbps / 16-bit (DTS Core: 2.0 / 48 kHz / 1152 kbps / 16-bit)
DTS-HD Master Audio Italian 1339 kbps 2.0 / 48 kHz / 1339 kbps / 16-bit (DTS Core: 2.0 / 48 kHz / 1152 kbps / 16-bit)
DUB:
DTS-HD Master Audio Italian 1339 kbps 2.0 / 48 kHz / 1339 kbps / 16-bit (DTS Core: 2.0 / 48 kHz / 1152 kbps / 16-bit)
Subtitles:
German (for Italian track), English (for Italian track)
Extras:
Trailer (2:40)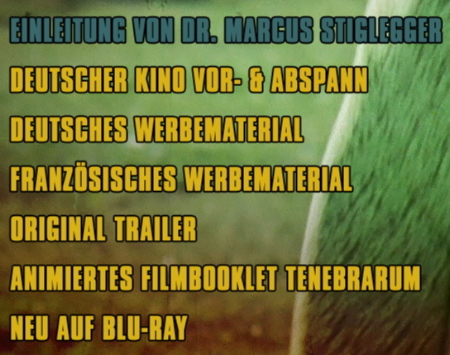 Bitrate:
Description: Deborah (Carroll Baker) and Marcel (Jean Sorel) return to Geneva from their honeymoon in Europe. Marcel learns of his former fiancee Susan's suicide, and is confronted by a man named Philip (Luigi Pistilli) who accuses him of murdering her. Marcel begins to receive threats from someone who holds him responsible for Susan's death. His new bride Deborah also becomes the target of these threats, and a weird neighbor named Robert with voyeuristic tendencies (George Hilton) begins fixating on her as well.

The film was a box office hit in Italy, inspiring a number of similar thrillers starring Carroll Baker. It did not do very well in the UK and US however. It was theatrically released in the USA in 1969.
Excerpt from Wikipedia located HERE
The Film:
Romolo Guerrieri directs a story of love and revenge, and it begins in Geneva. Jean Sorel is a hunky italian, Marcel, who are on a honeymoon trip with his wealthy American wife Deborah, played by the great Caroll Baker. In Geneva they run in to Philip (Luigi Pistilli), and old friend of Marcel but he claims that Marcel is the reason that Suzanne (Ida Galli) killed herself a couple of years back. Marcel haven't told Deborah about this before, but explains everything to her. Before they leave Geneva, Marcel notices that Deborah have met Philip at a nearby restaurant, but she says it was because she wanted to talk about it and make Philip stop it. They continue the trip to Nice, but something is wrong, and is Philip still following them...? Or is everything just the imagination of Deborah? Or Marcel?
Excerpt from NinjaDixon located HERE
A young newlywed couple from America returns to Geneva to visit Marcel's home town. Once there he is informed of his former lover's suicide and in turn is subjected to threats that accuse him of being responsible for her death and further, threaten his new fiancée's life. George Hilton plays a peculiar neighbor with voyeuristic tendencies who has an obsession with Deborah.
Excerpt from Letterboxd located HERE
Image : NOTE: The below Blu-ray captures were taken directly from the Blu-ray disc.
The salaciously titled Giallo-thriller The Sweet Body of Deborah is available on Blu-ray from ELEA-Media out of Germany. The 2.35:1 image on a single-layered transfer looks surprisingly strong with bright, pleasing, colors and reasonable detail. It's not perfect but the visuals are consistent and clean and there is, occasional, depth exported. This Blu-ray has an appealing late 60's feel with a reasonable film-like sense to it.
CLICK EACH BLU-RAY CAPTURE TO SEE ALL IMAGES IN FULL 1920X1080 RESOLUTION
Audio :
There are multiple DTS-HD Master 2.0 tracks tracks (16-bit) available; a 1968-derived German DUB and a 1975-produced German DUB plus an Italian track with German subtitles and yet another, separately accessed, Italian track with English subtitles (these subs were not optional when selecting the above tracks). The score is credited to Nora Orlandi (Boccaccio '70, 10,000 Dollars for a Massacre), composer, violinist, pianist and singer born in Voghera (North Italy), with Molto tempo fa, sung by Paola Orlandi, her younger sister. Most of the film's music is played on a distorted Hammond organ and sounds very much like Walter Wanderley, to me - or piano. It's so much of the late 60's genre and adds immense appeal to the film experience, imo. I may even pick up the soundtrack. M
y
Oppo
has identified it as being a region FREE, playable worldwide.

Extras :
The supplements are all in German (or Italian) so I don't have much to say. There is some discussion of the film by one chap, we get a, brief, alternate ending, a trailer and some of ELEA-Media / X-Rated Eurokult's label offering samples (they look good!) Plus there are some text screens, with posters, that look like the same digi-book pages (all with German text.)
BOTTOM LINE:
I was very keen to see The Sweet Body of Deborah - a kind of forgotten, sexy Giallo with highly desirable Carroll Baker. I found the heavy style to be the strongest attribute of the film - lush colors, beautiful actors, sports cars, jet-set, and a sneaky triple cross, murder, insurance-scam, that seems to evolve out of left field. It captures a very lustful romance milieu without actually showing extensive nudity - it was all a seduction come-on, disguised as a classy Giallo with comely Baker prancing her beauty in every scene. It worked for me. The German Blu-ray has strong appeal but it is pricey. I will seek out other titles from the label though, as I had fun with this.
Gary Tooze
May 17th, 2017