Review by Gary Tooze
Production:
Theatrical: Télévision Rencontre
Video: Ar
row Academy
Disc:
Region: 'B' (as verified by the Oppo Blu-ray player)
Runtime: 2:13:05.791 + 2:06:51.333
Disc Size: 49,127,366,110 bytes
Feature Size: 20,186,941,440 bytes + 19,240,574,976 bytes
Video Bitrate: 17.49Mbps
Chapters: 14 + 13
Case: Standard Blu-ray case
Release date: June 26th, 2017
Video:
Aspect ratio: 1.66:1
Resolution: 1080p / 23.976 fps
Video codec: MPEG-4 AVC Video
Audio:
LPCM Audio French / German 1536 kbps 2.0 / 48 kHz / 1536 kbps / 16-bit
Subtitles:
English, none
Extras:
•
Interview with director Marcel Ophuls, filmed in 2004 (30:11)

•
Le Nouveau Vendredi: The Sorrow and the Pity, a 55-minute debate that followed the film's belated 1981 French television premiere, in which Ophuls and historians Henri Amouroux and Alain Guérin discuss the film and the issues that it raises with an audience of students from Clermont-Ferrand (1:02:07)

•
Reversible sleeve featuring new and original artwork.
Bitrate:
Part 1 : The Collapse
Description: Marcel Ophuls four-and-a-half hour portrait of the French town of Clermont-Ferrand under German occupation from 1940-44 is one of the greatest documentaries ever made, as important as Claude Lanzmann's Shoah in its value not just as a film but as an essential historical record in its own right not least since its interviewees are all long dead.

Describing the fall of France and the rise of the Resistance, with the aid of newly-shot interviews and eye-opening archive footage including newsreels and propaganda films, Ophuls painstakingly crafts a complex, nuanced picture of what really happened in France over this period. He also demolishes numerous self-serving national myths to such an extent that, although he made the film for French television, they wouldn't show it for over a decade.

But, as he demonstrates again and again, the overwhelming majority of French citizens during this period weren't heroes, villains or cowards, but simply ordinary people trying to make the best of an impossible situation. And it s Ophuls portrayal of these people, their hopes, their fears and their appalling moral quandaries, that remains unmatched in film history.
The Film:
The occupation was such a complex matter, so much a matter of human nature, they seem to say. It is hard to explain to an outsider (and maybe even to oneself) exactly how a decision was reached, and why some Frenchmen collaborated with the Germans while others resisted and most simply tried to carry on business as usual.

Director Marcel Ophuls spent more than two years compiling the 50 hours of footage that was eventually edited into "The Sorrow and the Pity." He spoke with the little people - some of them so anonymous they seem ashamed of their opinions, if indeed they have any - and with the larger figures such as Pierre Mendes-France, Georges Bidault, Anthony Eden and the German armaments czar Albert Speer.
Excerpt from RogerEbert located HERE

They have, in short, concentrated their investigations on the industrial city of Clermont-Ferrand as exemplary (it is implied) of what most Frenchmen and invaders did then and how they feel about it now. And, with the aid of English voice-overs, which literally translate the French and German dialogue, its points, implied and otherwise, are made naturally and convincingly.

This viewer was especially impressed by the honesty of Marcel Verdier, the local pharmacist (who wasn't quite certain he was a bourgeois); Louis and Alexis Grave, two ex-Maquis farmers who good-naturedly continue to hate the Nazis who sent them to a concentration camp; with Mendes-France's low-keyed memories of escape from a Nazi jail in his youth to fight with the Free French and with Capt. Helmuth Tausend's bland evaluation of his role as a garrison commander.

Some of the important personages do stick in memory, too, such as the witty, cynical, late commander of the Resistance, Emanuel de la Vigier; Anthony Eden, and Count René de Chambrun, who, in legal style, defends his father-in-law, Pierre Laval. But they suffer by comparison with the straightforward accounts of the likes of Emile Caubaudon, Clermont-Ferrand's Resistance chief; the Rightist Christian de la Maziere, who fought with an S.S. regiment of Frenchmen, and even with the aging, unbilled hairdresser who was jailed as a collaborator.
Excerpt from the NY Times located HERE

Image : NOTE: The below Blu-ray captures were taken directly from the Blu-ray disc.
The Sorrow and the Pity come to Blu-ray from Arrow Academy. The 4-hour+ film is, in two-parts on a dual-layered disc with a modest bitrate. The film is a mixture of multiple interviews and archival war footage. It is in the 1.66:1 aspect ratio - when when on TV was in 1.37:1. The image is surprisingly clean (less so in the vintage sequences), with minimal speckles or extensive damage and the grain is thick. Obviously, the quality varies, culled from many sources, but it is the best presentation, with layered contrast, I have seen of the film - and will be happy to discard my old DVD. This Blu-ray gives a welcome thick, textured and heavy film-like presentation - details in close-ups is surprisingly rich - and overall I appreciated my viewing in the 1080P resolution.
CLICK EACH BLU-RAY CAPTURE TO SEE ALL IMAGES IN FULL 1920X1080 RESOLUTION
Audio :
Arrow use a linear PCM 2.0 channel (16-bit) and the film is mostly dialogue in French / German and some English. It sounds quite clear. There is some music; Henri Betti's
Notre Espoir
sung by Maurice Chevalier. I noted no weaknesses except those inherent in the vintage footage (when sound is used thee.) There are optional English subtitles and my
Oppo
has identified it as being a region 'B'-locked.
Extras :
There are two main extras. Although originally made from French television, The Sorrow and the Pity would not be broadcast in France for twelve years. After its first screening, at the end of October 1981, Le Nouveau Vendredi hosted this discussion programme, in which director Marcel Ophuls and historians Henri Amouroux and Alain Guérin discuss the film and the issues that it raises with an audience of students from Clermont-Ferrand. The full vieo runs 1-hour 2-minutes. There is also a 1/2 hour interview with director Marcel Ophuls, filmed in May of 2004 after a screening of The Sorrow and the Pity at London's National Film Theatre where its director Marcel Ophuls discusses the film with critic ian Christie.
| | |
| --- | --- |
| | |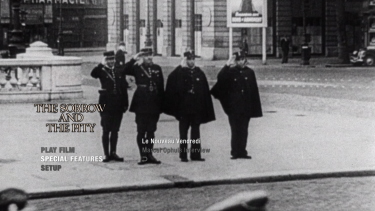 | | |
| --- | --- |
| | |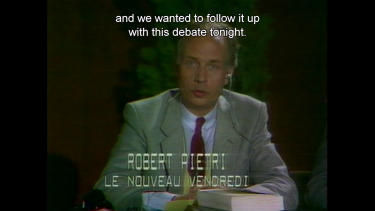 BOTTOM LINE:
The Sorrow and the Pity is masterfully compiled documentary - the interviews put such a human face on the history - being a microcosm of the entire country and war effort. The length - 4 hours 20-minutes - instills and bonds you to the era, the people, the memories and the lifestyle. The 2nd half takes a more hard-lined interpretive stance as many of those interviewed relate personal anecdotes on how the political climate affected them. Disturbing incidents are related in a frank fashion as previous interviewees are revisited as a new topic is brought to the forefront.
For history buffs this is a truly fascinating film, imbedding deeply the often unspoken and unseen affects that Germanys military sweep through Europe had made on the entire country of France, this small city and many of the individuals who lived there, before, through and after the occupation. I think the story was relatively objective, giving air time to German officials and infantrymen as well as French and English high ranking politicians gaining their insights on similar topics.

Certainly this is a must see at least once in your life - especially recommend to fans of history and WW2. The Arrow Academy
Blu-ray
provides the best home theatre presentation you are likely to find. If you are have ever been keen to see The Sorrow and the Pity in the comfort of your home - viewing at your preferred time and pace, this is a must-own.
Gary Tooze
July 8th, 2017