Review by Gary Tooze
Production:
Theatrical: The Geffen Company
Video: Criterion Collection Spine #887
Disc:
Region: 'A' (as verified by the Oppo Blu-ray player)
Runtime: 1:31:30.067
Disc Size: 45,788,024,956 bytes
Feature Size: 27,402,860,544 bytes
Video Bitrate: 35.75 Mbps
Chapters: 17
Case: Transparent Blu-ray case
Release date: July 25th, 2017
Video:
Aspect ratio: 1.85:1
Resolution: 1080p / 23.976 fps
Video codec: MPEG-4 AVC Video
Audio:
LPCM Audio English 1152 kbps 1.0 / 48 kHz / 1152 kbps / 24-bit
Subtitles:
English (SDH), none
Extras:
• New conversation with Brooks and filmmaker Robert Weide (30:05)

•
New interviews with actor Julie Hagerty (11:15), executive producer Herb Nanas (11:51), and filmmaker and screenwriter James L. Brooks (14:33)
• Trailer (2:39)
PLUS: An essay by critic Scott Tobias
Bitrate:
Description: In this hysterical satire of Reagan-era values, written and directed by Albert Brooks, a successful Los Angeles advertising executive (Brooks) and his wife (Julie Hagerty) decide to quit their jobs, buy a Winnebago, and follow their Easy Rider fantasies of freedom and the open road. When a stop in Las Vegas nearly derails their plans, they're forced to come to terms with their own limitations and those of the American dream. Brooks's barbed wit and confident direction drive Lost in America, an iconic example of his restless comedies about insecure characters searching for satisfaction in the modern world that established his unique comic voice and transformed the art of observational humor.
The Film:
Albert Brooks, master of the slow burn, was the director and co-writer, with Monica Johnson, behind this masterful evisceration of the materialistic values of 1980s American yuppie culture. In a wicked parody of the Me Generation, Brooks' protagonists' ideals are presented as a dark reflection of the idealism that suffered such a hard death after the 1960s. Lost in America's satirical emulation of Easy Rider sees David and Linda Howard not traveling the American hinterland on a chopper but roaming interstates in a gas-hogging Winnebago and talking reverently of the cocoon-like comfort that their "nest egg" provides. Initially aimed at finding the "real" America (they want to "touch the Indians"), the journey ultimately leads to Las Vegas, the heart of the American Dream's darkness. The greed of an entire money-obsessed generation is spread out before us in these moments, and Brooks' ability to turn his horror and disgust into our amusement is without parallel in movies of the era. Implicit in his rage is a challenge issued to his generation: is this the best you can do? Both Brooks and Julie Hagerty distinguish themselves in a cast that includes a classic supporting performance by Garry Marshall, whose explanation of the purpose of a casino to a flustered and desperate Brooks is a masterpiece of comic understatement. Brooks is not exactly a visionary with a camera, but his dialogue sings, and his near-hysterical exasperation as David is exactly right for the movie, one of cinema's most effectively vicious and hilarious satires of the 1980s.
Excerpt from B+N located HERE
A yuppie mid-life crisis is in the offing, and Albert Brooks has made it the basis for ''Lost in America,'' an inspired comedy in his own drily distinctive style. If Mr. Brooks isn't often laugh-out-loud funny, that's largely because so much of what he has to say is true. ''Lost in America'' follows the Howards, played by Mr. Brooks and Julie Hagerty, from a quiet dissatisfaction with their upwardly-mobile lives (''Nothing's changing anymore . . . we've just stopped ,'' Linda says) to an even bleaker realization of what their options may be. That it manages to find so much humor in so dismal a progression is amazing indeed.

The doggedness of Mr. Brooks's screen persona is his foremost survival skill, and as such it's part of his appeal. Applying his executive training, he finds himself eager to argue with anyone in his new capacity as a self-proclaimed social dropout. When Linda has too big a night in Las Vegas, for instance, David makes a stab at persuading the casino owner (Garry K. Marshall) that a show of generosity would be good for the place's image. This doesn't work. Neither do any of the other conversational gambits that have left David unqualified for anything but his previous job in advertising and his subsequent one as a grade-school crossing guard.
Excerpt from the NY Times located HERE

Image : NOTE: The below Blu-ray captures were taken directly from the Blu-ray disc.
Lost in America looks thick on Blu-ray from Criterion and is cited as a "New, restored 2K digital transfer supervised by director Albert Brooks". Of course, I couldn't find my DVD of the film, to compare, - that I have watched at least 20 times. It's surprising how heavy the Criterion 1080P transfer is. It looks strong in-motion, dark with true colors. The visuals are clean, rich, and consistent. There is minor depth and pleasing texture. This dual-layered Blu-ray, with max'ed out bitrate, reproduced, what we can only presume, is a highly accurate presentation.
CLICK EACH BLU-RAY CAPTURE TO SEE ALL IMAGES IN FULL 1920X1080 RESOLUTION
Audio :
Typically flat,
linear PCM mono track at 1152 kbps (24-bit) - the film has minimal effects but the dialogue is consistent and audible. The score is by Arthur B. Rubinstein (extensive TV work) that sounds quite bouncy at times. It sounds solid in the uncompressed transfer. There are optional English (SDH) subtitles and m
y
Oppo
has identified it as being a region 'A' disc.
Extras :
Criterion include many new extras starting withy a 1/2 hour conversation with Brooks and filmmaker Robert Weide as they discuss Brooks' unique humor, where it is derived from, Lost in America and other details. It was recorded by Criterion in 2017. There are also new interviews with actor Julie Hagerty for over 10-minutes, executive producer Herb Nanas who was Brooks longtime manager, and 1/4 hour with filmmaker and screenwriter James L. Brooks. There is also a trailer and the package has a liner notes booklet with an essay by critic Scott Tobias.
| | |
| --- | --- |
| | |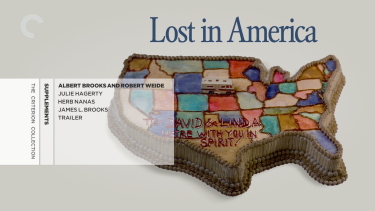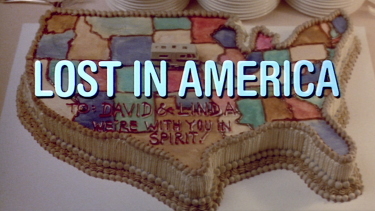 BOTTOM LINE:
Lost in America is one of the best modern comedies I've ever seen. My friends and I are always quoting lines from it since it came out over 30-years ago. It's brilliant - more power to the amazing Albert Brooks. I now subscribe to his twitter and always crave more of his humor. I hope Criterion bring Defending Your Life to Blu-ray, as well. This Criterion package is an easy recommendation. I'll not only continue to revisit this film for the rest of my life but also the supplements on this
Blu-ray
. Absolutely recommended!
Gary Tooze
June 17th, 2017