Review by Gary Tooze
Production:
Theatrical: United Artists
Video: Twilight Time
Disc:
Region: FREE (as verified by the Oppo Blu-ray player)
Runtime: 1:35:22.675
Disc Size: 25,353,235,680 bytes
Feature Size: 24,906,209,280 bytes
Video Bitrate: 26.99 Mbps
Chapters: 24
Case: Transparent Blu-ray case
Release date: February, 2017
Video:
Aspect ratio: 1.85:1
Resolution: 1080p / 23.976 fps
Video codec: MPEG-4 AVC Video
Audio:
DTS-HD Master Audio English 1965 kbps 2.0 / 48 kHz / 1965 kbps / 24-bit (DTS Core: 2.0 / 48 kHz / 1509 kbps / 24-bit)
Commentary:
DTS-HD Master Audio English 1745 kbps 2.0 / 48 kHz / 1745 kbps / 24-bit (DTS Core: 2.0 / 48 kHz / 1509 kbps / 24-bit)
Isolated Score:
DTS-HD Master Audio English 1827 kbps 2.0 / 48 kHz / 1827 kbps / 24-bit (DTS Core: 2.0 / 48 kHz / 1509 kbps / 24-bit)
Subtitles:
• English (SDH), None
Extras:
•
Audio Commentary with Writer/Director Joan Micklin Silver and Producer Amy Robinson

•
Isolated Score Track

•
Original Theatrical Trailer (1:45)
• Liner notes by Julie Kirgo
Limited to 3,000 Copies!
Bitrate:
Description: In writer-director Joan Micklin Silver's endearing adaptation of Ann Beattie's celebrated novel, Chilly Scenes of Winter (1979), Charles (John Heard), a bored office worker, falls in love with Laura (Mary Beth Hurt) when she is separated from her husband, Ox (Mark Metcalf); when she returns to the appropriately named fellow, Charles makes it his life's work to get her back, aided, abetted, and occasionally hindered by a sensational cast of eccentric friends and relatives, played by the likes of Peter Riegert, Kenneth McMillan, Nora Heflin, and the great Gloria Grahame.
***
Charles (John Heard) meets Laura (Mary Beth Hurt) in the the government office where they both work and is instantly smitten. Unfortunately, Laura is not completely unattached but merely separated from her husband. Charles optimistically pursues a relationship with her -- an endeavor made more difficult by his exasperating roommate, Sam (Peter Riegert), and his somewhat daft mother, Clara (Gloria Grahame). Charles and Laura fall in love nevertheless, but struggle with their friends and family.
The Film:
For the re-release, UA Classics rechristened the film Chilly Scenes of Winter in acknowledgement of its literary source and to capitalize on Beattie's rising popularity as a fiction writer; at the time, she was a regular contributor to The New Yorker with her wry short stories about middle class baby boomers. The distributor also removed the original happy ending and substituted an alternate one which was more downbeat but true to the film's melancholy tone and wintry look. This newly retooled version performed better at the box office than Head Over Heels and eventually turned a profit for the studio but it was hardly a mainstream film.

The original title of Head Over Heels suggested a possibly whimsical and intoxicating romantic affair but that wouldn't accurately describe Charles' condition which is closer to a full-blown obsession with Laura (Mary Beth Hurt). By today's standards, he would be considered a stalker. Not only does he regularly stake out Laura's house to keep tabs on her comings and goings but he even builds a replica of it complete with doll furniture and plastic figurines as stand-ins for Laura and her family. At one point, Charles even gets himself and his roommate Sam invited to Laura's home by her husband who thinks they're a gay couple looking to buy one of the new A-frame houses he's selling. All of this is played for comedy which has a dark underside because Charles's determination to win Laura back is not so much heroic as it is a sickness.
Excerpt from TCM located HERE
The dialogue seems increasingly fresh – funny where it's supposed to be funny, poignant where it's supposed to be poignant; we no longer mind the score, perhaps even come to feel it quite nicely accompanies the picture's subtle moods; the performances develop into convincing three-dimensional, intelligent characterisations (with notable supporting turns from Peter Riegert as Heard's best pal, Gloria Grahame as his off-the-rails mother, Kenneth McMillan as his keen-to-please stepdad, and Nora Heflin as his sympa workmate); the cinematography seems bracingly no-nonsense, the locations apposite; and we even forget about those Annie Hall comparisons.

Perhaps this shift is some kind of flaw in Micklin Silver's screenwriting (she adapted Anne Beattie's novel) and/or direction. Perhaps it's just that we need to adjust to the film's particular rhythms: get to know these people, their interactions, their world. Perhaps it's a bit of both.
Excerpt from The Jigsaw Lounge located HERE

Image : NOTE: The below Blu-ray captures were taken directly from the Blu-ray disc.
Firstly, this is the re-release version of the film (originally entitled 'Head Over Heels') - approximately 4-minutes longer with an ending closer to the Micklin Silver story.
Chilly Scenes of Winter comes to Twilight Time Blu-ray in a single-layered, 1080P transfer with a supportive bitrate. The visuals are indicative of the later 70s, early 80s - reasonable but not overwhelming. It can look fairly thick, flat and a shade soft, not glossy, but this would be in-line with the production. It looks pretty consistent in-motion with no damage or speckles. I see no evidence of manipulation or noise but there is no real depth. This Blu-ray has a solid enough transfer but the film probably can't look much crisper.
CLICK EACH BLU-RAY CAPTURE TO SEE ALL IMAGES IN FULL 1920X1080 RESOLUTION
Audio :
The DTS-HD Master 2.0 channel track at 1965 kbps (24-bit) sounds clean with a few richer moments in pushing the film's modest requirements for the limited effects and depth. There is an unremarkable score credited to Ken Lauber (who had done mostly TV work). There are optional English subtitles (sample above) and m
y
Oppo
has identified it as being a region FREE.

Extras :
Twilight Time add an audio commentary with writer/director Joan Micklin Silver and producer Amy Robinson and it is revealing with, as you might expect, plenty of information on the story and production although I haven't finished listening to it. There is also the usual Isolated Score Track and an original theatrical trailer. The package has some liner notes by Julie Kirgo and is limited to 3,000 copies.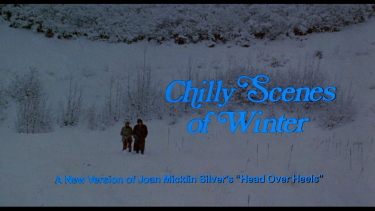 BOTTOM LINE:
Chilly Scenes of Winter is a realistic romance film with flawed characters and natural circumstances. The performances are adept and the film if pragmatic and grounded. I liked it, but it's no masterpiece - sort of an after-school special for adults. I was keen to see Gloria Grahame but she isn't in it very long. The Twilight Time Blu-ray provides as good an a/v transfer for the film as we're ever likely to get and further value with the commentary, isolated score, trailer and liner notes. For what the film is - this is a very good package of a sobering yet still entertaining slice of life. Recommended to the right crowd.
Gary Tooze
March 1st, 2017