Review by Gary Tooze
Production:
Theatrical: New Line Cinema
Video: Ar
row Video
Disc:
Region: FREE (as verified by the Oppo Blu-ray player)
Runtime: 1:32:26.707
Disc Size: 32,910,799,030 bytes
Feature Size: 28,653,831,744 bytes
Video Bitrate: 34.84 Mbps
Chapters: 9
Case: Transparent Standard Blu-ray case
Release date: December 19th, 2016
Video:
Aspect ratio: 1.78:1
Resolution: 1080p / 23.976 fps
Video codec: MPEG-4 AVC Video
Audio:
LPCM Audio English 2304 kbps 2.0 / 48 kHz / 2304 kbps / 24-bit
DTS-HD Master Audio English 2083 kbps 5.1 / 48 kHz / 2083 kbps / 16-bit (DTS Core: 5.1 / 48 kHz / 1509 kbps / 16-bit)
Subtitles:
English (SDH), none
Extras:
•
Brand new interview with producer Brian Yuzna (8:50)

•
US Trailer (0:25) / German Trailer (2:33)

•
Image Galleries (Behind the Scenes, Figurines, Artwork)

•
Reversible sleeve featuring original and newly commissioned artwork by Nick Percival

•
Limited edition O-card

•
FIRST PRESSING ONLY: Fully-illustrated collector's booklet featuring new writing on the films
Bitrate:
Description: Mark Hamill (Star Wars) and the team behind horror classic Re-animator join forces for this electrifying live-action adaptation of Yoshiki Takaya's celebrated manga series!

Having been smuggled out of the mysterious Chronos Corporation by one of its researchers, a bio-weapon known as the Guyver unit which transforms its holder into a lethal super-being ends up in the hands of Sean, a young martial arts student. Sean soon finds himself in the sights of the Chronos Corporation and its mutant henchmen, who'll stop at nothing to retrieve the weapon.

Produced by Brian Yuzna (Society, Bride of Re-animator) and co-directed by special-effects masters Screaming Mad George and Steve Wang, The Guyver is an FX-laden extravaganza featuring a plethora of familiar genre faces such as Michael Berryman (The Hills Have Eyes) and David Gale (Re-animator).
The Film:
When a researcher at the Chronos Corporation is mysteriously killed, his daughter (Vivian Wu) ; her boyfriend, Sean (Jack Armstrong) ; and a rogue CIA agent named Max Reed (Mark Hamill) all suspect foul play. Sean discovers a top-secret suit of Chronos armor called "the Guyver," which fuses to his body when he tries it on, turning him into a supremely powerful cyborg. Chronos' evil CEO, Fulton Balcus (David Gale), is enraged and sends a crew of mutant alien monsters to get the Guyver back.
Excerpt from MRQE located HERE

It's hard to believe that such an amazing anime series like "Guyver" would be so poorly received here in the states. Back in 1991, my dad rented "Guyver" for us and I absolutely adored it because I thought the Guyver looked amazing. I loved the look, the concept, the costume, and his elbow blades. Not to mention the movie starred Mark Hamill and that bald guy I always see in horror movies who I always thought was cool.

Years later, after my obsession with "Guyver," I learned that the movie was actually based on an anime series named "Bio Booster Armor Guyver" created by Yoshiki Takaya, about a secret organization run by alien monsters trying to track down various units of the ultimate weapon: The Guyver units. Here, there's only one real Guyver unit to speak of, and young Sean Barker is the unfortunate recipient to become the alien suited warrior. The differences between the series and this film are mind blowing. Where the 1991 movie from New Line Cinema was a very PG-13 science fiction camp fest, the original series was the antithesis in every way imaginable.
Excerpt from Cinema-Crazed located HERE

Image : NOTE: The below Blu-ray captures were taken directly from the Blu-ray disc.
Eyebrow-raising Guyver gets an impressive dual-layered transfer to Blu-ray from Arrow Films in the UK. It has a max'ed-out bitrate for the 1.5 hour feature. Detail is quite crisp in close-ups/ The 1080P supports a balanced presentation in the 1.78:1 frame. The many 'effects' don't become noticeably transparent. The grain texture is very appealing. This Blu-ray looks very strong in-motion with minor depth throughout.
CLICK EACH BLU-RAY CAPTURE TO SEE ALL IMAGES IN FULL 1920X1080 RESOLUTION
Audio :
Arrow offer a linear PCM mono track at 2304 kbps or a more robust DTS-HD Master 5.1 bump. I opted for the surround only for the depth and it did add to the frenetic action and monster mayhem of the story. There is a score by Matthew Morse and its supportively as hokey as the film itself but adds some kitschy flavor. There is an optional score/effects track, optional English subtitles (SDH) and my Oppo has identified it as being a region FREE (as stated on the website.)
Extras :
Arrow add some supplements - there is a brand new, 9-minute, interview with producer Brian Yuzna discussing the production plus there is a US and German trailer plus three image galleries (Behind the Scenes, Figurines, and Artwork) The package itself has a reversible sleeve featuring original and newly commissioned artwork by Nick Percival, a limited edition O-card and the first pressing has a fully-illustrated collector's booklet featuring new writing on the film.
| | |
| --- | --- |
| | |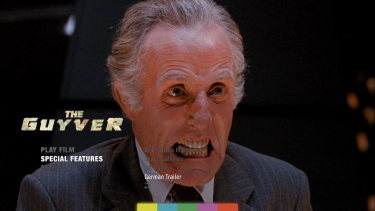 BOTTOM LINE:
The value in Guyver lies almost solely upon a strong nostalgia factor. If you saw this when you were old enough to not fear the monsters and young enough to buy-into and a fantasy level enough to enjoy the adventure - then you may get a kick out of Guyver. It could be pigeon-holed into the "so bad it's good' category as well. I thought it was all kinda over-the-top cool with Yazuna's Society-related effects, cute-and-wholesome couple Vivian Wu and Jack Armstrong, odd and scary Michael Berryman, goofy/not-so-cool Jimmie Walker and stable Mark Hamill adding a touch of class. No question this is bad in the expected sense but the production wasn't going for continuity and perfection - the filmmakers wanted to export a sense of juvenile cyborg superhero-worship with some extraordinary effects appeal - and in that it succeeds. The Arrow Blu-ray does its job with competently transferred a/v and supplements in a keepsake package. Guyver is too easy to find flaws and mock - it's more fun to let your hair-down, pretend you are the appropriate age-range and soak it in. You will have some fun! Recommended.
Gary Tooze
November 28th, 2016