Review by Gary Tooze
Production:
Theatrical: Canal Street Communications
Video: Criterion Collection Spine #846
Disc:
Region: 'A' (as verified by the Oppo Blu-ray player)
Runtime: 1:15:40.536
Disc Size: 36,525,772,733 bytes
Feature Size: 21,293,457,408 bytes
Video Bitrate: 31.46 Mbps
Chapters: 16
Case: Transparent Blu-ray case
Release date: December 6th, 2016
Video:
Aspect ratio: 1.78:1
Resolution: 1080p / 23.976 fps
Video codec: MPEG-4 AVC Video
Audio:
DTS-HD Master Audio English 3445 kbps 5.1 / 48 kHz / 3445 kbps / 24-bit (DTS Core: 5.1 / 48 kHz / 1509 kbps / 24-bit)
Alternate, no music, soundtrack:
Dolby Digital Audio English 640 kbps 5.1 / 48 kHz / 640 kbps
Subtitles:
English (SDH), none
Extras:
• New conversation between director Laurie Anderson and coproducer Jake Perlin (41:10)

•
Footage of Anderson's 2016 Concert for Dogs (6:36)

•
Two Deleted scenes (1:47 + 1:06)

•
Lolabelle's video Christmas card (4:46)

•
Trailer (1:51)

•
PLUS: An essay by film critic Glenn Kenny
Bitrate:
Description: Heart of a Dog marks the first feature film in thirty years by multimedia artist Laurie Anderson. A cinematic tone poem that flows from a sustained meditation on death and other forms of absence, the film seamlessly weaves together thoughts on Tibetan Buddhism, reincarnation, the modern surveillance state, and the artistic lives of dogs, with an elegy for the filmmaker's beloved rat terrier, Lolabelle, at its heart. Narrated by Anderson with her characteristic wry wit, and featuring a plaintive, free-form score by the filmmaker, the tender and provocative Heart of a Dog continues Anderson's four-and-a-half-decade career of imbuing the everyday with a sense of dreamlike wonder.
The Film:
Atavism can be a powerful thing. Which perhaps explains in part why I got misty-eyed the other day as the end credits rolled for Laurie Anderson's Heart of a Dog. As the title clearly states, it's about a pooch in New York's Greenwich Village, a charmer of a rat terrier named Lolabelle, who had the very good fortune of being taken in in the mid-1990s by the famous Laurie Anderson and her even more famous co-vivant, Lou Reed.

Lola lived the life you expect of the boon companion of major artists unburdened by children – a good one, that is, with lots of "walkies" and trips to faraway places and hydrants and great snacks and toys and visits to the recording studio and piano lessons and painting lessons. Watching Lola hammer away on the keyboards and paw-paint, I couldn't help thinking of Patti Smith's poem, dog dream, about the magic we often ascribe to the possessions of the talented and famous: "have you seen/dylans dog/it got wings/it can fly."
Excerpt from GlobeandMail located HERE
Near the end of her dreamy, drifty and altogether lovely movie "Heart of a Dog," Laurie Anderson does what she is so great at doing: She tells a story. This one is too powerful to ruin here, but the story and its placement speak to how she makes meaning. Speaking in voice-over, as she does throughout, with her perfect phrasing and warm, gently wry tone, she recounts a harrowing episode from her childhood. It's one that she had described before, she says. But one day she realized that she had been omitting some horrifying details. She had "cleaned it up," as she puts it, because that's what we do: "You get your story and you hold onto it, and every time you tell it, you forget it more."

"Heart of a Dog" is about telling and remembering and forgetting, and how we put together the fragments that make up our lives — their flotsam and jetsam, highs and lows, meaningful and slight details, shrieking and weeping headline news. This purposefully fissured quality extends to the movie itself, which is by turns narratively straightforward and playfully experimental, light and heavy (it's a fast 75 minutes), accessible and opaque, concrete and abstract.
Excerpt from NY Times located HERE

Image : NOTE: The below Blu-ray captures were taken directly from the Blu-ray disc.
Heart of a Dog looks flawless on Blu-ray from Criterion. It was shot on HD. This is a very artistic and stylish presentation with intentional hazy shots, stills of scratched Polaroids, animation, sequences from old 8mm etc. The visuals are a rich, and the modern landscape and sky shots are impressive. This dual-layered Blu-ray, with very high bitrate, reproduces a very strong 1080P presentation.
CLICK EACH BLU-RAY CAPTURE TO SEE ALL IMAGES IN FULL 1920X1080 RESOLUTION
Audio :
We gets a strangely dynamic DTS-HD master 5.1 surround track at 3445 kbps (24-bit) - that actually sounds quite buoyant at times via the music; The Lake and "Flow", Beautiful Pea Green Boat, Rhumba Club, Life on a String all performed by Laurie Anderson as well as Turning Time Around written and performed by Lou Reed (her deceased husband.). Narration is clear and audible. There is an optional lossy track devoid of the music - and it is a different viewing experience. There are optional English subtitles and my Oppo has identified it as being a region 'A' disc.
Extras :
Heart of a Dog director, Laurie Anderson, and one of the film's co-producers, Jake Perlin, discuss for over 40-minutes the making of the film and its links to past works by Anderson including films like Home of the Brave and Hidden Inside Mountains, the theatrical piece Delusion, and others. The conversation was recorded by the Criterion Collection at Anderson's studio in new York City in 2016. In the first, or two, deleted scenes presented - Laurie Anderson describes some secret wall paintings that illustrate Buddhist concepts of time. In the second, Anderson tells the story of a nun who makes a pilgrimage wearing a bag on her head. On January 4th, 2016, Laurie Anderson performed her Concert for Dogs in new York City's Time Square, for canine handlers and their dogs from the New York Police Department, the Metropolitan Transit Authority, and other city agencies, in honor of 9/11 first responders' dogs. The music was transmitted to audience members through headphones and the dogs through low-decibel speakers, while footage from Heart of a Dog played on video billboard screens on the surrounding buildings. This 6.5 minutes of footage of the performance, included in this disc, was shot with a 360-degree camera. There is also a 5-minute Lolabelle's video Christmas card piece, a trailer and the package has a liner notes booklet with an essay by film critic Glenn Kenny.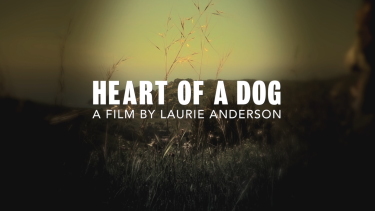 BOTTOM LINE:
I found Heart of a Dog very Guy-Maddin-esque. A very engaging patchwork of art and love. A beautiful and touching viewing experience. This Blu-ray package is an easy recommendation. Even not being initially keen on the subject matter - I got into the spirit of things and it is something I will definitely be revisiting. Go for it.
Gary Tooze
November 9th, 2016