Review by Gary Tooze
Production:
Theatrical: Italfrance Films
Video: Twilight Time
Disc:
Region: FREE (as verified by the Oppo Blu-ray player)
Runtime: 1:51:48.743
Disc Size: 31,380,300,227 bytes
Feature Size: 30,429,315,072 bytes
Video Bitrate: 29.99 Mbps
Chapters: 24
Case: Transparent Blu-ray case
Release date: November, 2016
Video:
Aspect ratio: 1.85:1
Resolution: 1080p / 23.976 fps
Video codec: MPEG-4 AVC Video
Audio:
DTS-HD Master Audio Italian 2075 kbps 2.0 / 48 kHz / 2075 kbps / 24-bit (DTS Core: 2.0 / 48 kHz / 1509 kbps / 24-bit)
Commentary:
DTS-HD Master Audio English 2128 kbps 2.0 / 48 kHz / 2128 kbps / 24-bit (DTS Core: 2.0 / 48 kHz / 1509 kbps / 24-bit)
Subtitles:
• English, None
Extras:
•
Audio Commentary with Film Historians Derek Botelho and David Del Valle

•
Original Theatrical Trailer (3:350)
• Liner notes by Julie Kirgo
Limited to 3,000 Copies!
Bitrate:
Description: Mauro Bolognini, that master of Italian costume and period dramas, gives us a peculiar slice of Grand Guignol with Gran Bollito (Black Journal, 1977). The film stars Shelley Winters as a mother so insanely over-protective of her grown son that she decides to make a deal with death by offering alternate victims, plucked from among her fellow tenants in a 1938 Italian apartment building; among these are several men playing women, including the one and only Max Von Sydow. Laura Antonelli and Rita Tushingham also star.
Film:
Gran Bollito unravels secrets of a pre-war Italian condominium with the skill of a cartoon magician. It is as though the sentimental treasures in Rimbaud's 'Le Buffet' are brought back to life. The faded laces, the locks of hair, the dried flowers: they are all given a second chance. However, the glamour and camaraderie conceal some dark dealings.

Shelley Winters plays Lea, as she begins to piece her life together following a spate in a sanatorium. She enthuses all around her, but her priority is to protect her son: mostly from death. Her methods are unconventional, her execution flawless.

The story, based Leonarda Ciancuilli, culminates in a cryptic juxtaposition of the two follies: Lea's, with all its bizarre twists, emerging as less absurd than the brewing war.
Excerpt from Film-news.co.UK located HERE
Synopsis:
Lea, a native of southern Italy, emigrated to a northern town to join her husband Rosario. She has to sell lottery tickets. As soon as she arrives, she feels an aversion to her new home chosen by her husband, who soon suffers a paralyzing stroke. Lea had thirteen children, all of them dead either after an abortion when they had only a few months, except one, Michele (Antonio Marsina) for whom Lea is taking a sickly affection. She receives in confidence Berta Maner, one of her clients who won the lottery lottery that she must join her husband in the United States after years of separation.
Michele is in love with Sandra (Laura Antonelli), a beautiful dancing teacher to cry. His mother can not resolve to let him leave the house, ready for all wickedness. Cursing, for example, in order for Sandra's mother to die suddenly (which, she says, will force Sandra to leave Michele to take care of her father), and then throwing into the arms of her son Tina a girl Deaf and dumb (Milena Vukotic). Michele led the girl gently but firmly. In the end, unable to achieve the desired result, Lea decides to remove the women who hinder his exclusive love to Michele. The first victim is Berta Maner, who on the eve of her departure for America, is killed by Lea who cuts it in pieces, boils it and transforms it into soap that it then sells. The same sad fate is reserved for the sweet Lisa, full of religious repentance after having known love with a man for the first time, and this although she helped a lot Rosario when he lived alone with Michele, before arrival of Léa in the North. Then it is the turn of the sparkling and lively Stella Kraus, a cabaret artist.
To hide his misdeeds and divert suspicion, Lea orchestrates a fake theft of jewelry in the house of Stella who shared an apartment with a named Palma, which tells the newspapers that question the mystery of the disappearances, that Stella runs away with the jewels. (Hence the English title Black Journal, reprinted in France, which gives very dark news). Two neighbors more curious than the others to whom Lea had sold soap, intrigued by the sudden big soap production and by the smell released by it, start spying on this strange woman. Not finding anything special, they decide to contact Maria (Rita Tushingham), the charming sister of the priest Onorio, so that she offers her help to Lea by invoking various reasons such as the difficult standing standing for a woman, etc. Maria will be the first to discover the horrors committed by Lea. In a soap that Léa gave him, Maria finds the ring that belonged to Berta Maner. The surprise hugs her and when she thinks she understands, she has a heart attack triggered by her already precarious state of health. But Maria is not dead, and on her bed she asks Lea if her suspicions are well founded. She tells him everything, in great detail, thus leading Mary to a second heart attack. She dies, this time, without having been able to warn her brother of the atrocities committed by Lea.
Excerpt from Wikipedia located HERE

Image : NOTE: The below Blu-ray captures were taken directly from the Blu-ray disc.
Gran Bollito comes to Twilight Time Blu-ray in a dual-layered, 1080P transfer with their usual high bitrate. The visuals are intentionally soft-ish - this is how it was lensed. The 1.85:1 image looks quite consistent in-motion with no damage or speckles but the result is very flat with some deep, if not rich, colors. I see no evidence of manipulation or noise. The textures connote a film-like appearance. This Blu-ray probably provides a very accurate quality as to the way the film was produced and shown theatrically. It's style seems intentional.
CLICK EACH BLU-RAY CAPTURE TO SEE ALL IMAGES IN FULL 1920X1080 RESOLUTION
Audio :
The DTS-HD Master 2.0 channel track at 2075 kbps (24-bit) in original Italian (with the usual post DUB'ing) sounds clean with dialogue a shade scattered - possibly an intentional effect. The score by Enzo Jannacci (Seven Beauties) isn't overwhelming but supports the film when sparsely utilized. There are optional English subtitles (sample above) and m
y
Oppo
has identified it as being a region FREE.

Extras :
Twilight Time add a new, impressive, audio commentary with film historians Derek Botelho and David Del Valle who discuss the real-life story on which the film was based, the performances (a lot on Shelley Winters), its label as an unauthorized bio-pic etc. It's quite interesting and helped with my appreciation and understanding of the production. There is no Isolated Score Track this time - but there is an original theatrical trailer. The package has some liner notes by Julie Kirgo and is limited to 3,000 copies.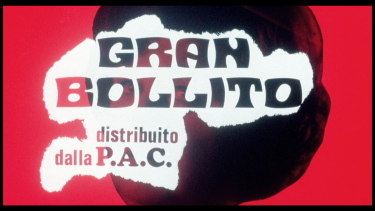 BOTTOM LINE:
I had never seen Gran Bollito before and it is an odd genre-mixing horror or 'Black Comedy'? - often labeled as a 'naturalistic horror' - not a typical Giallo being devoid of mystery or supernatural features. Shelly Winters' performance is worth the viewing and it creeps along subtly. The Twilight Time Blu-ray provides an authentic transfer for the film and essential value with the commentary and liner notes. It's a complete package of a very unusual but watchable film - no masterpiece, but a peculiar film curiosity. To those keen this is recommended!
Gary Tooze
November 28th, 2016