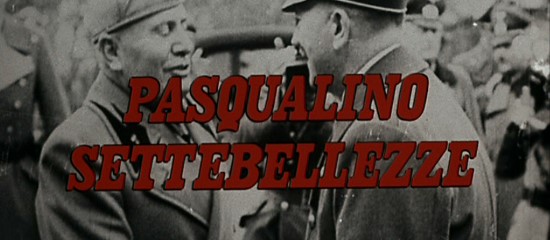 (aka 'Seven Beauties' or 'Pasqualino: Seven Beauties')
Directed by Lina Wertmüller
Italy 1975
Nominated for four Academy Awards including Best Director, Seven Beauties stars Giancarlo Giannini (Swept Away) as Pasqualino Frafuso, known in Naples, Italy as "Pasqualino Seven Beauties". A petty thief who lives off of the profits of his seven sisters while claiming to protect their honor at any cost, Pasqualino kills the pimp who made his sister a prostitute, chops up his body and mails the pieces to different locations across the country. He is then arrested and later sent to fight in the army after committing sexual assault. The Germans capture him and he gets sent to a concentration camp where he plots to make his escape by attempting to seduce a German officer.
*****
Lina Wertmüller's harrowing 1976 film stars Giancarlo Giannini as a petty crook with seven unattractive sisters to support, and it features a picaresque, World War II-era journey through a prison asylum, army service, and a Nazi concentration camp. Wertmüller is more indulgent in highbrow sadomasochism than she is real profundity, but there's no denying that the film is powerful in its story of subjugation and survival. A climactic scene in which Giannini saves his skin at the camp by seducing its disgusting female commandant is unnervingly honest. Giannini became a '70s international icon partially on the basis of this work.
Posters
Theatrical Release: May 4th, 1975 - Paris
Reviews More Reviews DVD Reviews
DVD Review: Koch Lorber Films (2-disc) - Region 0 - NTSC
DVD Box Cover

CLICK to order from:

This can also be found in the Lina Wertmuller Collection (Summer Night / The Nymph / Swept Away / Seven Beauties / Ferdinando and Carolina) available here:

Distribution
Koch Lorber Films - Region 0 - NTSC
Runtime
1:56:12
Video
1.66:1 Aspect Ratio
Average Bitrate: 8.9 mb/s
NTSC 720x480 29.97 f/s

NOTE: The Vertical axis represents the bits transferred per second. The Horizontal is the time in minutes.

Bitrate:

Audio
Italian (Dolby Digital 5.1), Italian (Dolby Digital Mono), Italian (Dolby Digital 2.0), DUBs: Dolby Digital 5.1 Surround (English), Dolby Digital 2.0 Stereo (English), Dolby Digital 1.0 Mono (English)
Subtitles
English, None
Features

Release Information:
Studio: Koch Lorber Films

Aspect Ratio:
Original Aspect Ratio 1.66:1

Edition Details:

• Lina Wertmüller interview (1:17:36)
• Lina Wertmüller trailers
• Koch advert

DVD Release Date: April 4th, 2006
Double Slim Keep Case
Chapters: 26
Comments:

As already reported throughout the web, this is the same feature presentation that can be found in the The Lina Wertmuller Collection (Summer Night / The Nymph / Swept Away / Seven Beauties / Ferdinando and Carolina). It is still in the original aspect ratio of 1.66 and still NOT 16X9 enhanced. We have noted previously that a few DVD production houses won't anamorphize 1.66 features because they feel the black borders on the side of most systems will be confusing to the viewer. Regardless of that silliness - this image doesn't look too bad at all. It's progressive, colors are well balanced and it has some detail to it. Black levels are acceptable and the transfer is generally very bright. The optional subtitles are an ugly yellow font and there excessive audio options (3 original language and 3 English DUBs!). I noted a few instances of out-of-sync audio which seems common with many Italian films of this era (or before).

The long interview with Wertmüller on the 2nd disc covers quite a lot - as much as anyone might wish to know of her career and some of her personal life. It was interesting to view. She has a very charming side to her.

The package has had some effort put into it, but it is not at Criterion level. As opposed to the 1:17 interview I'd have preferred a commentary, but perhaps I'm looking a gift-horse in the mouth. The film is certainly worthy of masterpiece status - a harrowing extravaganza - and almost universally regarded as Wertmüller's best. For that reason alone it should be viewed. We consider this a very worthy addition to any DVD collection.
---



DVD Menus
Disc 2
---
Subtitle Sample
Screen Captures
---
---
DVD Box Cover

CLICK to order from:

This can also be found in the Lina Wertmuller Collection (Summer Night / The Nymph / Swept Away / Seven Beauties / Ferdinando and Carolina) available here:

Distribution
Koch Lorber Films - Region 0 - NTSC