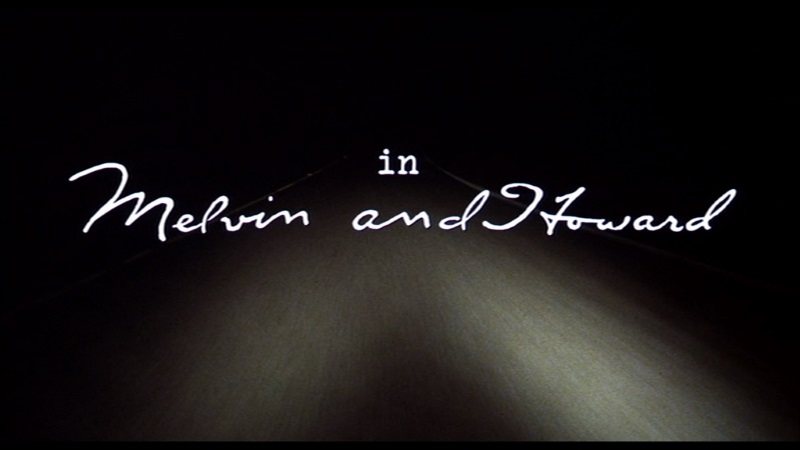 directed by Jonathan Demme
USA 1980
Based on the "true" story of Melvin Dummar - from the Academy Award-winning script by Bo Goldman (ONE FLEW OVER THE CUCKOO'S NEST) - who was named as one of sixteen benefactors of a will discovered among the documents of the Mormon Church and purportedly drawn up by the late, eccentric millionair Howard Hughes who Dummar claimed to have once encountered in the Nevada desert. The film opens with factory worker Melvin (Paul Le Mat, AMERICAN GRAFFITI) driving home one night and stumbling across an injured and incoherent wino (Jason Robards, ONCE UPON A TIME IN THE WEST) who claims to be Howard Hughes. He annoys the old man with Christmas song he has penned and badgers him into singing one of his own before giving him his pocket change and dropping him off in Las Vegas in front of an upscale hotel. The bulk of the film follows the ups and downs of Melvin's life as his wife Linda (FROM HELL's Mary Steenburgen who was won Best Supporting Actress for her role) runs out on him with beleaguered daughter Darcy (Elizabeth Cheshire, AIRPORT '77) to become a stripper in Vegas after his truck is repossessed, their divorce and remarriage when she becomes pregnant with son, his attempts to make a better life for his family and their bout of good fortune which leads to a second divorce. Going from "Milkman of the Month" to debt-ridden joke, Melvin never believes in himself enough to take a risk (in spite of Linda's own chances and her stated belief in him informed by self-help books of the period). His only chance to shine is the performance of a crowd-pleasing song at a company Christmas party that leads payroll clerk Bonnie (Pamela Reed, THE CLAN OF THE CAVE BEAR) agreeing to run off with him and run a Utah services station after her brother loses his lease. When a mysterious motorist (Charles Napier, LAST EMBRACE) leaves the supposed Hughes will with Melvin, his decision to slip it in among the papers for processing at the Mormon Church headquarters could just as easily be the act of a schemer or - as the film suggests - a man who already knows he will never be believed and will become a national media punchline; for whom the only thing that really matters of the affair is that he made Howard Hughes sing one of his songs. Although director Jonathan Demme (SOMETHING WILD) had been working with regular DP Tak Fujimoto since his debut CAGED HEAT, MELVIN AND HOWARD was the first film in which he worked with editor Craig McKay (REDS) who would be nominated for his work on SILENCE OF THE LAMBS and producer Gary Goetzman (PHILADELPHIA) here as an actor. The supporting cast also includes turns by a typically quirky Michael J. Pollard (BONNIE AND CLYDE), Dabney Coleman (TOOTSIE), John Glover (ROBOCOP 2), Martine Beswick (THUNDERBALL), Gloria Grahame (THE BIG HEAT), and an uncredited Joe Spinell (MANIAC) as a sleazy club owner.
Posters
Theatrical Release: 19 September 1980 (USA)
Reviews More Reviews DVD Reviews

DVD Comparison:
Universal Pictures - Region 1 - NTSC vs. Simply Media - Region 2 - PAL
Big thanks to Eric Cotenas for all the Screen Caps!
(Universal Pictures - Region 1 - NTSC - LEFT vs. Simply Media - Region 2 - PAL - RIGHT)
DVD Box Covers

Distribution

Universal Pictures

Region 1 - NTSC

Simply Media
Region 2 - PAL
Runtime
1:34:30
1:30:42 (4% PAL speedup)
Video

1.85:1 Original Aspect Ratio

16X9 enhanced
Average Bitrate: 6.11 mb/s
NTSC 720x480 29.97 f/s

1.85:1 Original Aspect Ratio

16X9 enhanced
Average Bitrate: 5.85 mb/s
PAL 720x576 25.00 f/s

NOTE: The Vertical axis represents the bits transferred per second. The Horizontal is the time in minutes.

Bitrate:

Universal Pictures

Bitrate:

Simply Media

Audio
English Dolby Digital 2.0 mono

English Dolby Digital 2.0 mono

Subtitles
English SDH, French, and Spanish
none
Features
Release Information:
Studio: Universal Pictures

Aspect Ratio:
Widescreen anamorphic - 1.85:1

Edition Details:
� Theatrical Trailer (2:49)

DVD Release Date: 2 March 2004
Amaray

Chapters 18

Release Information:
Studio: Simply Media

Aspect Ratio:
Widescreen anamorphic - 1.85:1

Edition Details:
� none


DVD Release Date: 4 July 2016
Amaray

Chapters 12

| | |
| --- | --- |
| Comments | Previously released in the UK by Universal in 2005, Simply Media's single-layer, anamorphic DVD presumably uses the same master since the film has been available in an anamorphic transfer since DVD's infancy when Anchor Bay first put the film out stateside. The SD transfer is reasonably crisp and colorful, with the grain during darker scenes part of the original cinematography and the somewhat overpowering red gels endemic of the SD resolution. The Dolby Digital 2.0 mono tracks are of similar quality. Only the US release has optional English, French, and Spanish subtitles. There are no extras on any of the current releases (apart from the trailer on the US), but the long out-of-print Anchor Bay release featured an audio commentary by Demme and production designer Toby Rafelson (GOIN' SOUTH). |
---
DVD Menus

(Universal Pictures - Region 1 - NTSC - LEFT vs. Simply Media - Region 2 - PAL - RIGHT)

---
Screen Captures
(Universal Pictures - Region 1 - NTSC - TOP vs. Simply Media - Region 2 - PAL - BOTTOM)
---
(Universal Pictures - Region 1 - NTSC - TOP vs. Simply Media - Region 2 - PAL - BOTTOM)
---
(Universal Pictures - Region 1 - NTSC - TOP vs. Simply Media - Region 2 - PAL - BOTTOM)
---
(Universal Pictures - Region 1 - NTSC - TOP vs. Simply Media - Region 2 - PAL - BOTTOM)
---
(Universal Pictures - Region 1 - NTSC - TOP vs. Simply Media - Region 2 - PAL - BOTTOM)
---
(Universal Pictures - Region 1 - NTSC - TOP vs. Simply Media - Region 2 - PAL - BOTTOM)