Review by Gary Tooze
Production:
Theatrical: Hemdale Film
Video:
Olive Films
Disc:
Region: 'A' (as verified by the Oppo Blu-ray player)
Runtime: 1:45:56.391
Disc Size: 24,409,991,406 bytes
Feature Size: 23,852,439,552 bytes
Video Bitrate: 24.09 Mbps
Chapters: 9
Case: Standard Blu-ray case
Release date: October 18th, 2016
Video:
Aspect ratio: 1.85:1
Resolution: 1080p / 23.976 fps
Video codec: MPEG-4 AVC Video
Audio:
DTS-HD Master Audio English 1947 kbps 2.0 / 48 kHz / 1947 kbps / 24-bit (DTS Core: 2.0 / 48 kHz / 1509 kbps / 24-bit)
Commentary:
DTS-HD Master Audio English 2091 kbps 2.0 / 48 kHz / 2091 kbps / 24-bit (DTS Core: 2.0 / 48 kHz / 1509 kbps / 24-bit)
Subtitles:
• English, None
Extras:
• Audio Commentary with director Larry Cohen and filmmaker Steve Mitchell
• Trailer (1:42)
Bitrate:
Description: From the writer & director of It s Alive, Larry Cohen's Special Effects casts a satirical eye on Hollywood, viewed through the prism of the thriller film genre. When the fresh-faced Oklahoma country boy Keefe (Brad Rijn, Smithereens) comes looking for his wife Mary Jean (Zoe Lund, Ms .45), a wannabe actress, he soon discovers the seamy side of Tinsel Town when Mary Jean is found dead and he's the prime suspect.

With a few swipes at Hollywood archetypes (Eric Bogosian as Christopher Neville, a once-revered Wunderkind director; Zoe Lund as Mary Jean look-alike, Elaine, a budding actress who isn't beyond manipulating the situation for her own benefit), Special Effects offers chills, thrills, shrieks, and a few laughs along the way.

Written and directed by Larry Cohen, Special Effects also stars Kevin O'Connor (Let's Scare Jessica to Death) and Richard Greene (TV s Mad Men) in supporting roles.
The Film:
Unlike other films by this title, the subject matter of Larry Cohen's murder mystery is a dastardly film director whose last movie plummeted at the box office in spite of flashy special effects. He wants to climb back up from this failure, so when he murders an aspiring actress in a Soho apartment, in a twist of his already twisted mind, he throws himself into a scheme to film a re-creation of the murder. As the movie plot, which is the director's plot, becomes more and more convoluted, he gets the detective assigned to the case to take part in his scheme and even gets the dead actress' husband to act out her murder in front of the camera. Laced with black humor and unexpected turns in the action, this director keeps the movie going, thanks to real director Larry Cohen who actually keeps the movie going.
Excerpt from Barnes and Noble located HERE
A ditzy blonde (Tamerlis) hits NYC hoping to make it in movies, but her first gig is a death scene - her own. A failing director secretly films himself and the actress in the sack, then murders her and sets about making a movie based on the killing, with the dead girl's husband as the likely murderer. This brass-necked approach includes inviting the investigating cop (O'Connor) to advise on procedure. Bogosian plays the director, Chris Neville, as a suave monster, avoiding any psychological or moral dimension (although we're told the reason he likes flowers is because they're so beautiful and they die so quickly). After a shaky start, the twists of the plot begin to take hold, and there's even a serious angle. This is the age of the non-entity, the glorification of the nobody, as long as they're victims, says Neville. Consider the virtually non-existent careers of a Dorothy Stratton or a Frances Farmer. What makes them worthy of a $10m eulogy on film? Murder, madness, suicide - that's what stars are made of today.
Excerpt from TimeOurt located HERE
Image : NOTE: The below Blu-ray captures were taken directly from the Blu-ray disc.
Special Effects arrives on Blu-ray from Olive Films. Typical for them it is single-layered and has a reasonable bitrate. It's mid-80s so less-then-stellar film stock but it holds together looking thick and consistent with some film textures. Details advances over SD and there is depth. I saw few speckles and no damage or gloss and the image quality is adept if not stellar. The Blu-ray is no demo but provides a consistent presentation in 1.85:1 probably not far from its theatrical premiere.
CLICK EACH BLU-RAY CAPTURE TO SEE ALL IMAGES IN FULL 1920X1080 RESOLUTION
Audio :
Audio is transferred to a DTS-HD Master 2.0 channel track at 1947 kbps (24-bit). Effects are not extensive but the score is by Michael Minard (The Mutilator, Losing Ground) and adds some drama in a heavy-handed fashion. It is fairly unremarkable but has some depth. There are no subtitles and m
y
Oppo
has identified it as being a region 'A'-locked.
Extras :
There is an audio commentary with director Larry Cohen and filmmaker Steve Mitchell, director of King Cohen: The Wild World of Filmmaker Larry Cohen. Cohen complimentarily discusses ZoŽ Tamerlis (Lund) a bit - her slenderness, professionalism and oddities plus the Zapruder film and that he fancied himself as a thriller genre director. He discusses his creativity is utilizing available material for his films. It's not bad - his honesty is appreciated. There is also a trailer.
| | |
| --- | --- |
| | |
| | |
| --- | --- |
| | |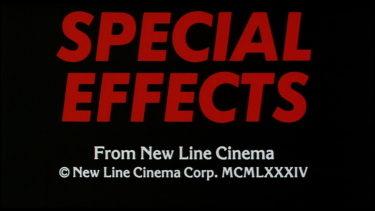 BOTTOM LINE:
Well, what can you say? I frequently felt that Eric Bogosian was slumming it in this film. He is a superior actor and writer and this is kind of a slash-dash 'B' film. It was before he was well-established (Stone's Talk Radio), that he possibly agreed to for paying the bills or it suited his timeline. Anyway, I always felt he was miscast or less-suitable in such a trashy flic although he can convey creepiness with a stare. Special Effects is not boring but it always seemed cheap and odd - possibly a troubled production. Cohen seemed much better directing with in-your-face films like the excellent God Told Me Too or Funsploitation like The Stuff, although he claims this is the favorite of his own films. Meh. The Blu-ray adds some value with the commentary and, in the mood, might suffice as a wayward thriller for the start of a double-feature.
Gary Tooze
October 19th, 2016