NOTE: The below Blu-ray captures were taken directly from the Blu-ray disc.

ADDITION: Second Run - Region FREE - Blu-ray

April 16': Firstly, this is from a new 2K restoration by the Austrian Film Museum and Martin Scorsese's World Cinema Foundation. The film opens to this screen: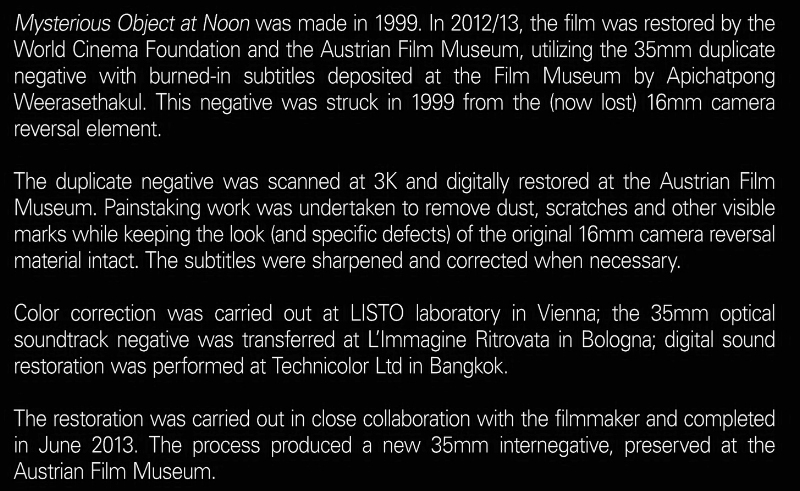 The image is 1080P/ 24 fps, has a max'ed out bitrate and has burned-in English subtitles that extend beyond the bottom of the frame - so this is pictureboxed but, generally, being in the range of 1.77:1 aspect ratio. I think we should admit that this is the best Mysterious Object at Noon will ever look with current sources. The DVD always appeared a shade stretched to me and this has improved with the BD - and there is, of course, visible grain, vastly superior contrast which becomes a factor in detail (we see more.) There are still some vertical scratches but the presentation, while wholly imperfect, is a giant advancement over the SD. This is also apparent in the audio. We get the option of a DTS-HD Master 5.1 surround bump at 2359 kbps (16-bit) with a few street separations or a linear PCM 2.0 channel stereo and similarly robust but 24-bit - so my preference - and it is, obviously, comparatively, flat. As stated the English subtitles are burned-in and the Blu-ray disc is, thankfully, region FREE.
Second Run include Apichatpong Weerasethakul's 15-minute short film Meteorites (Nimit) from 2007 - commissioned by Ministry of Culture, Thailand - that I knew nothing about. I was fascinated by it. Fans will also greatly appreciate the wew and exclusive 27-minute filmed interview with director Apichatpong Weerasethakul with Mehelli Modi of Second Run. Great job - I enjoyed it! There is also a 7-minute piece detailing the restoration process and the package has a liner notes booklet featuring a new essay on the film by film historian and author Tony Rayns.
Well, initiated fans don't require my endorsement of Apichatpong Weerasethakul. This is a must-own (there is nothing I can compare it to) and I am so grateful to have this Blu-ray in my world cinema library. Our highest recommendation!
***
ON THE DVD: This low budget movie was shoot on 16mm b/w, so the non-anamorphic image look far from fantastic and a lot different from his later narrative movies like Tropical Malady or Syndromes and a Century. The DVD is a single-layered DVD5 (uses 4.09GB), but that's not a big issue for a movie this short. I think the weak image is mostly due to the films source quality. There are at least two other dvd-versions of this movie released in the world, one Australian that uses the same transfer and extras as this one and a French dvd released by mk2 together with A.Ws Blissfully Yours (if anyone have the MK2 Mysterious.. I would be interested to see how it look). The English subtitles are non removable, but white and clear.

There is one 8-minute interview with Weerasethakul as extras, it's interesting and in English. There are also a fourpage booklet with an essay by Chuck Stephens.

To sum it up, it's really great to be able to see the debut film from one of today's most interesting and talented directors, the image is weak but I doubt we will see a much better DVD-release of the movie so I recommend this DVD-release to all interested.
- Arvid