Review by Gary Tooze
Production:
Theatrical: Cinediorama
Video: Twilight Time
Disc:
Region: FREE (as verified by the Oppo Blu-ray player)
Runtime: 1:29:51.844
Disc Size: 25,240,370,571 bytes
Feature Size: 25,203,253,248 bytes
Video Bitrate: 29.99 Mbps
Chapters: 24
Case: Transparent Blu-ray case
Release date: February, 2016
Video:
Aspect ratio: 1.85:1
Resolution: 1080p / 23.976 fps
Video codec: MPEG-4 AVC Video
Audio:
DTS-HD Master Audio Italian 1077 kbps 1.0 / 48 kHz / 1077 kbps / 24-bit (DTS Core: 1.0 / 48 kHz / 768 kbps / 24-bit)
Isolated Score:
DTS-HD Master Audio English 2031 kbps 2.0 / 48 kHz / 2031 kbps / 24-bit (DTS Core: 2.0 / 48 kHz / 1509 kbps / 24-bit)
Commentary:
DTS-HD Master Audio English 2032 kbps 2.0 / 48 kHz / 2032 kbps / 24-bit (DTS Core: 2.0 / 48 kHz / 1509 kbps / 24-bit)
Subtitles:
• English, None
Extras:
•
Audio Commentary with Film Historians David Del Valle and Derek Botelho

•
Isolated Score Track
• Liner notes by Julie Kirgo
Limited to 3,000 Copies!
Bitrate:
Description: La Bambola di Satana (Satan's Doll, 1969), directed by Ferruccio Casapinta, is a classic Giallo tale putting a pretty young woman (Erna Schurer) in jeopardy in a gothic-style castle. Throw in a handful of nutty relatives, a black-gloved murderer, a ghost, and a bit of dungeon torture: that's entertainment!
The Film:
Similar to 1967's Assassino Senza Volto in its melding of classical Gothic trappings with the Giallo thriller elements just coming into renewed vogue, this castle-set horror mystery from Italian filmmaker Ferruccio Casapinta benefits from a slicker look and a better sense of humor. Casapinta lays on the atmosphere thick and heavy, with thunderstorms, howling wolves, and a Hammer Films-inspired score by Franco Potenza to heighten the mood. It all seems a bit overwrought, but fans of Italian horror don't come to it for subtlety. Indeed, the nearly operatic histrionics on display are immensely enjoyable, for their camp value if nothing else.
Excerpt from AllMovie.com located HERE
Louis Paul, author of Italian Horror Film Directors stated that the film is "certainly rooted within the classic gothic atmosphere of early Italian horrors, but the addition of considerable nudity and a black-gloved killer clearly places La bambola at the cusp of the new age. It is an indication of the changing aspects of the Italian horror film to come."
Excerpt from Wikipedia located HERE

Image : NOTE: The below Blu-ray captures were taken directly from the Blu-ray disc.
The Doll of Satan (I've also seen titles as 'Satan's Doll' or 'Satan's Bimbo') comes to Twilight Time Blu-ray in a dual-layered, 1080P transfer with their usual high bitrate. The visuals are reasonable with bright colors and a clean image with occasional depth. Contrast has some decent layering and it is modestly tight in the HD transfer. Visuals are consistent in-motion but I wouldn't say it's an overwhelming1080P presentation - although an accurate one. I see no evidence of manipulation or noise. This Blu-ray gave me the opportunity to see the film in the original 1.85:1 aspect ratio - and those familiar with the film will be impressed with how much better this looks than old VHS copies.
CLICK EACH BLU-RAY CAPTURE TO SEE ALL IMAGES IN FULL 1920X1080 RESOLUTION
Audio :
There is a DTS-HD Master 1.0 channel track at 1077 kbps (24-bit) in the original Italian. It sounds a bit shallow but is probably accurate to the original. The score by Franco Potenza has some odd riffs but is competently supported by the uncompressed. There are optional English subtitles (sample above) and m
y
Oppo
has identified it as being a region FREE.
Extras :
Twilight Time add a new, impressive, audio commentary with film historians David Del Valle and Derek Botelho (author of The Argento Syndrome). It's quite rewarding - I love the discussion and history - Del Valle is becoming a favorite. There is also the usual Isolated Score Track. The package has some liner notes by Julie Kirgo and is limited to 3,000 copies.
BOTTOM LINE:
The Doll of Satan is one of the more forgettable attempts at defining the Gothic- Giallo genre. It's weak... in many areas, but it has an indefinable quality that can tend to be appealing - dark, castle-heavy atmosphere, sexy gals and some horror elements. An odd choice for Twilight Time Blu-ray but the commentary certainly adds value and to a lesser-degree so does the isolated score and liner notes. While I didn't find it a very tight production - it is something I might revisit, simply for the setting and milieu. The commentary augmented this appeal.
NOTE: The raven-haired, green-eyed, actress credited in 'la bambola di Satana' as Claudine is 'Aurora Batista' (from Italy) not the more famous 'Aurora Bautista' (from Spain).
In other words, I think IMDb and the Twilight Time page are wrong.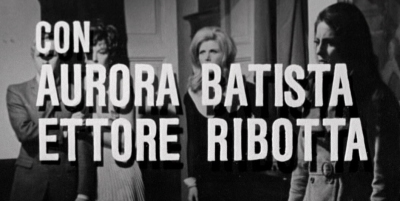 Gary Tooze
February 24th, 2016