Review by Gary Tooze
Production:
Theatrical: Nishimura Motion Picture Model Makers Group
Video: Criterion Collection Spine #787
Disc:
Region: 'A' (as verified by the Oppo Blu-ray player)
Runtime: 1:41:39.134
Disc Size: 46,827,196,389 bytes
Feature Size: 30,846,351,360 bytes
Video Bitrate: 34.67 Mbps
Chapters: 17
Case: Transparent Blu-ray case
Release date: December 8th, 2015
Video:
Aspect ratio: 1.78:1
Resolution: 1080p / 23.976 fps
Video codec: MPEG-4 AVC Video
Audio:
DTS-HD Master Audio Japanese 3778 kbps 5.1 / 48 kHz / 3778 kbps / 24-bit (DTS Core: 5.1 /
48 kHz / 1509 kbps / 24-bit)
Subtitles:
English (SDH), none
Extras:
• New interview with director Takashi Murakami (22:33)
• Making F.R.I.E.N.D.s, a new piece on the creation of the film's creatures (15:35)
• Takashi Murakami: The Art of Film, a new behind-the-scenes documentary on the making of the film (39:36)
• Trailer for Jellyfish Eyes 2 (1:54)
• PLUS: An essay by critic Glen Helfand
Bitrate:
Description: The world-famous artist Takashi Murakami made his directorial debut with Jellyfish Eyes, taking his boundless imagination to the screen in a tale of friendship and loyalty that also addresses humanity's propensity for destruction. After moving to a country town with his mother following his father's death, a young boy befriends a charming, flying, jellyfish-like sprite—only to discover that his schoolmates have similar friends, and that neither they nor the town itself are what they seem to be. Pointedly set in a post-Fukushima world, Murakami's modest-budgeted special effects extravaganza boasts unforgettable creature designs and carries a message of cooperation and hope for all ages.
The Film:
Prolific visual artist Takashi Murakami makes his feature directorial debut with this whimsical sci-fi fantasy set in post-Fukushima, Japan, where a colorful race of extraterrestrial creatures visible only to children are revealed to be crucial components in a diabolical scheme to manifest negative energy. His urban home decimated by a natural disaster, young Masashi moves to the Japanese countryside with his mother. Upon moving into his new apartment, Masashi strikes up a fast friendship with Kurage-bo, a flying creature that looks like a jellyfish, and it captures the uprooted boy's imagination. Before long, Masashi discovers that all of the children in this remote village have their own special creature. Convinced that they can control their Kawaii-like friends via a hi-tech electronic remote, the children begin using the creatures to bully one another. Later, Masashi and his friends learn that the adorable beings are being used to harvest negative emotions for nefarious purposes, and they decide to fight back.
Excerpt from B+N located HERE
Jellyfish Eyes is a parable about cellphones and video games as distractions that enable a voluntary, easily manipulated surveillance state. In the film, children are given silver rectangular gadgets that produce fully mobile, four-dimensional animated creatures, which they rely on as bodyguards, cage fighters, and, most poignantly, as sort of corporatized imaginary friends (the latter are even referred to by an acronym, F.R.I.E.N.D.). These devices are dispensed to the children by a shadowy company overseen by a quartet of people who dress in black, full-body armor that suggests Darth Vader without the famous mask, functioning as a combination of scientists, mystics, and mercenary CEOs. This cult knows the world is coming to an end, for the same reasons that it's actually endangered: Industrial pollution that's unchallenged due to the mass population's pervading indifference to taking uncomfortable action.
Excerpt from SlantMagazine located HERE

Image : NOTE: The below Blu-ray captures were taken directly from the Blu-ray disc.
Jellyfish Eyes appears to have been shot on HD and looks predictably crisp and impressive on Blu-ray from Criterion. The image is pristine - dual-layered with a max'ed out bitrate and we can guess that it is a solid representation of the film. The creatures are usually hazy in-motion due to the animation effects but static shots of scenery and close-ups are extremely tight and the visuals showcase constant depth. It is in the 1.78:1 aspect ratio and there are no discernable flaws - the 1080P supplies an, often dynamic, and rich presentation.
CLICK EACH BLU-RAY CAPTURE TO SEE ALL IMAGES IN FULL 1920X1080 RESOLUTION
Audio :
Criterion use a robust DTS-HD Master 5.1 surround at 3778 kbps in the original Japanese. It sounds impressive - great separations and effects noises are rife with tight and clear high-end projected beautifully. There is no credited score but the film's audio projects beautifully - at times, exceptional. There are optional English subtitles and m
y
Oppo
has identified it as being a region 'A' disc.
Extras :
Criterion include a new, 23-minute, interview with director Takashi Murakami from July 2015 at the Kaikai Kiki studio in New York, The director talks about the genesis of Jellyfish Eyes, how the film was formed by the television of his childhood, and the evolution of his approach to making art. In the 16-minute Making F.R.I.E.N.D.s, director Murakami's special effects crew and clay model makers bring to life the film's creatures. Takashi Murakami: The Art of Film, is a new, 40-minute, behind-the-scenes documentary on the making of the film with behind-the-scenes footage of Murakami and the rest of the cast and crew during the production. There is also a trailer for Jellyfish Eyes 2 and the package has a liner notes booklet with an essay by critic Glen Helfand.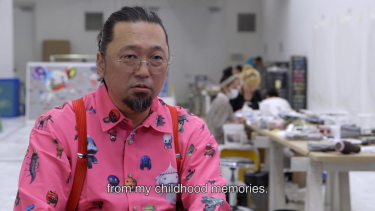 | | |
| --- | --- |
| | |
| | |
| --- | --- |
| | |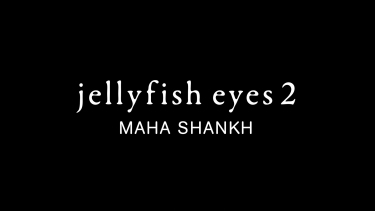 BOTTOM LINE:
Jellyfish Eyes is a unique and sweet fable-like childhood fantasy with an amusing Godzilla rift dabbling in Pokemon and Manga with the undercurrent of social commentary. The pacing is erratic but the strength is in the visuals (as you might have anticipated). I'd be keen to see Part 2 - there is some definite promise here. It probably won't be recognized as a masterpiece but it's certainly worth a spin. The Criterion Blu-ray package offers a lot - a great a/v presentation with plenty of revealing supplements. Sure - recommended!
Gary Tooze
November 19th, 2015