Review by Gary Tooze
Production:
Theatrical: Security Pictures
Video: Eureka - Masters of Cinema - Spine #1
24
Disc:
Region: 'B'-locked (as verified by the Oppo Blu-ray player)
Runtime: 1:32:09.482
Disc Size: 38,341,869,910 bytes
Feature Size: 29,578,845,888 bytes
Video Bitrate: 36.20 Mbps
Chapters: 9
Case: Standard Blu-ray case
Release date: December 7th, 2015
Video:
Aspect ratio: 1.85:1
Resolution: 1080p / 23.976 fps
Video codec: MPEG-4 AVC Video
Audio:
LPCM Audio English 2304 kbps 2.0 / 48 kHz / 2304 kbps / 24-bit
Isolated Score:
LPCM Audio English 2304 kbps 2.0 / 48 kHz / 2304 kbps / 24-bit
Subtitles:
English (SDH), none
Extras:
•
A video appreciation by filmmaker Bertrand Tavernier
•
Isolated music and effects track
•
Double-sided sleeve featuring alternate artwork
•
32-PAGE BOOKLET featuring a new essay by critic Glenn Kenny, a 1994 interview with De Toth, the films original press book, illustrated with archival imagery
DVD included
Bitrate:
Description:
Revered by the likes of Martin Scorsese and Quentin Tarantino, the great director Andre de Toth made some of the most gripping and unusual American films of the 1950s, and
Day of the Outlaw
stands as one of his finest.
Robert Ryan plays the ruthless cattleman Blaise Starrett who rides into the small, snowbound town of Bitters to settle a feud with homesteader Hal Crane (Alan Marshal) over access to land, with one eye on rekindling a past love affair with Crane's wife Helen (Tina Stuart). But once a band of brutal outlaws, led by the notorious Captain Jack Bruhn (Burl Ives), enters and takes the townspeople hostage, the situation becomes a powder keg ready to blow.
Set against extraordinary winter landscapes, this jagged, tightly-coiled Western is a riveting examination of shifting morals amid desperate circumstances, featuring brilliant performances and exemplary filmmaking. The Masters of Cinema Series is proud to present the film in a Dual-Format edition for the first time in the UK.

Watch what happens to the woman... Watch The West explode!
The Film:
Set in an isolated, snow-covered town in the far West, this story has a renegade army officer named Jack Bruhn (Burl Ives) and his henchmen riding into the town threatening their worst to the men and women there. Blaise Starrett (Robert Ryan) decides to agree to Bruhn's demands for someone knowledgeable to lead them away from the law and the town, to safety. Mortally wounded himself, Bruhn opts to take Starrett up on his offer in one last act of generosity toward the townspeople, sparing them the mayhem threatened by his men.
Excerpt from MRQE located HERE
Day of the Outlaw carries further (and further inward) the viciousness of The Indian Fighter, with its claustrophobic tensions coiled tight in a snowbound township when the arrival of a murderous renegade cavalry unit interrupts Ryan's attempt to reclaim his woman and his land. The incisive bleakness of Philip Yordan's script finds its perfect complement in the absurdist violence of De Toth's direction.
Excerpt fromTimeOut located HERE

Image : NOTE: The below Blu-ray captures were taken directly from the Blu-ray disc.
Day of the Outlaw is extremely thick and film-like on Blu-ray from The Masters of Cinema group in the UK. Along with the narrative, Russell Harlan's cinematography (Run Silent Run Deep, Witness for the Prosecution, Lust for Life) keeps you off balance with uneven confrontations and awkwardly filled frames. The 1080P image balances between a sweet layer of texture and the demonstrative film-like heaviness. This is dual-layered with a max'ed out bitrate. It is neither glossy nor pristinely sharp but shows plenty of depth and contrast is impressive. The 1.85:1 aspect ratio looks marvelous in-motion. This Blu-ray offers a rich, mesmerizing 1080P presentation. I was very pleased.
CLICK EACH BLU-RAY CAPTURE TO SEE ALL IMAGES IN FULL 1920X1080 RESOLUTION
Audio :
The audio is transferred via a linear PCM 2.0 channel mono track at 2304 kbps. It's a western so there is aggression and the track exports it with surprising depth. The film's music is by Alexander Courage - notable for the Star Trek (TOS) theme music and it sounds very strong, and appealing, via the uncompressed transfer. It is also available in the isolated score track - worth a listen. There are optional English (SDH) subtitles and m
y
Oppo
has identified it as being a region 'B'-locked.

Extras :
MoC include a 'Wild Side' produced video appreciation by filmmaker Bertrand Tavernier - in French with English subtitles as he, passionately, describes his love for Toth's film. We get the, previously mentioned, isolated music and effects track and, like many Arrow packages, a double-sided sleeve featuring alternate artwork. There is a liner notes 32-page booklet featuring a new essay by critic Glenn Kenny, a 1994 interview with De Toth, the films original press book, and illustrated with archival imagery. Being Dual-format a DVD of the feature, with extras, is included.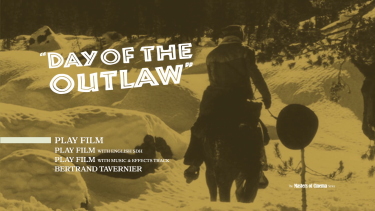 | | |
| --- | --- |
| | |
BOTTOM LINE:
Day of the Outlaw is an excellent western. It's a primo example from the genre and period. The 'Western' being so easily defined (white hat, black hat) can delve into other areas subtly; heroism, villainy, male-defined machismo etc. Philip Yordan's dialogue maintains the genre mystique but under the surface we have conflicting definitions - always shifting before we can get settled. It's what keeps the viewer off-balance and makes the film... a masterpiece. Day of the Outlaw is so wonderful to see in 1080P. What a fabulous choice for MoC to release on Blu-ray. What a treasure. If not De Toth's best - it certainly is top-shelf for the filmmaker and genre. Very strongly recommended!
Gary Tooze
December 3rd, 2015